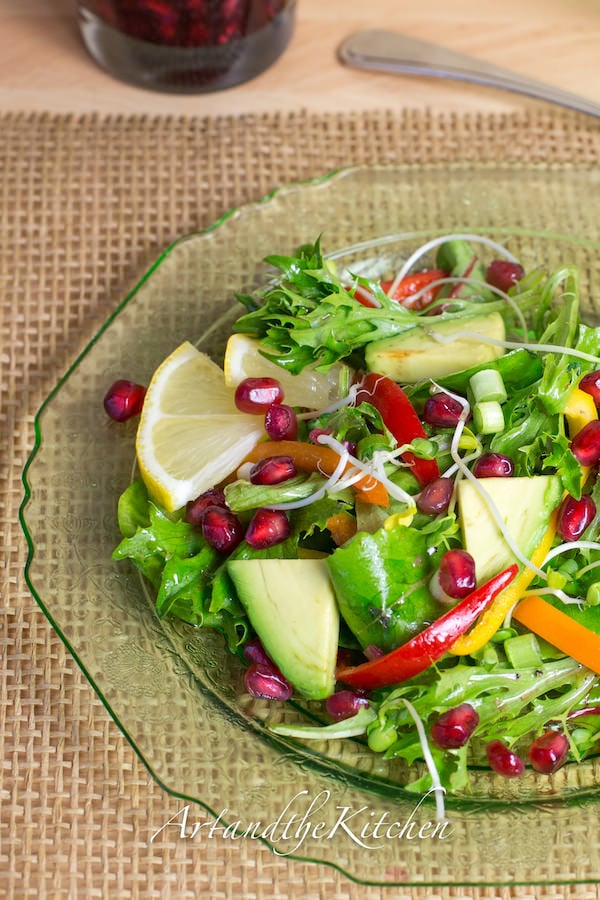 I love the tart taste of Pomegranate and this recipe for Pomegranate Salad with Pomegranate Dressing  has just the right amount of zip to it!
Happy New Years to everyone. Wishing you all the very best for 2014. Are you someone who makes New Years resolutions? I am; my husband thinks they're silly cause no one ever sticks to them. My thoughts are; at least it keeps you trying. My list seems to be the same every year – lose weight, get better organized, exercise more, get my house "To do" list done, paint more and so on and so on. Well I am determined to accomplish the entire list this year! Procrastination is not an option!! Good luck to everyone with their resolutions, may you have overwhelming success!! So to start off my recipes for 2014 – a refreshing Pomegranate Salad with homemade pomegranate dressing. I love when you bite into this salad; the pomegranates pop and give you that extra burst of flavour. The radish sprouts also add an interesting zing of flavour! Experiment and use any type of fresh sprouts.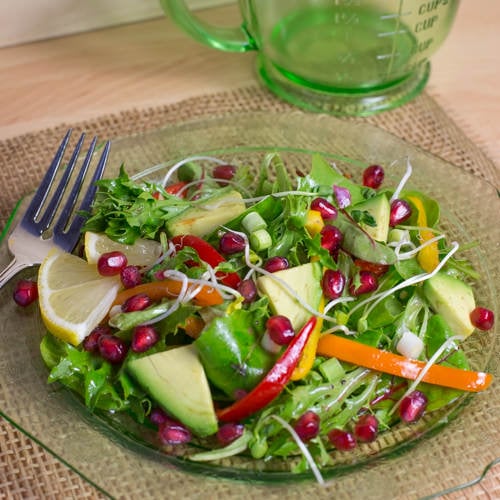 Pomegranate Salad with Pomegranate Dressing
Ingredients
Salad Ingredients:
large bowl of fresh baby greens
radish sprouts
½ cup assorted bell peppers sliced
1 avocado
2 green onions chopped
½ cup fresh pomegranate
Dressing Ingredients:
¼ cup extra virgin olive oil
4 tablespoons lemon juice (fresh squeezed)
4 tablespoons pomegranate juice (I used POM)
2 tablespoon red onion (very finely chopped)
¼ to ½ tsp sea salt
¼ to ½ tsp fresh ground pepper
Instructions
For Dressing- combine all ingredients together and whisk.
Combine salad ingredients together, then toss with dressing just prior to serving.