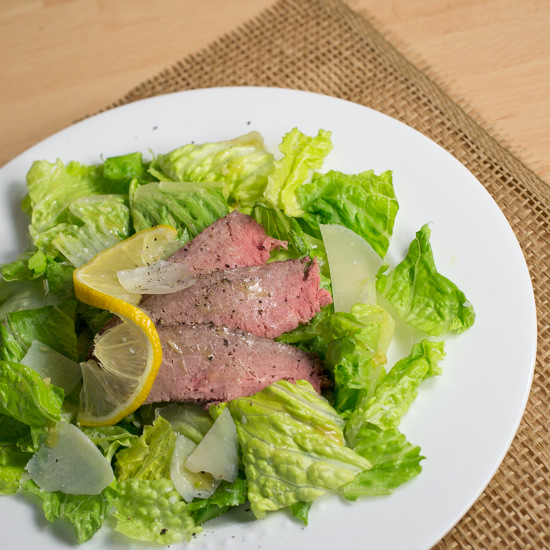 This is a great recipe for left over steak with made from scratch Caesar dressing.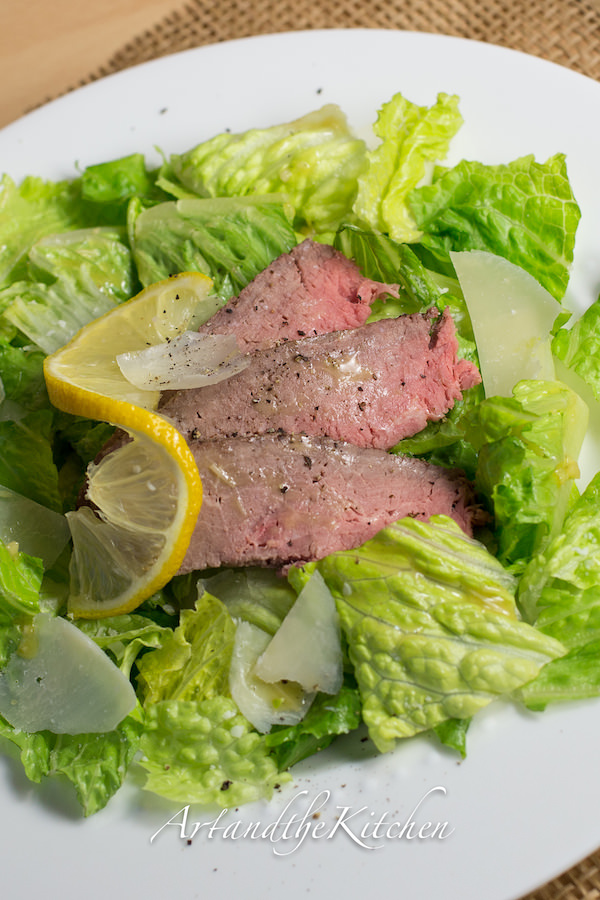 This is the perfect recipe for left-over steak; in fact I sometimes grill up an extra steak just so we can have this Caesar Steak Salad for lunch the next day. My husband loves this in his lunch bag for work. For those following a low carb diet, it's an ideal salad – lean protein and greens!
Prep Time: 20 minutes Serves: 4
Ingredients:
8-12 oz grilled steak (can be cold or hot)
1 small head romaine lettuce (bite size pieces)
1/4 cup extra virgin olive oil
1 tablespoon fresh squeezed lemon juice
1 clove garlic, very finely minced
1/4 – 1/2 teaspoon sea salt
1/8 – 1/4 teaspoon fresh ground pepper
1/4 teaspoon dry mustard
1 teaspoon worcestershire sauce
2 tablespoons parmesan cheese, grated
1 egg yolk, coddled
parmesan cheese shavings (optional)
Directions:
Wash lettuce and tear into bite size pieces, pat dry, or use salad spinner to drain any water off.
In small container with lid (I use a jar) mix together, olive oil, lemon juice and garlic.
Add dry mustard, worcestershire sauce and parmesan cheese to jar, and shake together.
Coddle egg. Heat small pan of boiling water, enough to cover egg completely. Place egg into boiling water, remove from heat and cover for 30 seconds. Remove and immediately separate.
Add yolk into dressing. Discard white.
Add salt and pepper. I start with a small amount and test adding dashes until I get desired seasoning.
Shake ingredients together.
Just before serving pour dressing over lettuce and toss.
Top with grilled steak and parmesan cheese shavings and fresh ground pepper.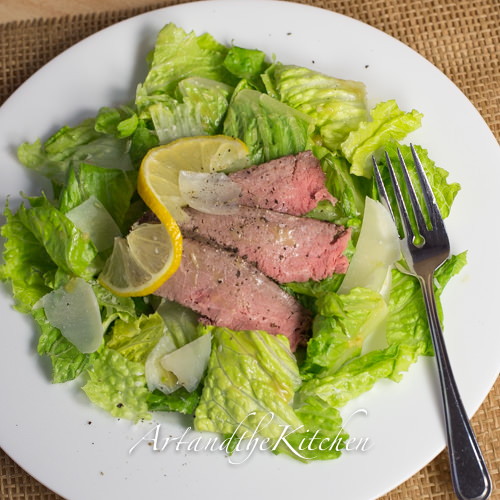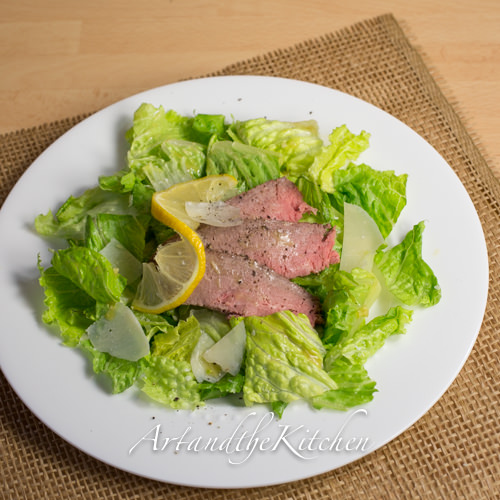 This is a great recipe that is easily adjusted to suit your tastebuds. Some people like a little less garlic, worcestershire sauce or dry mustard. The saltiness of the parmesan cheese you buy will have be considered when adding salt. That is why I add it last and adjust a pinch at a time.