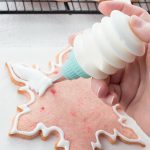 How to Decorate Cookies with Royal Icing
Print Recipe
Sift together confectioner's sugar and meringue powder. Be sure to sift or you will have lumps!

Using an electric mixer on medium speed beat together sugar, meringue powder and water for 7 minutes. Icing will be very thick

Thin to desired consistency by mixing very small amounts (¼ tsp. at a time) to icing for outlining, covering and decorating cookies. see detailed instructions above.