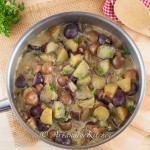 Potato and Ham Ragu
Ham and a rich creamy sauce that is flavoured with brandy, oregano, garlic and leeks turn potatoes into a gourmet dish.
Print Recipe
Heat butter and oil in large skillet. Cook ham, garlic and leeks over medium low heat for 10 minutes.

Add potatoes and cook for another 10 minutes, stirring occasionally.

Combine stock, brandy and oregano together, then slowly stir into the potatoes.

Cover and cook low heat for another 15-20 minutes until potatoes are tender but not mushy.

Add parsley and cream, season with salt and pepper.

Simmer for additional 5 minutes.