For this recipe for Confetti Cake Pops I made a quick and easy version using cake mix, packaged icing and white chocolate. Colourfully decorated with sprinkles, these cake pops make the perfect party treat.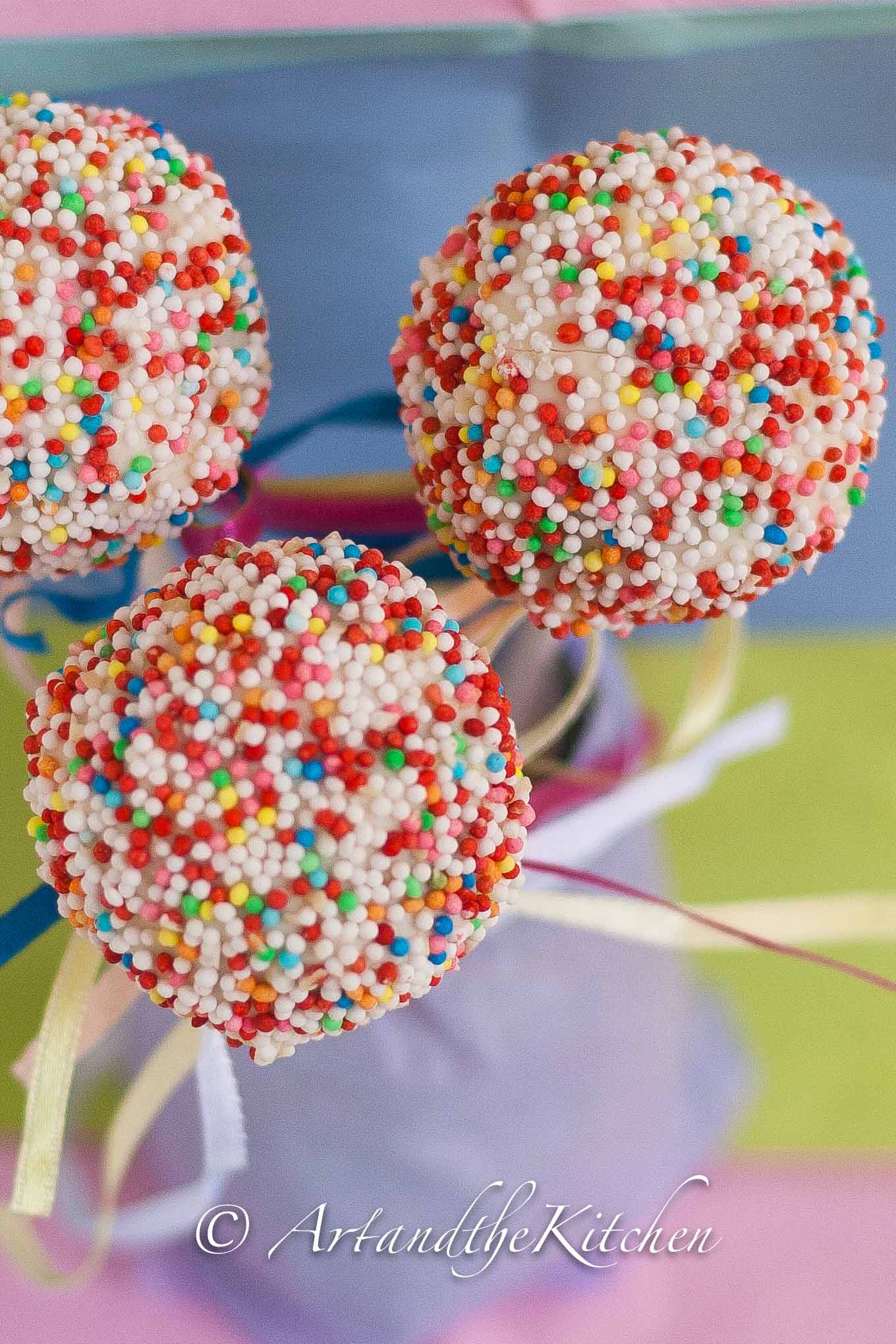 This is the 1st day of school for most children today, so why not make them a treat this week to come home to. That 1st day of school is always exciting whether kids are just starting grade 1 or 1st year University. Its also a very anxious day for parents. For some it is a relief to send them off to school and quit wondering how to keep them entertained, for some it is a sad time as the time you spend with them is now lessened. I have to admit when I brought my son to school that first day I managed to say "bye, have a great day", and then cried all the way back to my car. I did this for 6 years. My husband always found this quite amusing. After several years of no tears on the first day of school; last year I dropped my son off at the University of Calgary, yup you guessed it back to the tears. Only problem was they lasted all the way to Red Deer. (about an hour of our 3 hour trip back home. This year I'm happy to report – no tears.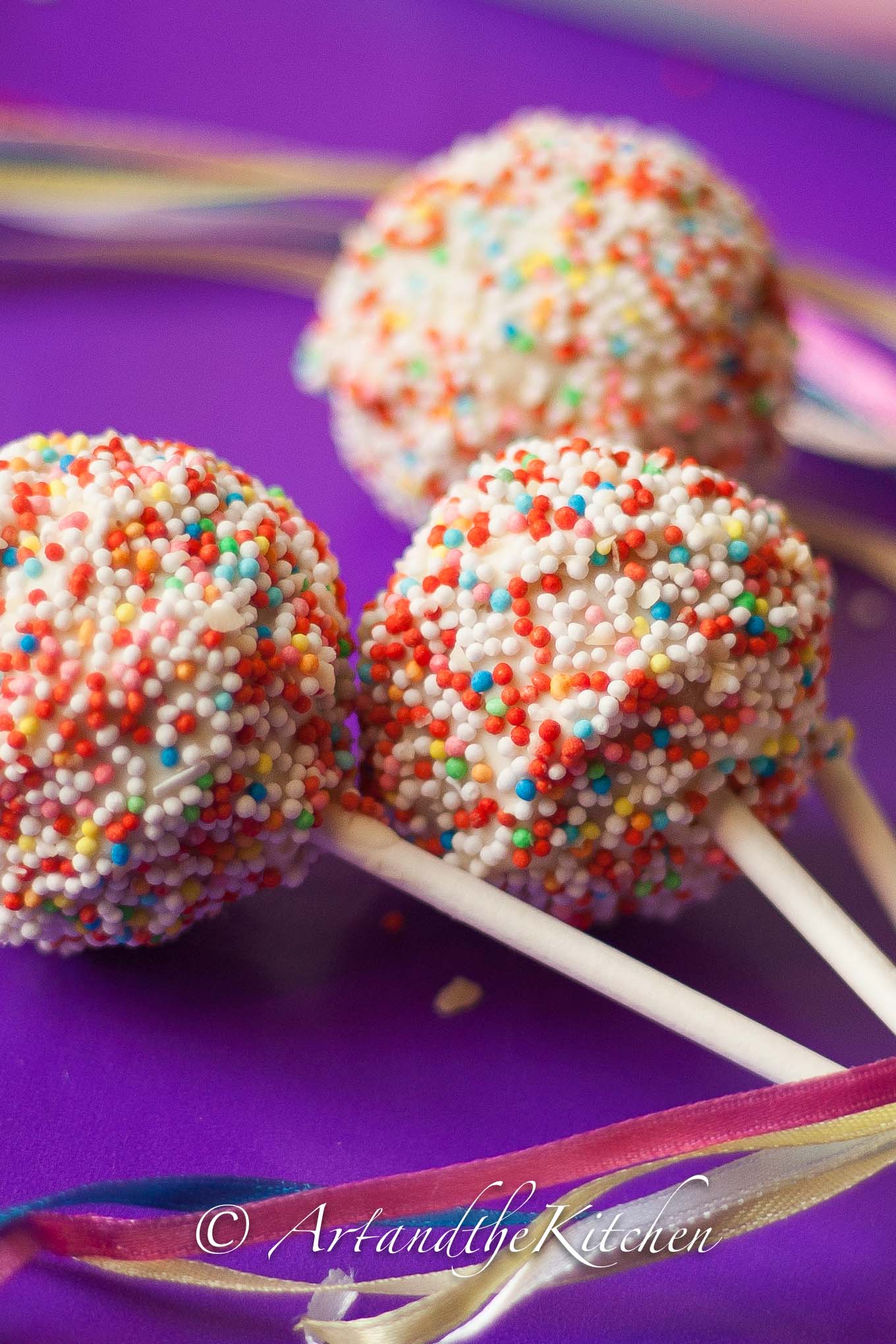 I usually make my cake pops from scratch baking my own cake and icing, but I was in a bit of a rush and thought I would try the cake mix and store bought icing this time. Certainly the homemade cake and icing are superior in flavour, but this method works just fine for a quick tasty treat for the kids.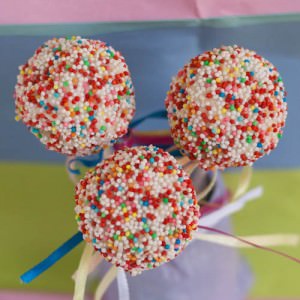 Confetti Cake Pops
Print
Rate
Total Time:
1
hour
30
minutes
Ingredients
1

white cake mix

I used the one with the sprinkles in it

1

can of prepared icing

2

cups

white chocolate

1

cup

sprinkles
Instructions
Prepare cake mix as per box instructions.

After cake is cooked and cooled completely, crumble into large bowl.

Add frosting a couple of heaping tablespoons at a time, mix thoroughly. You may not need all the icing, consistency should be that of play dough.

Use a small cookie scoop (this ensures all balls are same size) to make round balls of the cake mix. You'll need to roll the mix between the palm of your hands to make a nice round shape. Place on wax paper covered cookie sheet. (Should make 45-50)

Melt about 2 cups White chocolate in double boiler.

Dip the tip of a lollipop stick in a little of the melted chocolate and insert into the cake balls. (Insert a little less than halfway.)

Refrigerator for 30-60 minutes so the pops can firm up and the chocolate on the stick hardens.

Once firm, carefully insert the cake ball into the chocolate by holding the lollipop stick and rotating until covered. Once covered remove and softly tap and rotate until the excess chocolate falls off. Don't tap too hard or the cake ball will fall off, too.

Before chocolate hardens you can add sprinkles to add some colour.

Place in a styrofoam block to dry or on wax paper if putting into mini cupcake papers.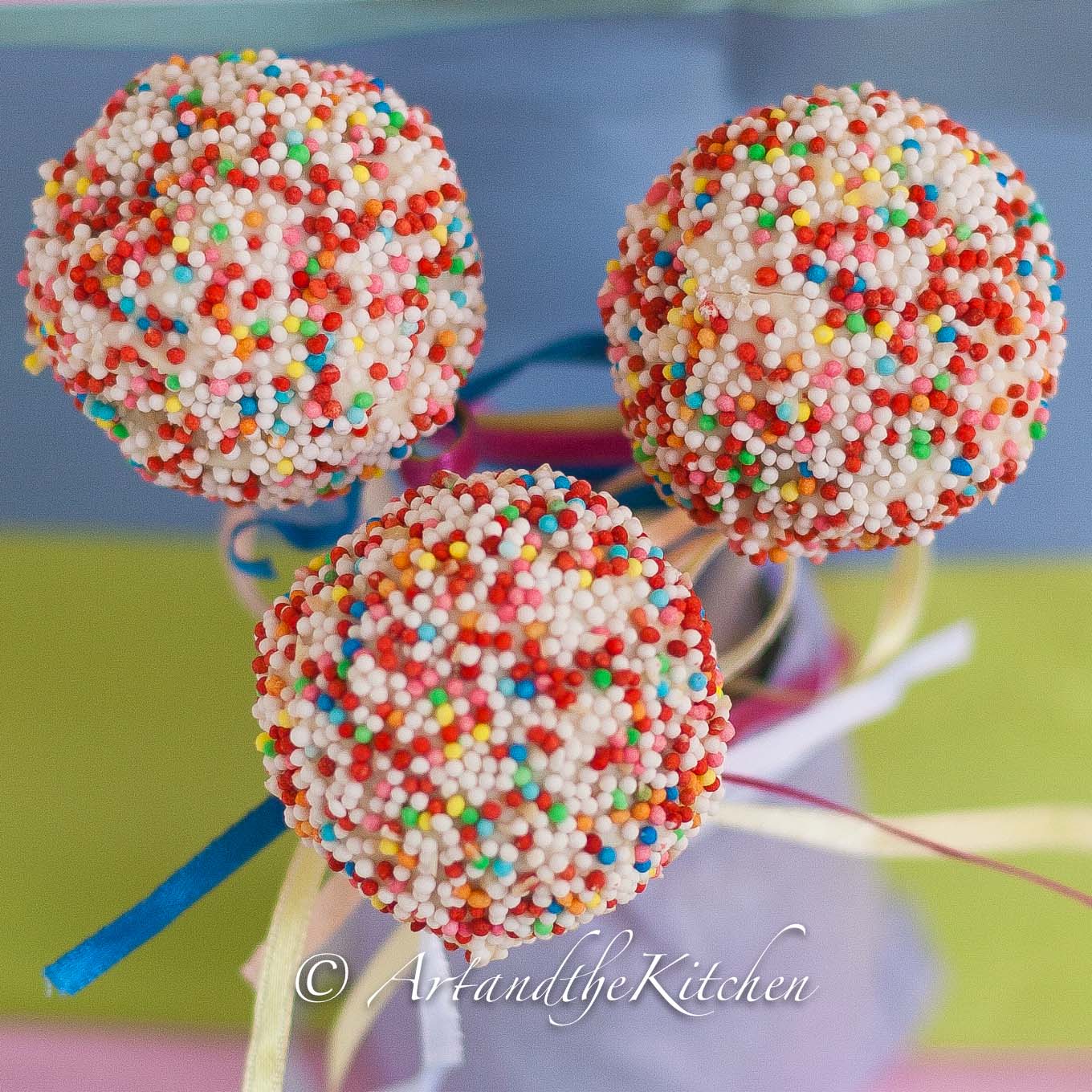 Check out my recipe for Cake Pops that use a made from scratch chocolate cake.