This is one terrific Hot Roast Beef Sandwich, made with tender roast beef from my left over roast, topped with homemade onion rings.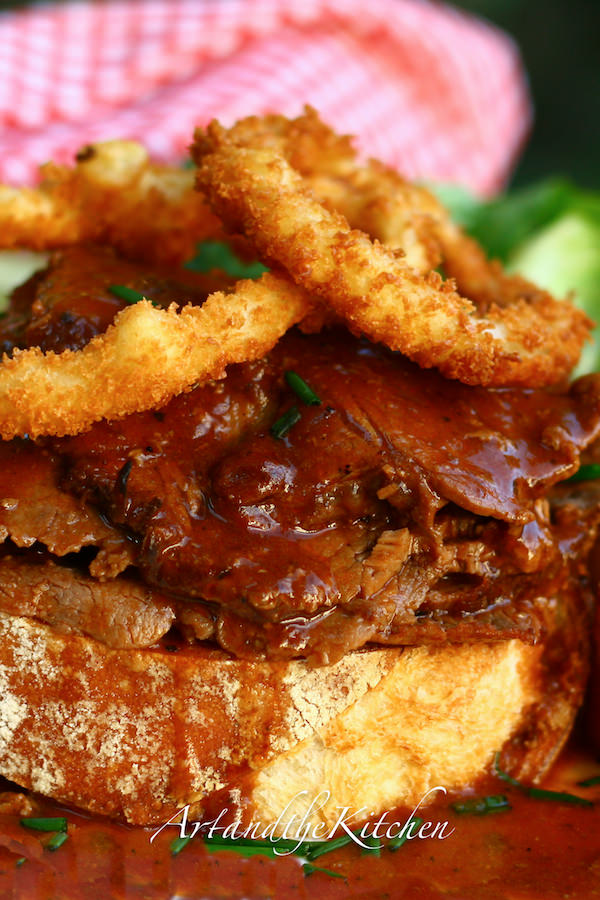 This recipe is made with the leftovers from my 
Slow Cooker Roast Beef
 . My recipe makes the perfect roast beef with an amazing tasting au jus, so I usually make a big roast just to have leftovers for Hot Roast Beef Sandwiches. You can use any leftover roast beef and even packaged au jus or beef gravy mix, but it won't taste as good.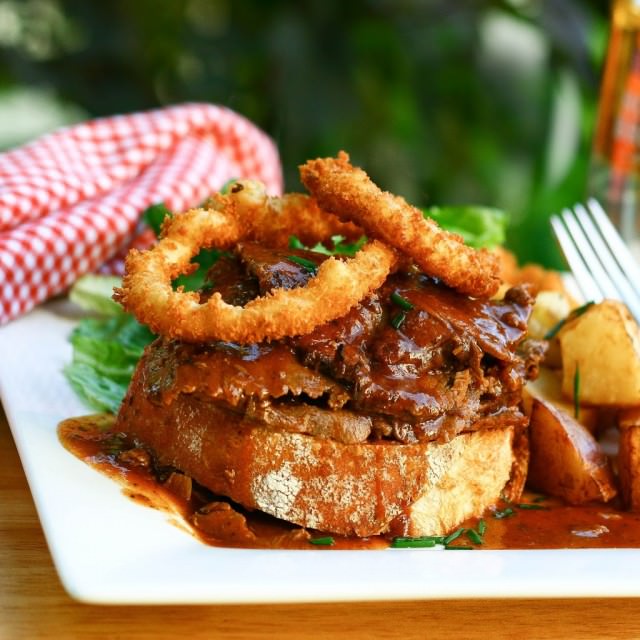 I picked up some great french bread from our local bakery and topped the sandwiches off with homemade onion rings. I thought I would have to drag out the deep fryer for this job (which I dread using because of the clean up); but I decided to give it a try on the stovetop with a large pot and about 3 inches of oil. I was only making dinner for two an this worked quite well for a small batch.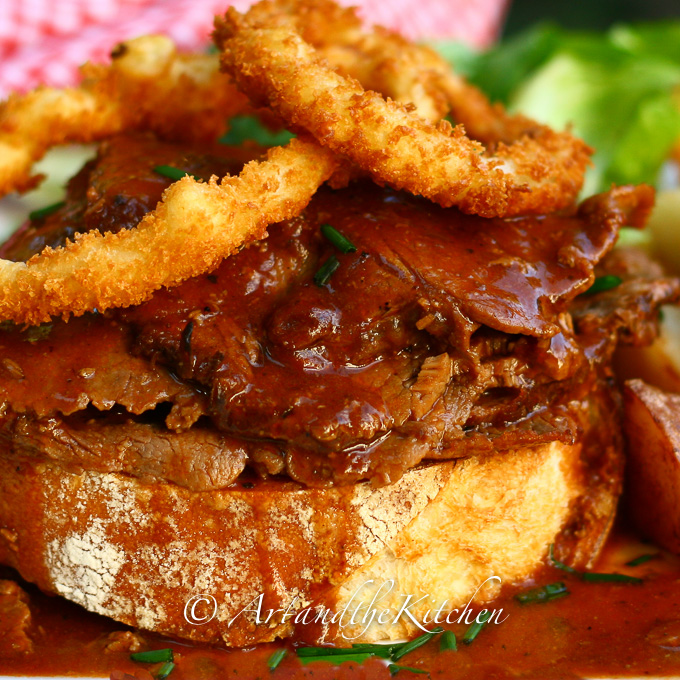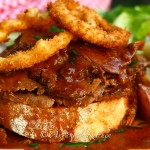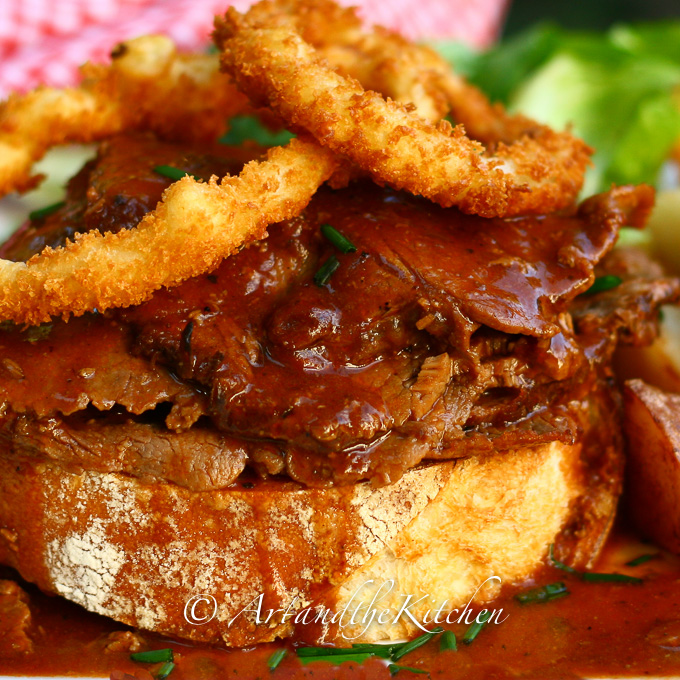 Hot Roast Beef Sandwich
Print
Ingredients
For Onion Rings:

1

large onion

cut into thin slices

1 1/4

cups

all-purpose flour

1

teaspoon

baking powder

1

teaspoon

salt

1

egg

1

cup

milk

or as needed

3/4

cup

panko bread crumbs

2

cups

canola oil for frying

or as needed

Sandwiches:

Leftover roast beef from my Slow Cooker Roast Beef recipe

left-over au jus from slow cooker roast

or any packaged au jus or beef gravy you like

French bread cut into 3/4 inch slices

*gravy thickener if needed
Instructions
Slice beef into thin pieces, using my electric knife works awesome for this job.

Place roast beef slices into roasting pot, pour in left-over au jus or prepared gravy, mix together and warm up in oven for 30 mins. at 300 degrees.

If your au jus is too thin, thicken with a bit of gravy thickener, before adding beef.

Turn temperature to low and keep warm until ready to use.

Prepare onion rings while the beef warms up.

Heat the oil in a deep pot (you can also use a deep fryer)

Separate the onion slices into rings, and set aside.

In a small bowl, stir together the flour, baking powder and salt.

Dip the onion slices into the flour mixture to coat; set aside.

Whisk the egg and milk into the flour mixture using a fork.

Dip the floured rings into the batter to coat.Then dip into the bread crumbs

Fry in oil until golden brown 2-3 minutes

Remove to paper towels to drain.

Assemble by cutting thick slice of French bread, top with slices of roast beef, cover with gravy and top with onion rings.