One of my best ever Beef Stew recipes! This savoury Irish Stew is flavoured with Guinness beer and red wine!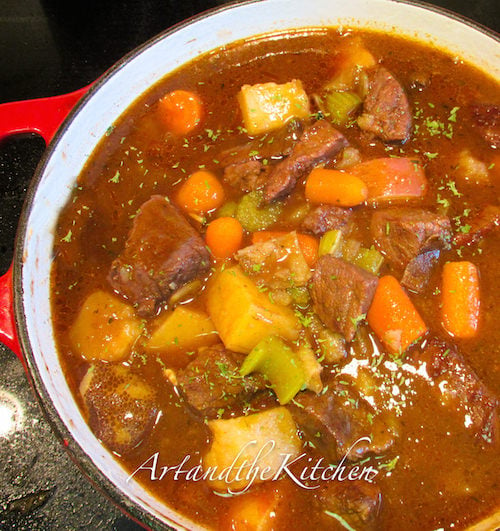 Would celebrating St Patrick's Day be complete without Irish Stew and Guinness Beer- I don't think so. This is by far the best stew I have ever made! The combination of Guinness beer and red wine just raised the bar on a flavourful stew. The house smelled wonderful cooking this traditional Irish dish; well almost traditional, I used beef instead of lamb or mutton. This recipe also works great in a crockpot. Double this recipe as it great left-over meal.

Irish Stew
Ingredients
1 pound stew beef, cut into 1-inch pieces
2 tablespoons extra-virgin olive oil
¼ cup flour
6 large garlic cloves finely chopped
¾ cup red wine
¾ cup Guinness
5 cups beef stock (or broth)
3 tablespoons tomato paste
1-1/2 tablespoons white sugar
2 tablespoons Worcestershire sauce
1 tablespoon dried thyme
2 bay leaves
2 tablespoons butter
2 russet potatoes, cut into ½-inch pieces (peeled or unpeeled)
3 red potatoes, cut into ½-inch pieces (peeled or unpeeled)
3 stalks celery, chopped
2 cups carrots cut into ½-inch pieces
1 large onion chopped
1 tablespoon cornstarch + 1 tablespoon water
salt and pepper, to taste
Instructions
Heat the olive oil in large skillet, medium-high heat.
Salt and pepper beef, dust with flour and sauté until brown on all sides, about 5 to 7 minutes. Transfer to dutch oven or heated crockpot. May have to do in several batches (don't crowd pan when browning).
Add garlic and sauté another minute, until fragrant.
Deglaze pan with red wine, add Guinness, beef stock, tomato paste, sugar, worcestershire sauce, thyme and bay leaves.
Stir to combine and bring the mixture to a simmer, then transfer to beef.
In skillet, melt the butter over medium heat. Add the potatoes, celery, onion and carrots, sautéing until golden, about 10 minutes.
Add vegetables to beef mixture.
Bake in oven 350 degrees for about 1 hour until vegetables and beef are tender.
If using crockpot, cook 3-4 hours on low setting.
If juices need to be thickened add (mix 1 tablespoon cornstarch with 1 tablespoon cold water until combined). Slowly stir into the stew.
Season with salt and pepper to taste.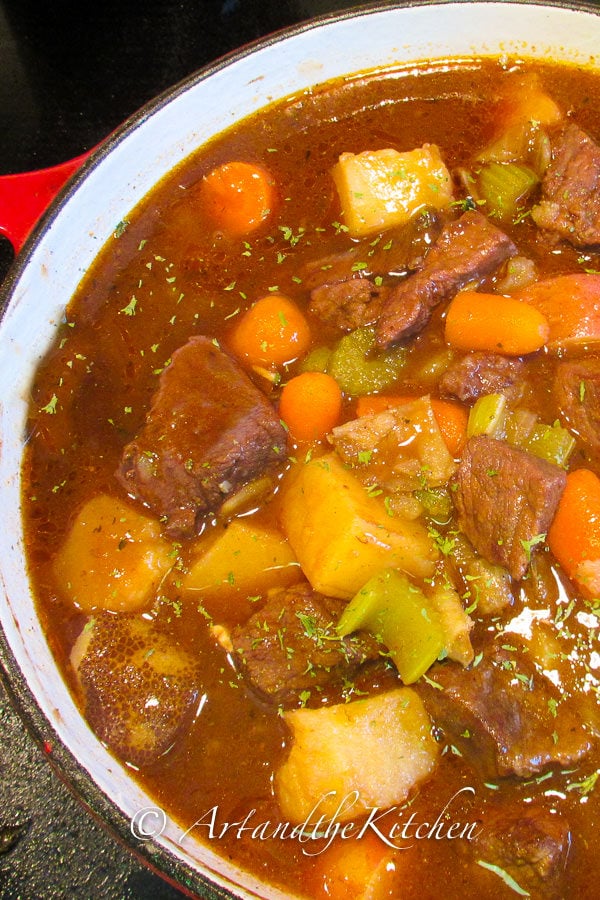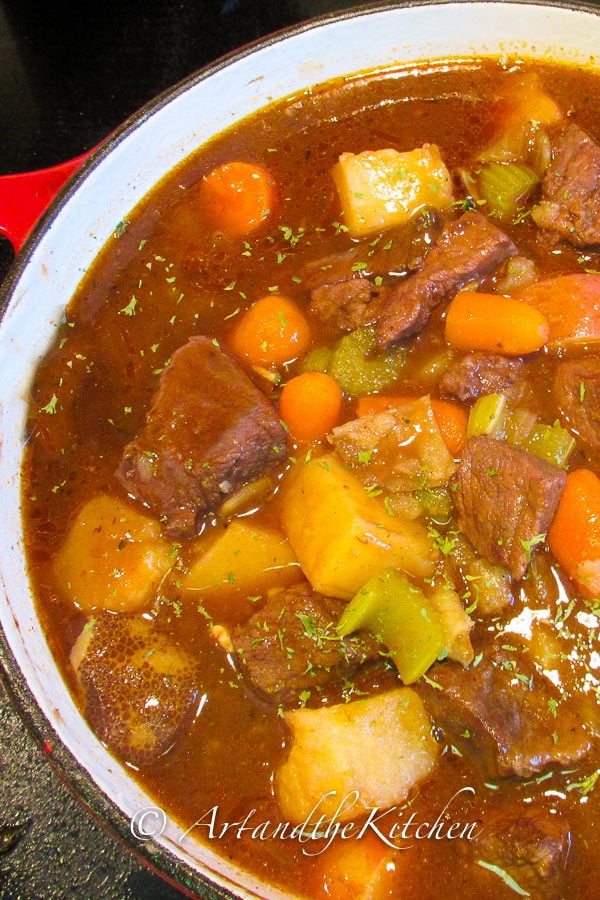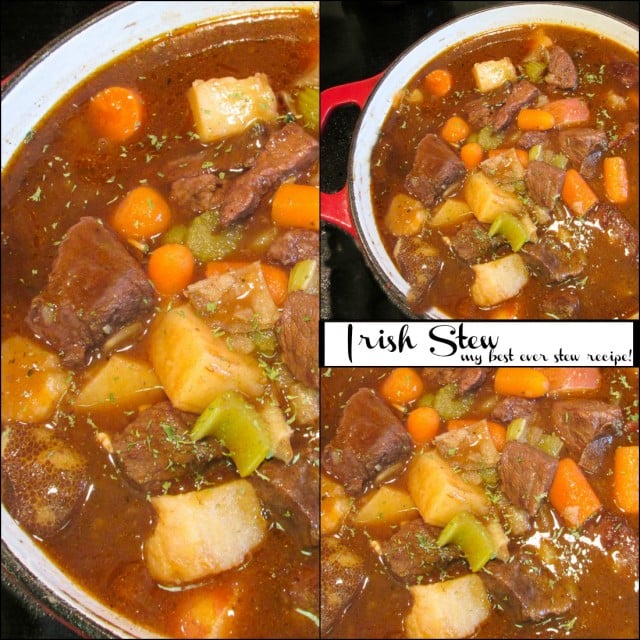 Be sure to try another of my family favourite stew recipes Chicken and Dumplings