You can't beat the taste of Grandma's Old Fashioned Apple Pie with an amazingly flaky crust with delicious apple cinnamon filling.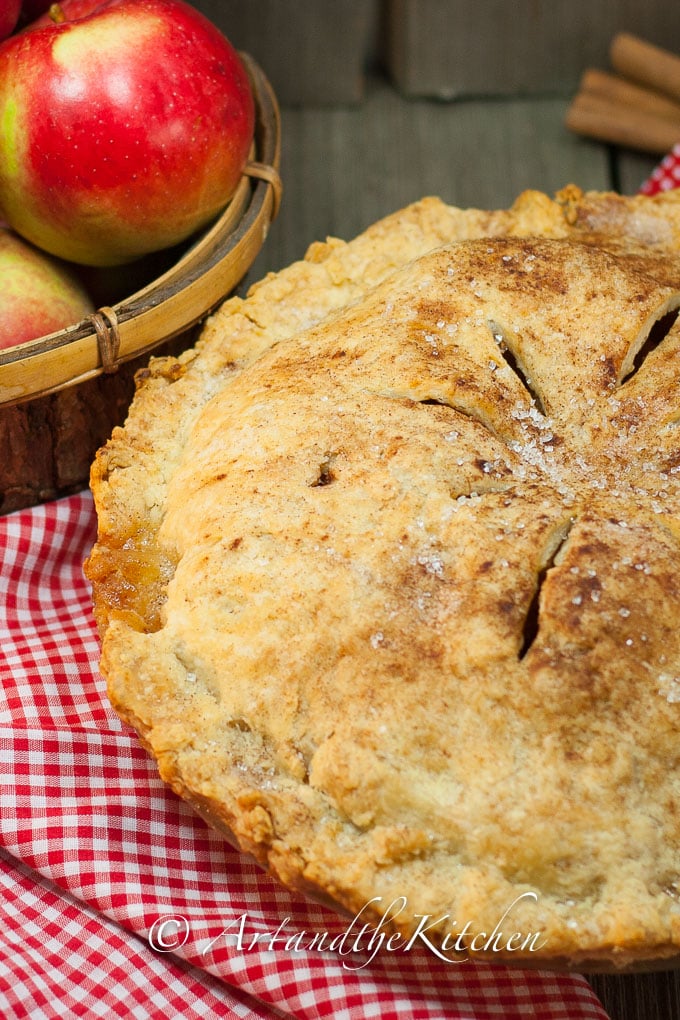 Autumn – what a beautiful season full of vibrant colours.  As a kid growing up in Saskatchewan it was a busy time, as this was harvest time. We grew an enormous garden at my Grandparents farm as well as one in town; everything to keep a family well fed for the winter. After a hard days work, my Grandma would make a fantastic dinner, followed by her famous Grandma's Old Fashioned Apple Pie.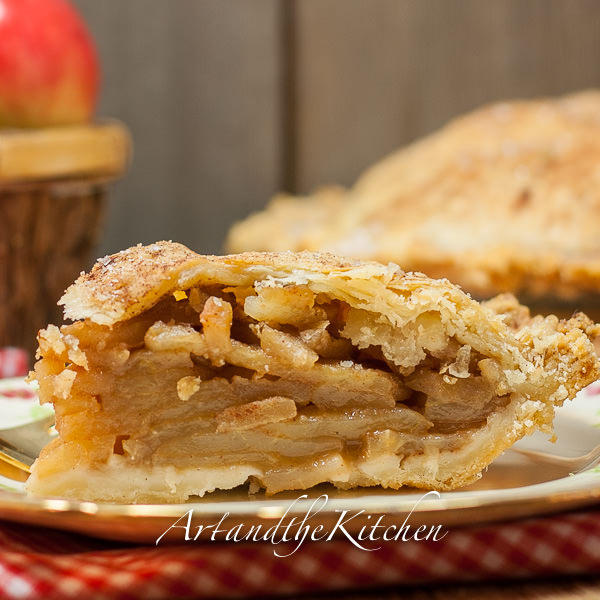 My apples have been picked and its time to make some apple pie. I may never come close to my Grandma's baking as she baked in an old wood burning oven. It was incredible how Grandma could bake bread, cakes, and pies in her wood burning oven, how did she know the temperature things were baking at?
Ahh, the smell of Apple Pie baking!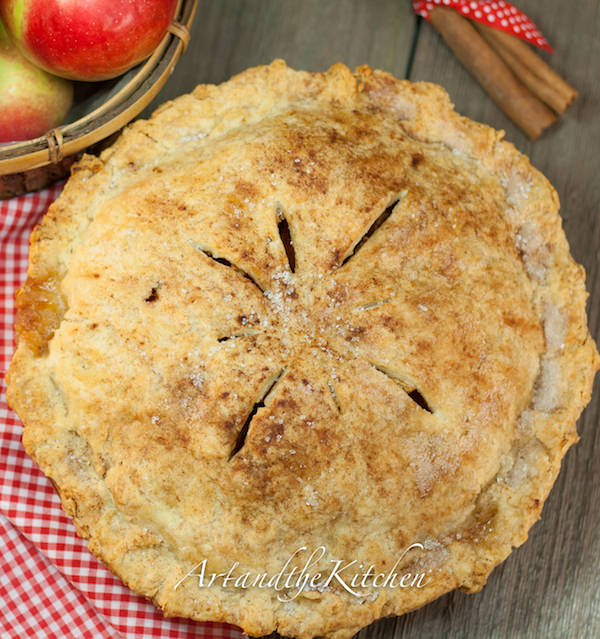 Grandma's Old Fashioned Apple Pie
Ingredients
apple slices peeled (about 10 apples)
½ cup brown sugar
½ cup white sugar
1½ tsp cinnamon
2½ cups all purpose flour
1 tsp salt
1½ tsp sugar
½ cup butter (chilled)
½ cup lard (chilled-I used Crisco)
5-7 tablespoons ice cold water
Instructions
Mix together flour, sugar and salt.
Using pastry blender mix together butter, lard and flour until crumbly with pea size chunks.
Add ½ of ice cold and mix evenly into flour with fork.
Add more water a tablespoon at a time until mixed and dough sticks together when pressed.
DO not overmix or your pie crust will be tough.
Divide in half, cover with plastic wrap and chill for 30 minutes.
While dough is chilling, in large bowl toss together apples, sugars, and cinnamon. If you like filling less runny toss apples with 1 tbsp. of flour or minute tapioca.
Roll out pie dough to make two crusts that cover pie plate with about an inch excess.
Place one in bottom of pie plate.
Pile high with apple mix, cover with other pie crust, seal edges, cut slits for venting.
Sprinkle with white sugar and cinnamon.
Bake 350 for about 1 - 11/2 hours until top is golden brown. Cover edge with foil if it pie start to brown too much while baking.
Notes
-Make sure your butter, lard and water are well chilled before starting!!
-Use more or less sugar depending on how tart your apples are.
-Put foil on bottom of oven in case pie leaks, change out tin foil if needed.