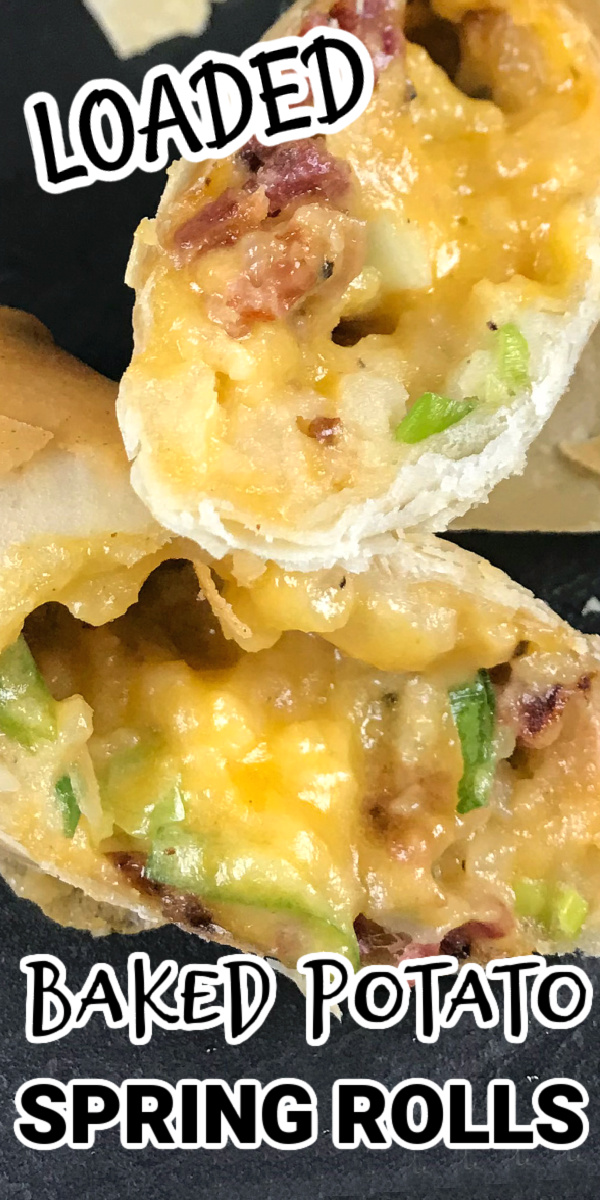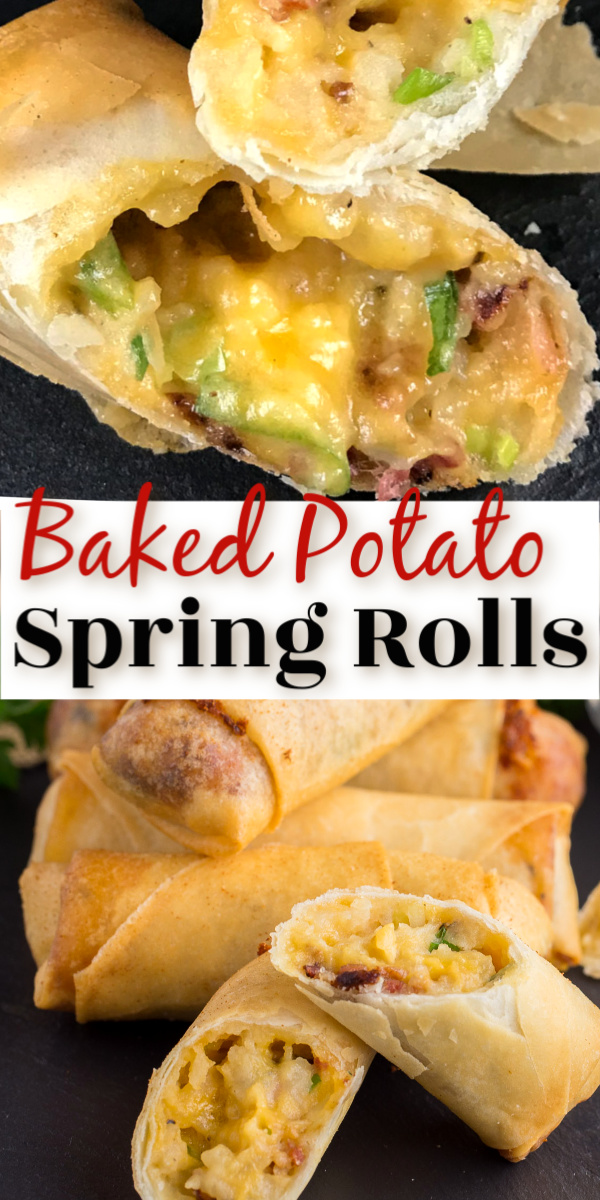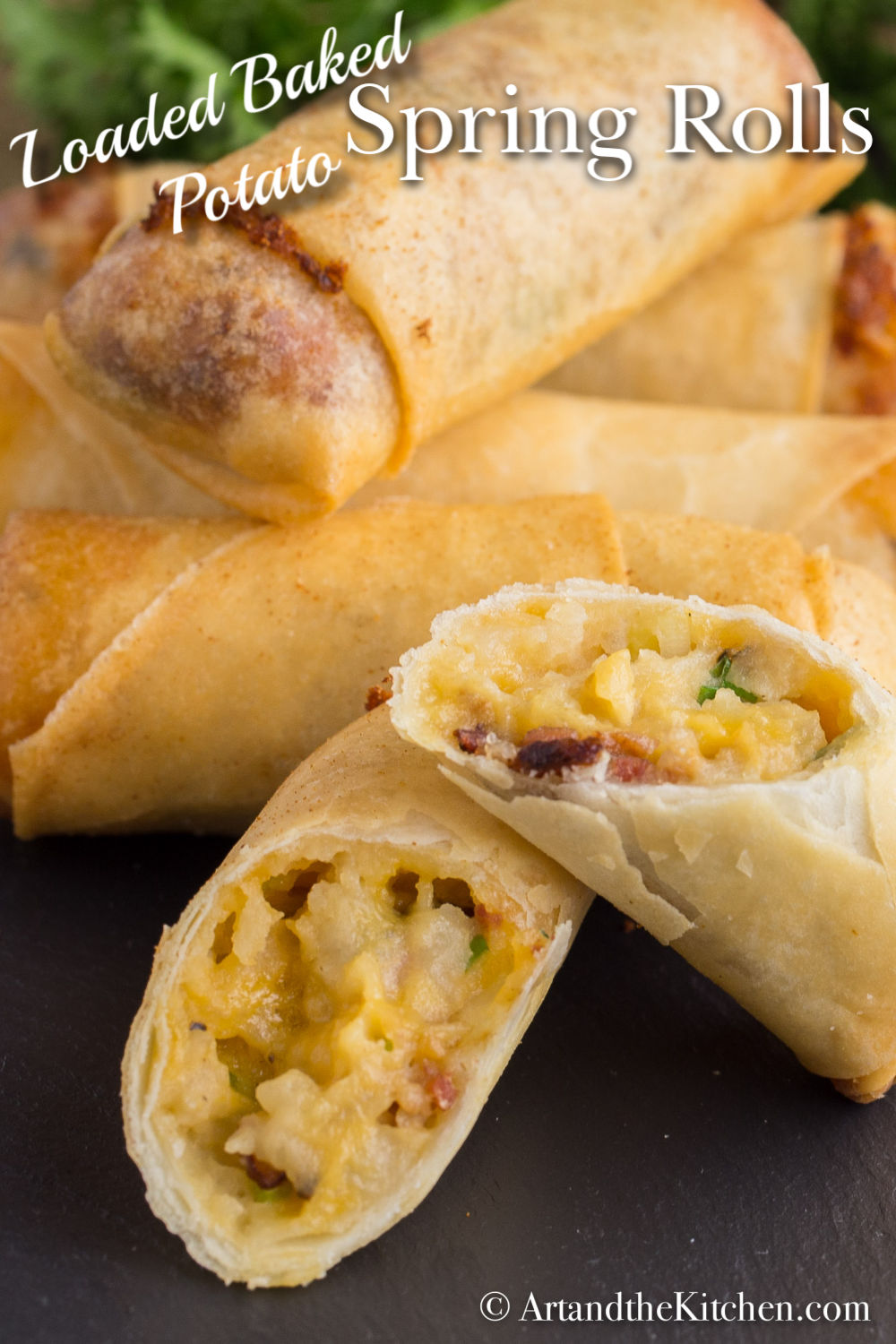 The sensational flavor of a loaded baked potato wrapped inside crunchy, crisp spring rolls. I've included some step by step instructions to help you make the perfect spring rolls at home.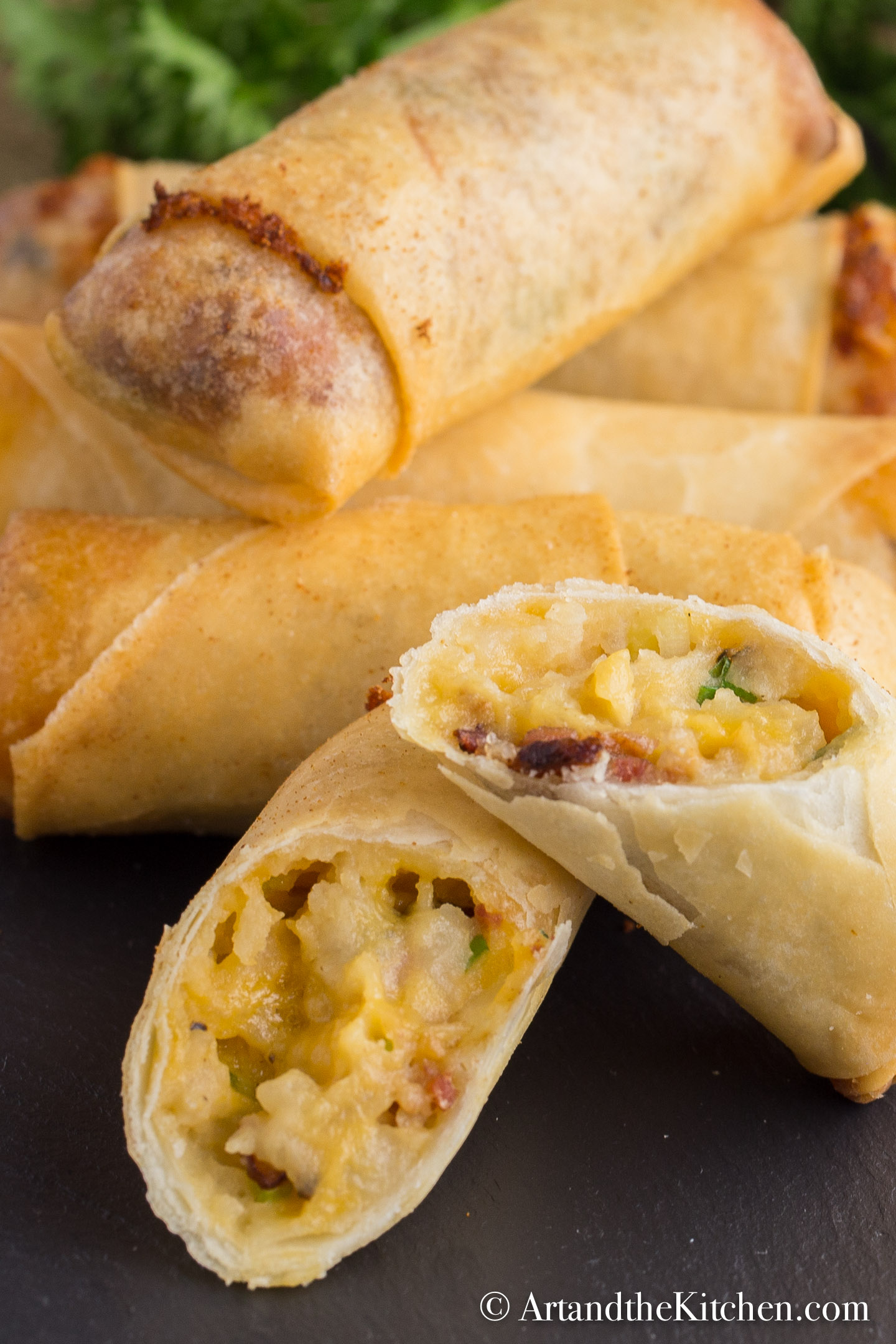 Loaded Baked Potato Spring Rolls are a unique appetizer that will be a big hit at your next party! The inspiration for this scrumptious recipe came from a wonderful restaurant we enjoyed many times while living in Florida, the Salty Pelican.
I serve these spring rolls with my Homemade Ranch Dip. The combination is out of this world delicious!
You can even make these spring rolls ahead of time as they freeze quite well. Be sure to keep rolls in a single layer to prevent them from sticking together. I place them on a cookie sheet lined with parchment paper to freeze. Once frozen, the spring rolls can be stored together in a freezer bag.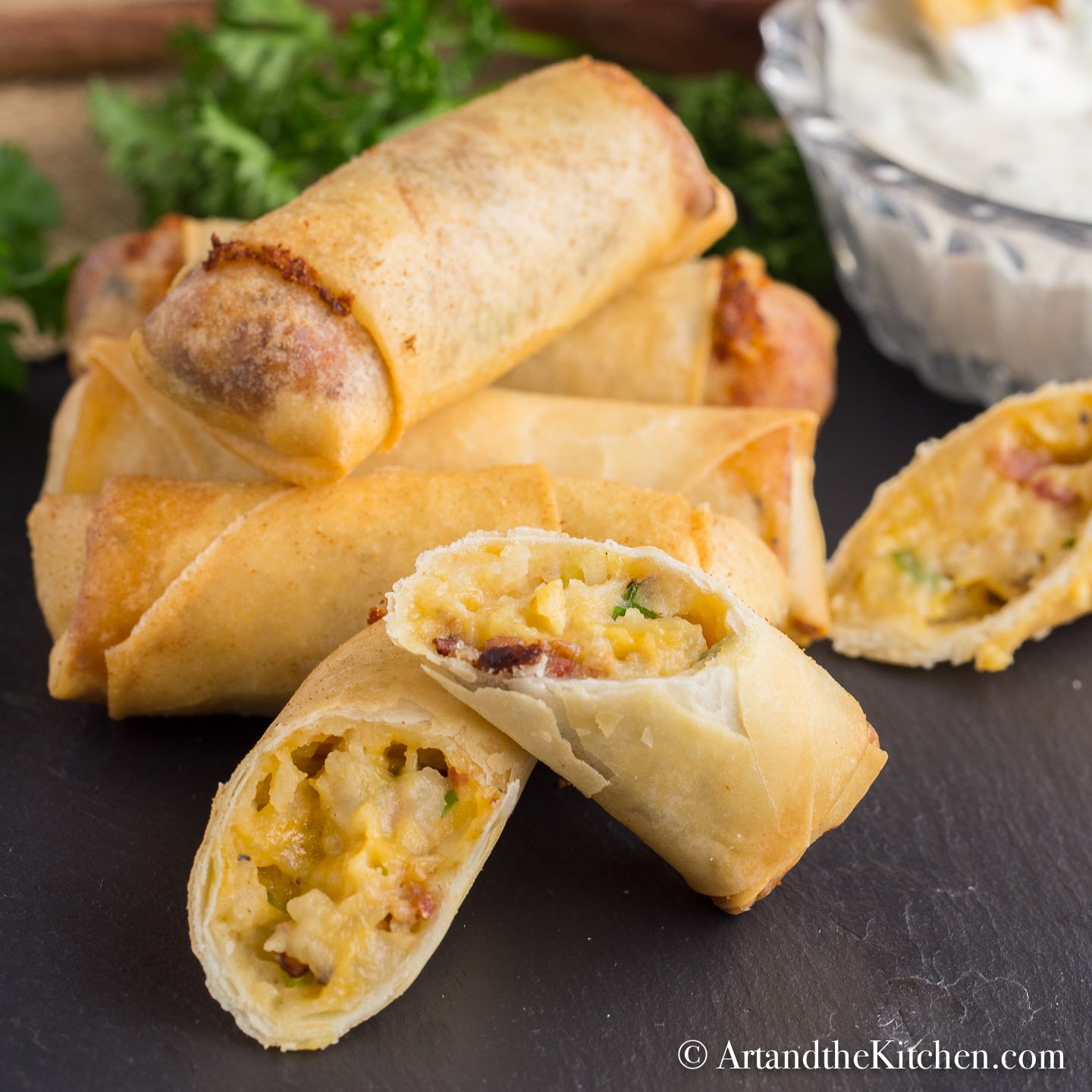 Most local grocery stores now stock spring roll wrappers. If you can't find them there your local Asian grocery store is sure to have them. They usually come in 2 sizes. For this recipe, I used the large size as you are filling with about 2 tablespoons of filling. Although spring rolls wrappers are very thin they are actually very easy to work with.
Some tips for making the perfect Loaded Baked Potato Spring Rolls:
Start with a baked russet potato. Boiled potatoes will not give you the same "baked potato flavor".
After removing skin from the potatoes, let them cool down before adding the other ingredients. You don't want the cheese to melt. Also if the filling is hot it will cause the spring roll wrappers to become soggy.
Be sure your wrappers are fully thawed before starting. Thaw in refrigerator overnight, or about 30 minutes on the counter.
While preparing spring rolls, keep the wrappers covered with a damp paper towel to prevent them from drying out.
Roll filling tightly in wrappers and seal with a wash mix of cornstarch and water.
A deep fryer works best for cooking up spring rolls as it will keep an even temperature. Using a wok or large pan on the stovetop will also work, but I find it a lot messier and difficult to regulate the temperature of 350ºF.
Don't overcrowd the rolls when frying or they won't cook evenly.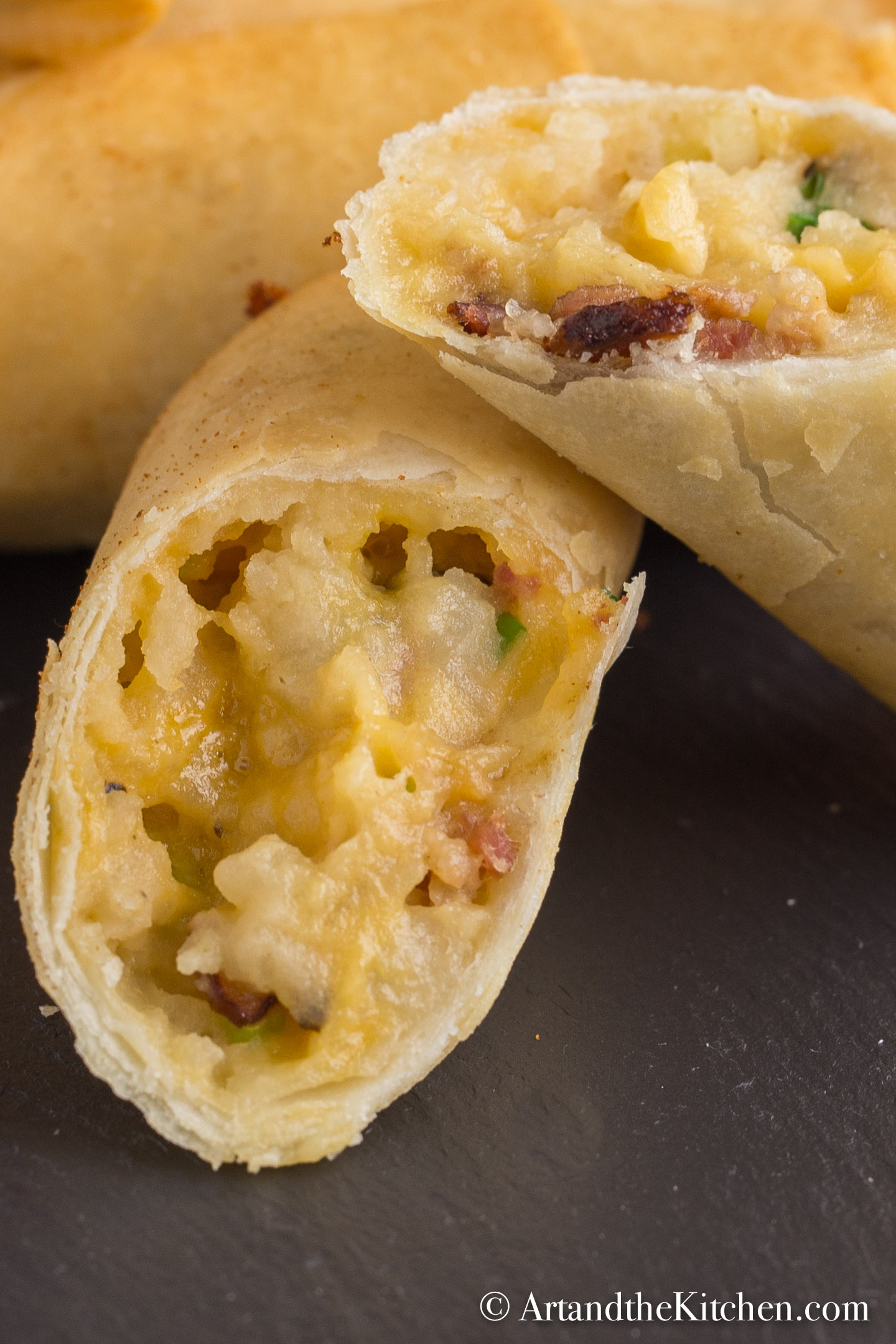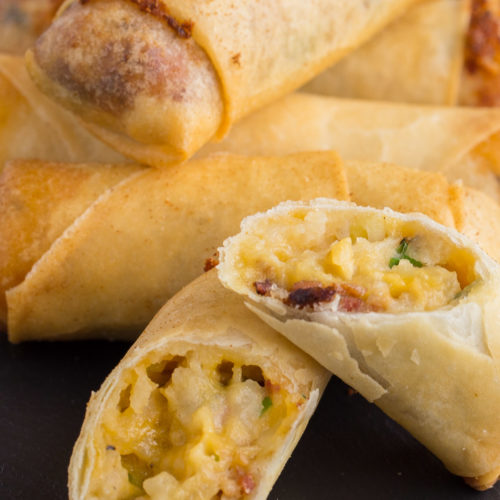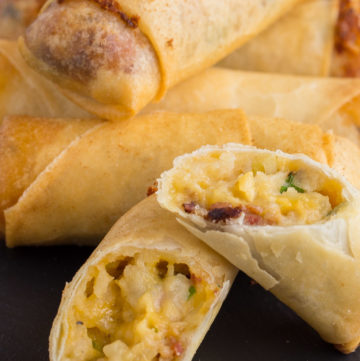 Loaded Baked Potato Spring Roll
Homemade Spring Rolls filled with the sensational flavors of a loaded baked potato!
Ingredients
2

cups

russet baked potatoes

fully cooked

½

cup

lean bacon cooked and chopped

I remove excess fat

½

cup

green onion

chopped

1

cup

cheddar cheese

shredded

½

cup

sour cream

¼

tsp

kosher salt

½

tsp

fresh ground pepper

¼

tsp

garlic powder

¼

tsp

onion powder

12

spring roll wrappers

1

tbsp

cornstarch mixed with ¼ cup water

for sealing spring rolls

vegetable oil for frying
Instructions
Bake potato until fully cooked. Remove skin and mash with fork or potato masher.

Allow to cool before adding bacon, green onion, cheese and sour cream.

Stir in salt, pepper, garlic powder and onion powder. Mix all ingredients until well combined.

Heat vegetable oil in deep fryer to a temperature of 350ºF. If using a wok or pot fill with 2 inches of vegetable oil.

Lay spring roll wrapper on a clean, dry surface. Spoon 2 heaping tablespoons of filling near bottom corner.

Lift bottom corner over filling and begin rolling tightly about half way up.

Fold over sides towards center, and continue to roll. Dip your finger into the cornstarch/water mix and brush over top corner. Finish rolling to seal and place seam side down until ready to fry.

Carefully place spring rolls into hot oil and cook until golden brown, turning occasionally. Cook only a few at a time to avoid overcrowding.

Place on wire rack to cool a bit before serving.

Serve with your favorite dip or try my awesome recipe for Homemade Ranch Dip. It goes great with Loaded Baked Potato Spring Rolls!
Nutrition
Calories:
145
kcal
Carbohydrates:
16
g
Protein:
7
g
Fat:
6
g
Saturated Fat:
3
g
Cholesterol:
17
mg
Sodium:
422
mg
Potassium:
154
mg
Fiber:
1
g
Sugar:
1
g
Vitamin A:
196
IU
Vitamin C:
2
mg
Calcium:
94
mg
Iron:
1
mg
Step by Step instructions for wrapping spring rolls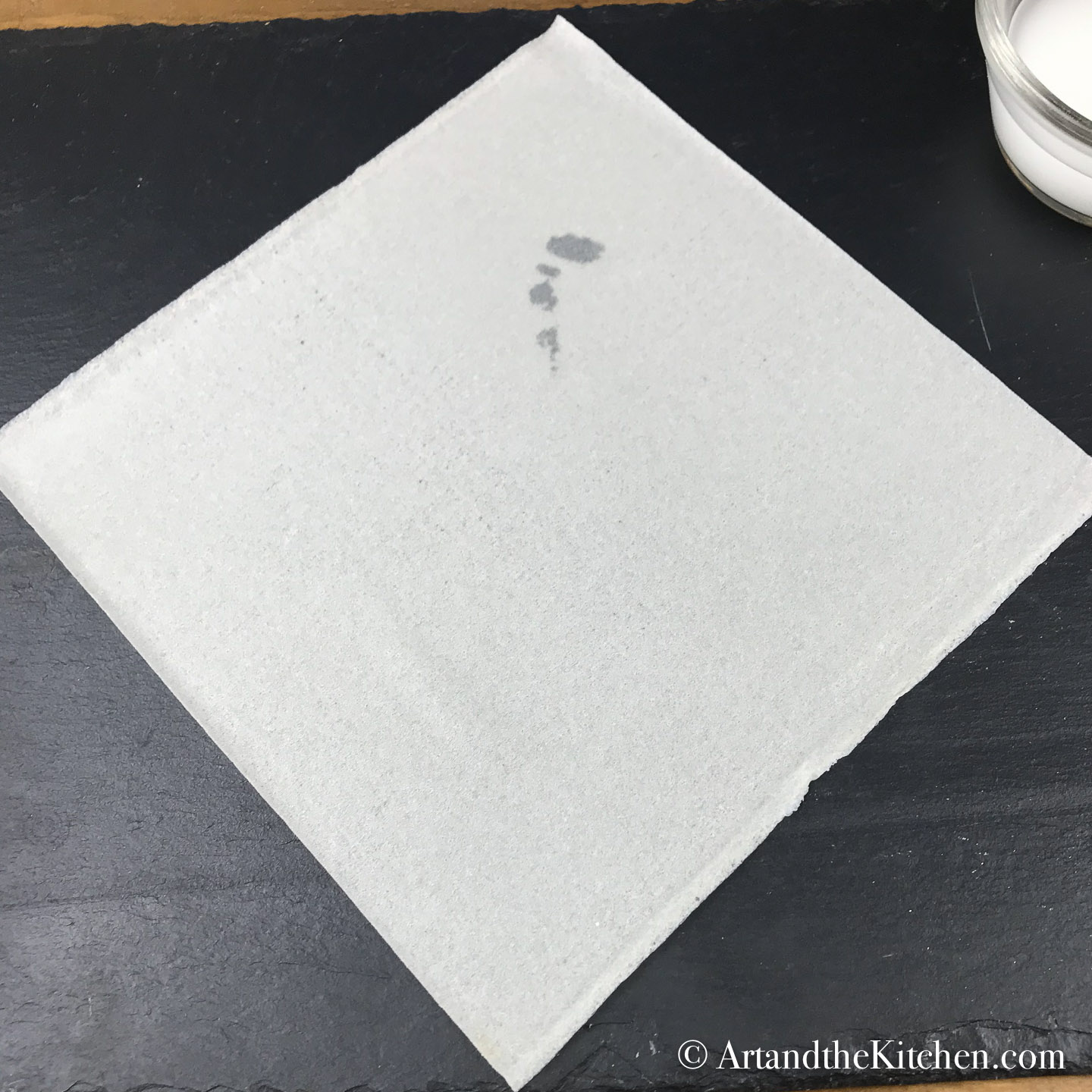 Place spring roll wrapper diagonally on clean surface.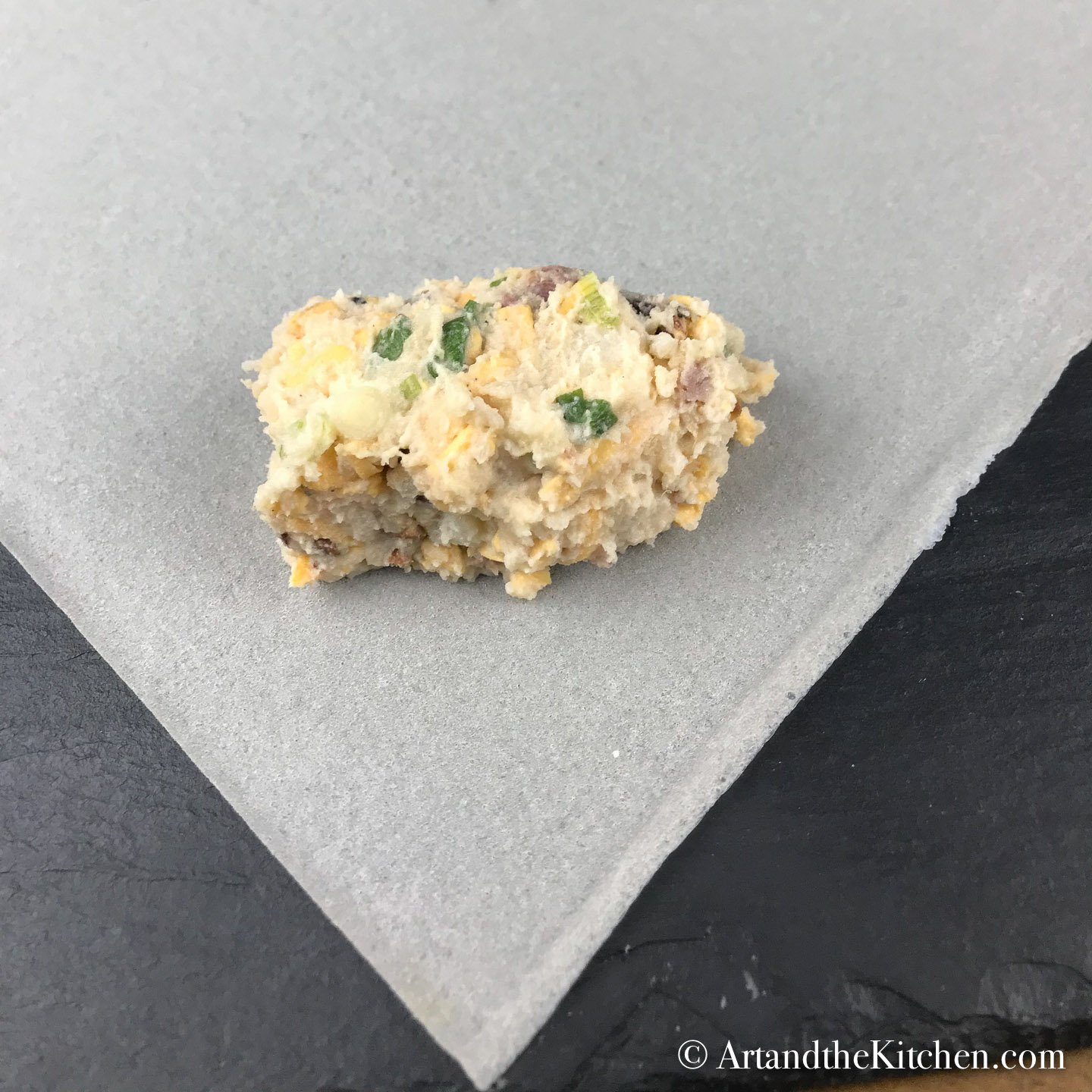 Next place a heaping tablespoons of baked potato filling on bottom corner of roll.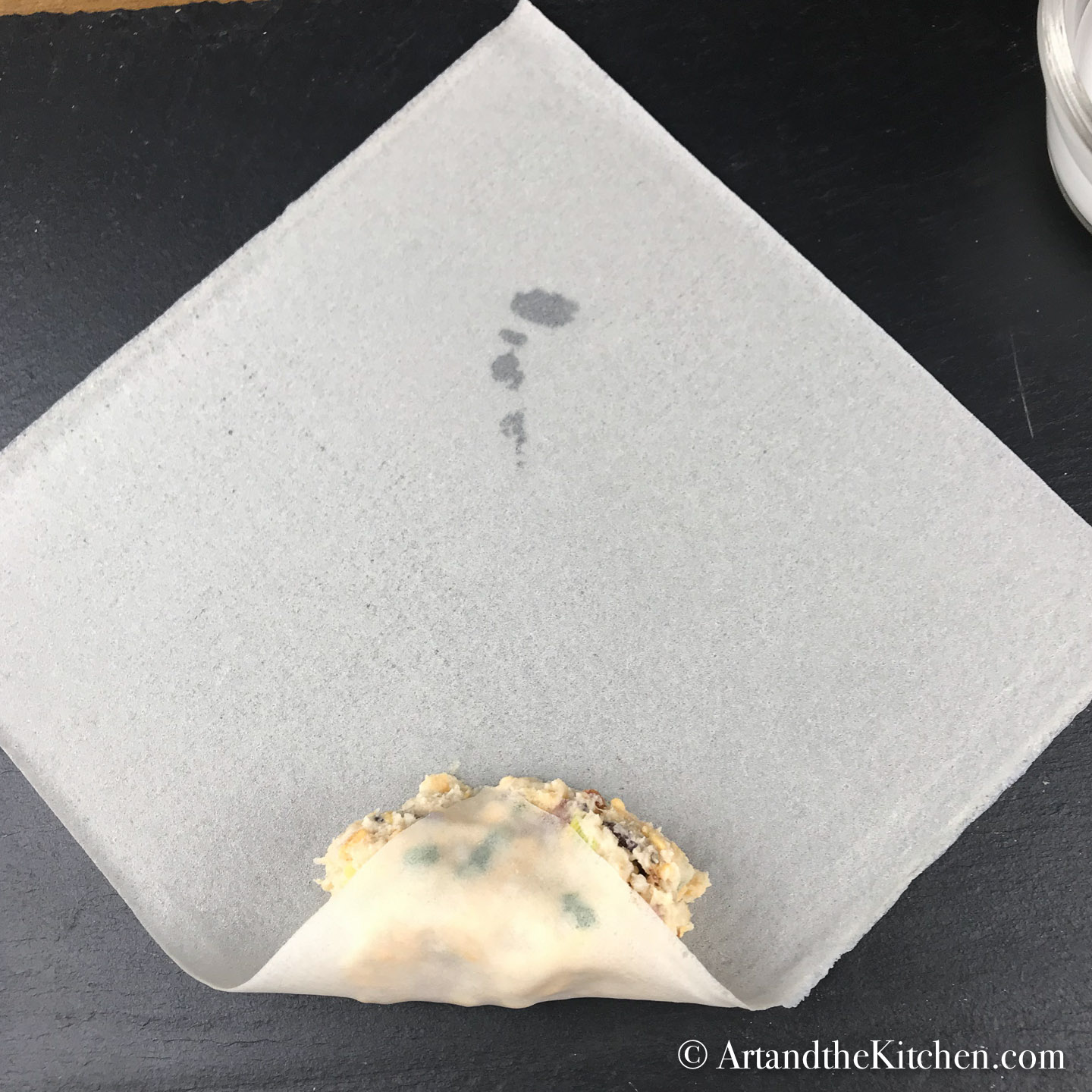 Fold the wrapper tightly over filling.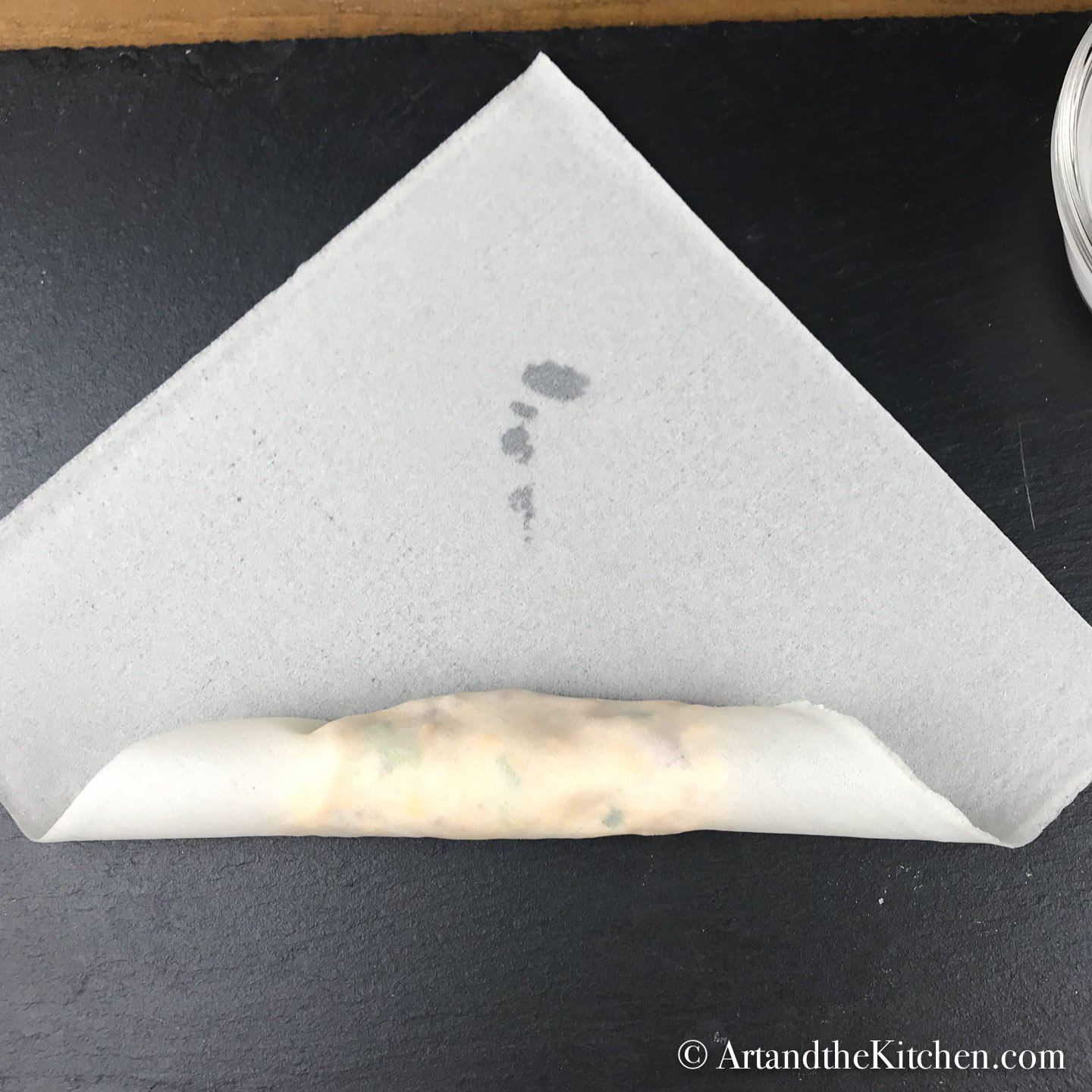 Continue to roll tightly about half way up.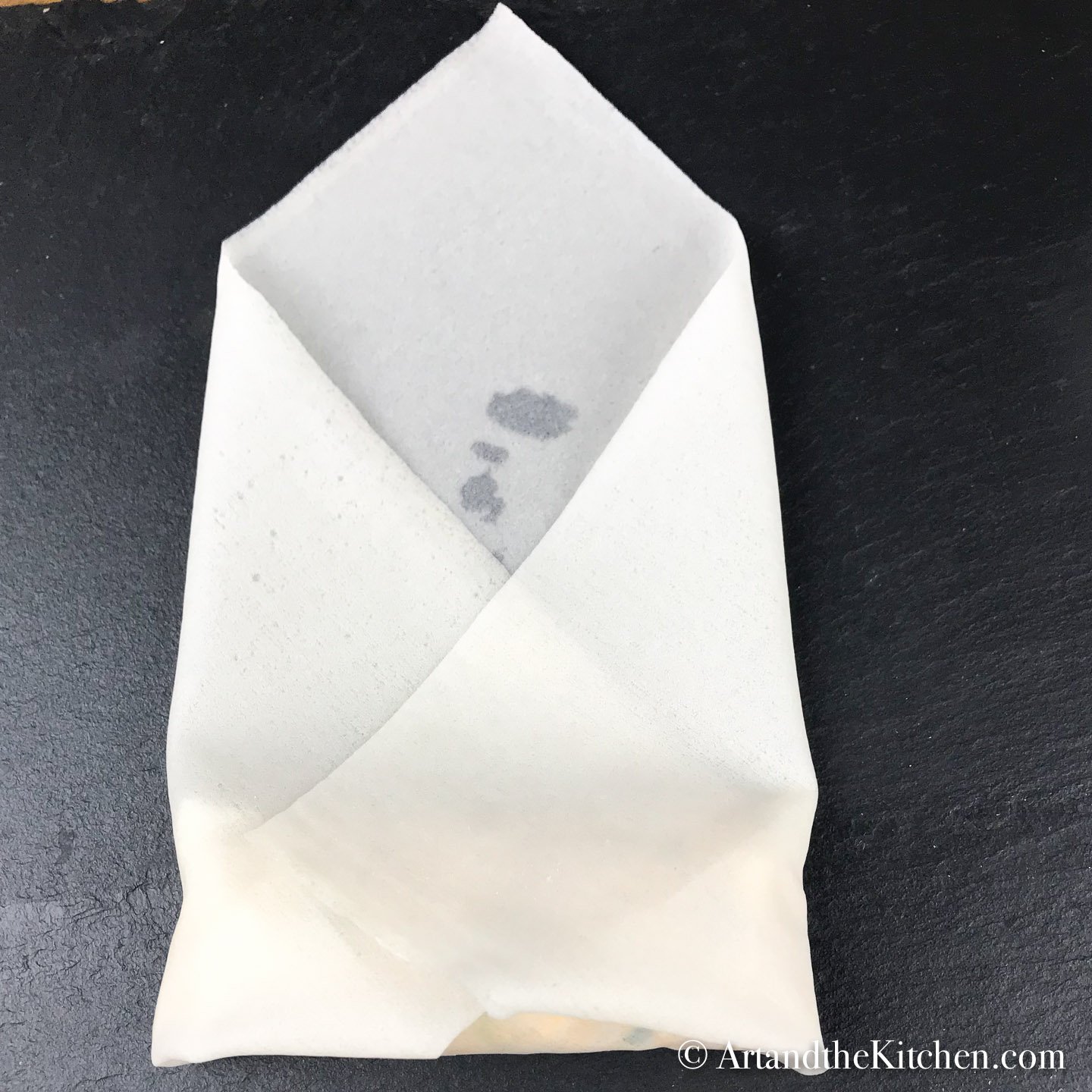 Bring side corners to the center, folding over the top. Dip finger into cornstarch slurry and coat top corner of wrapper.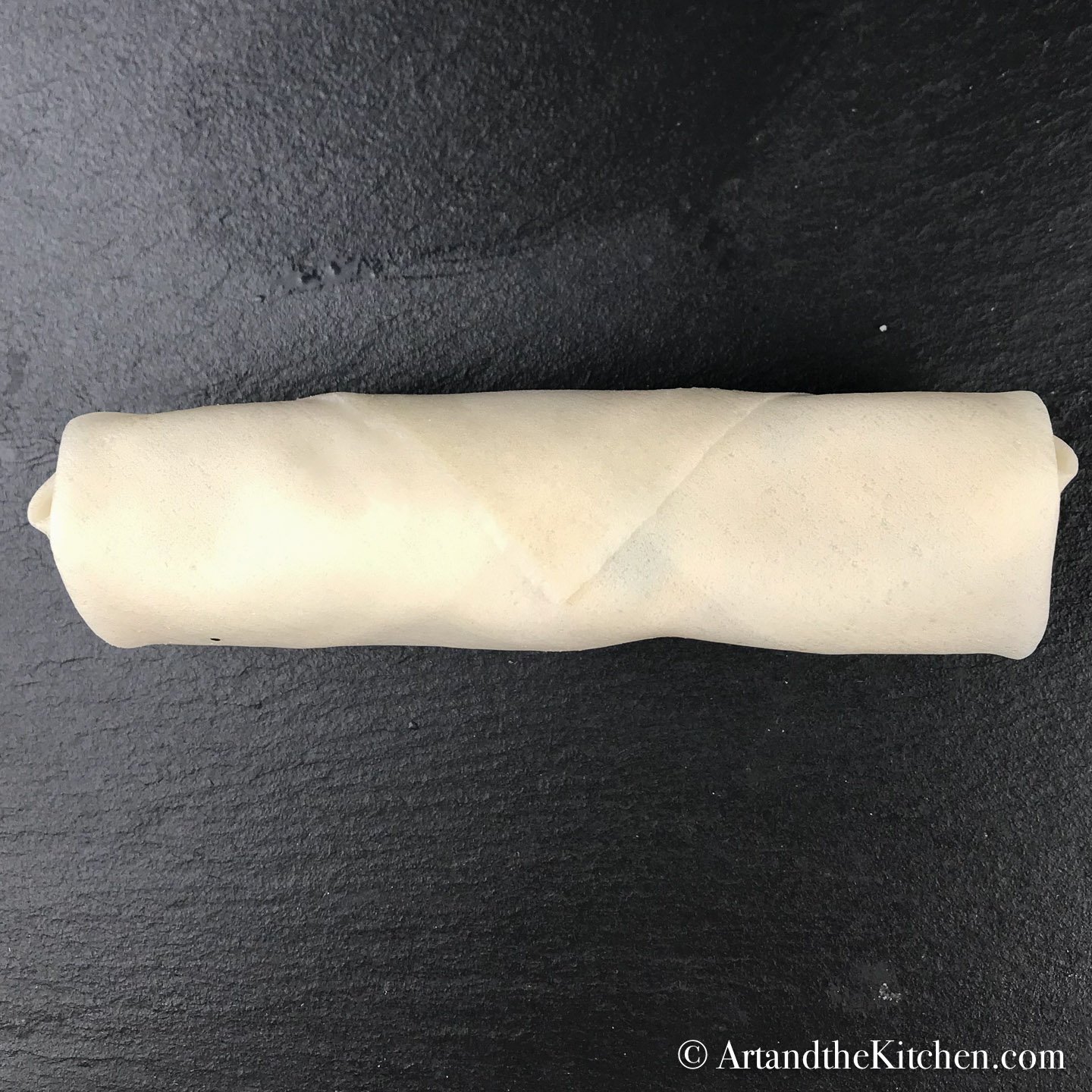 Finish rolling to seal spring roll.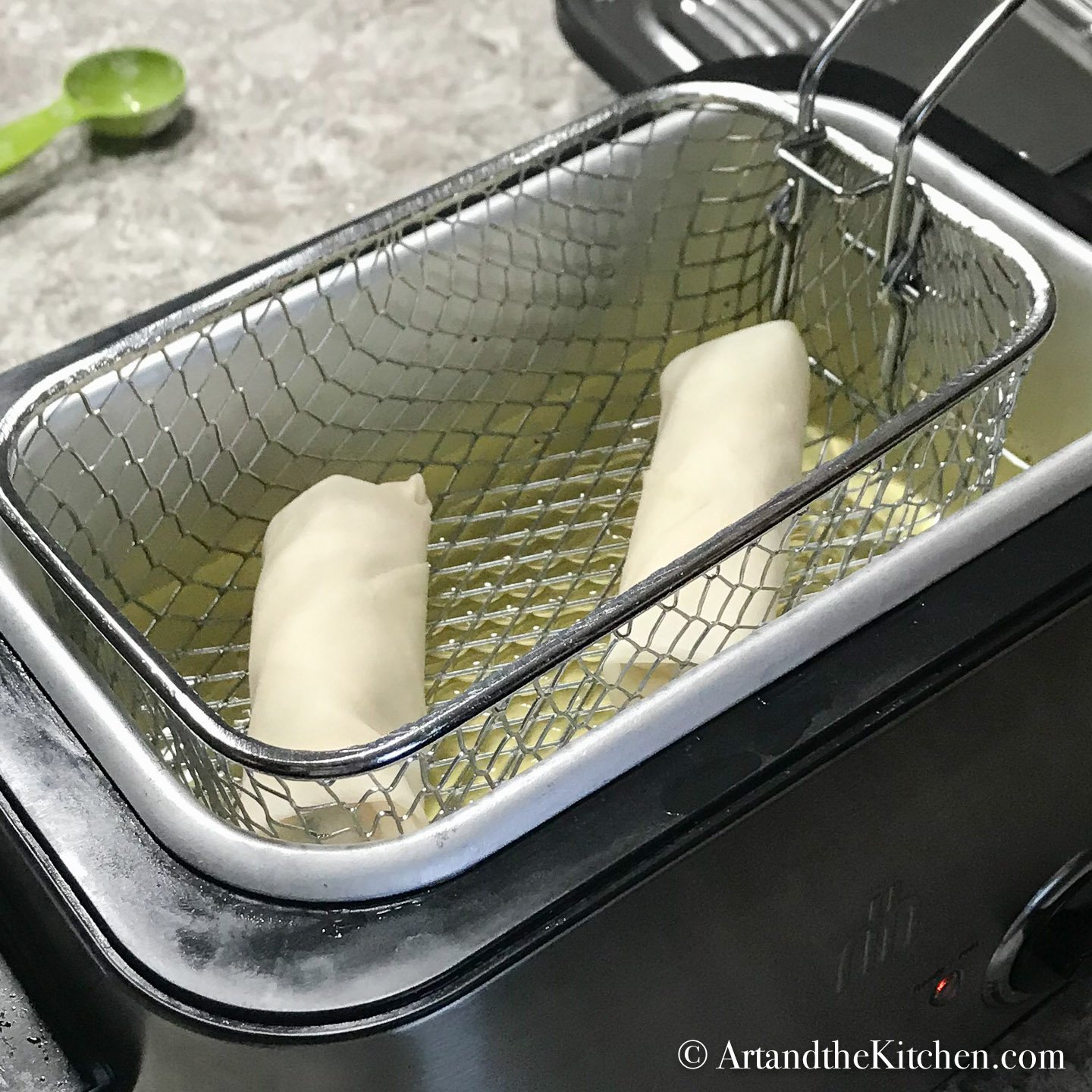 Carefully place spring rolls into heated oil. Avoid overcrowding to ensure rolls cook evenly.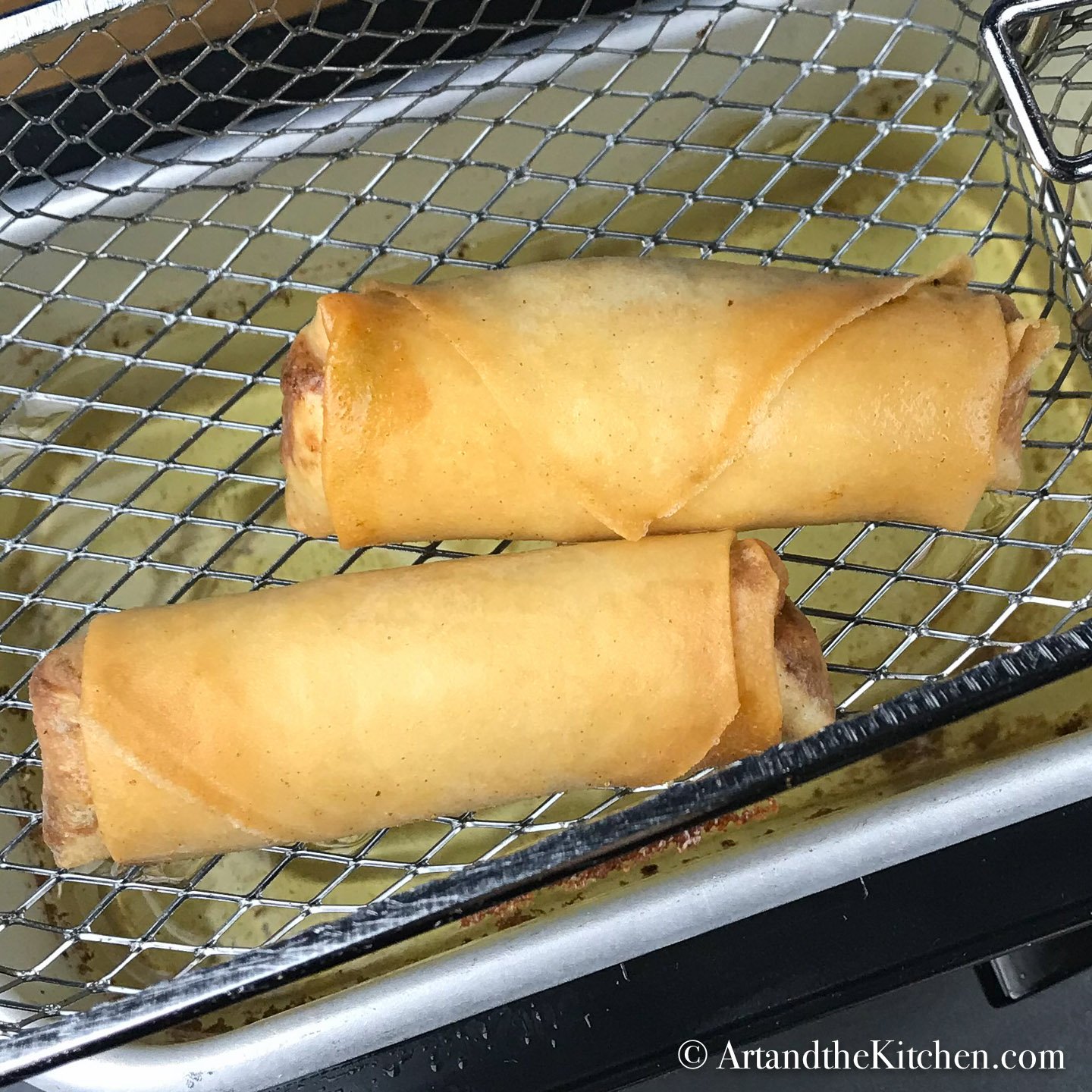 Cook until golden brown. Remove and place on wire rack. Cool slightly before serving.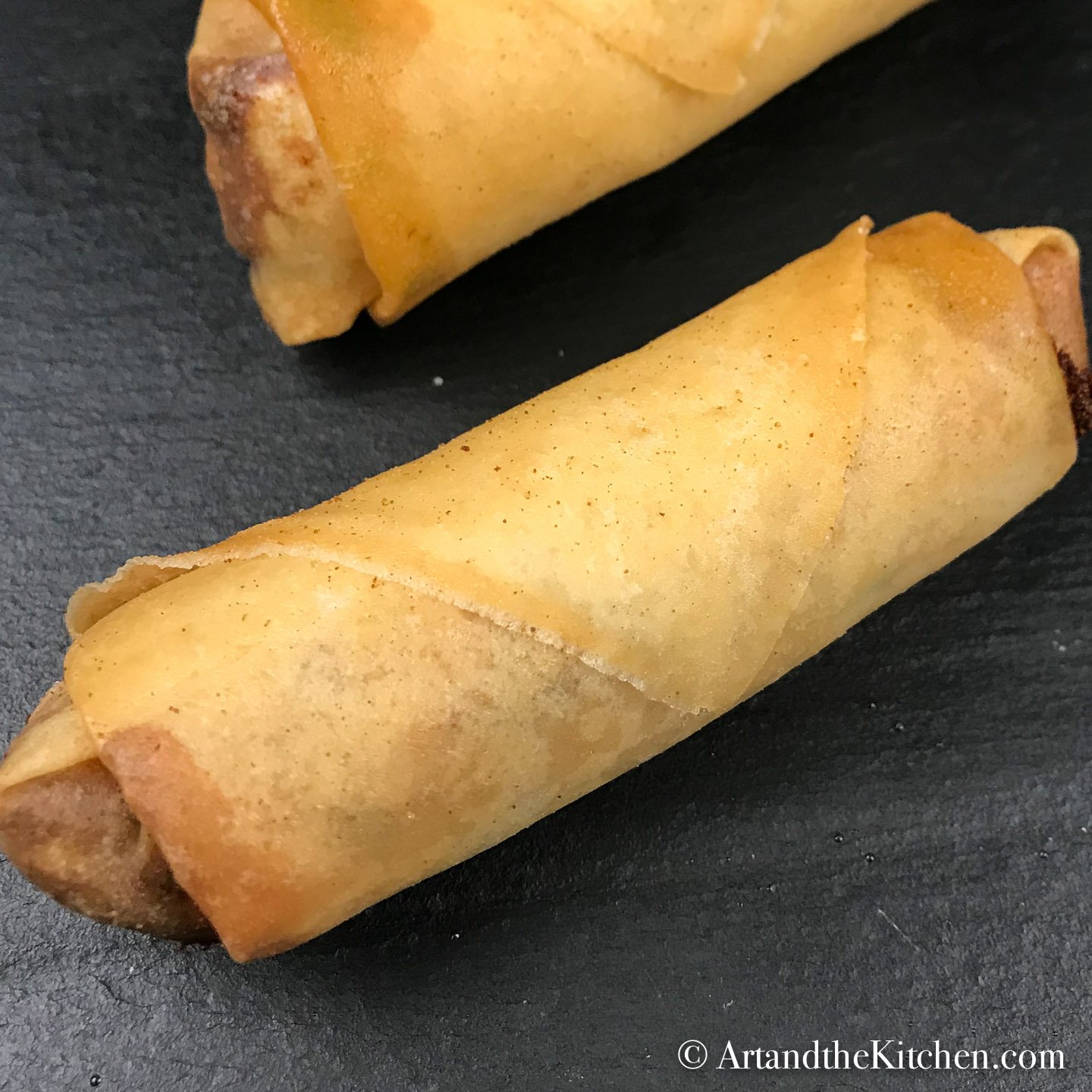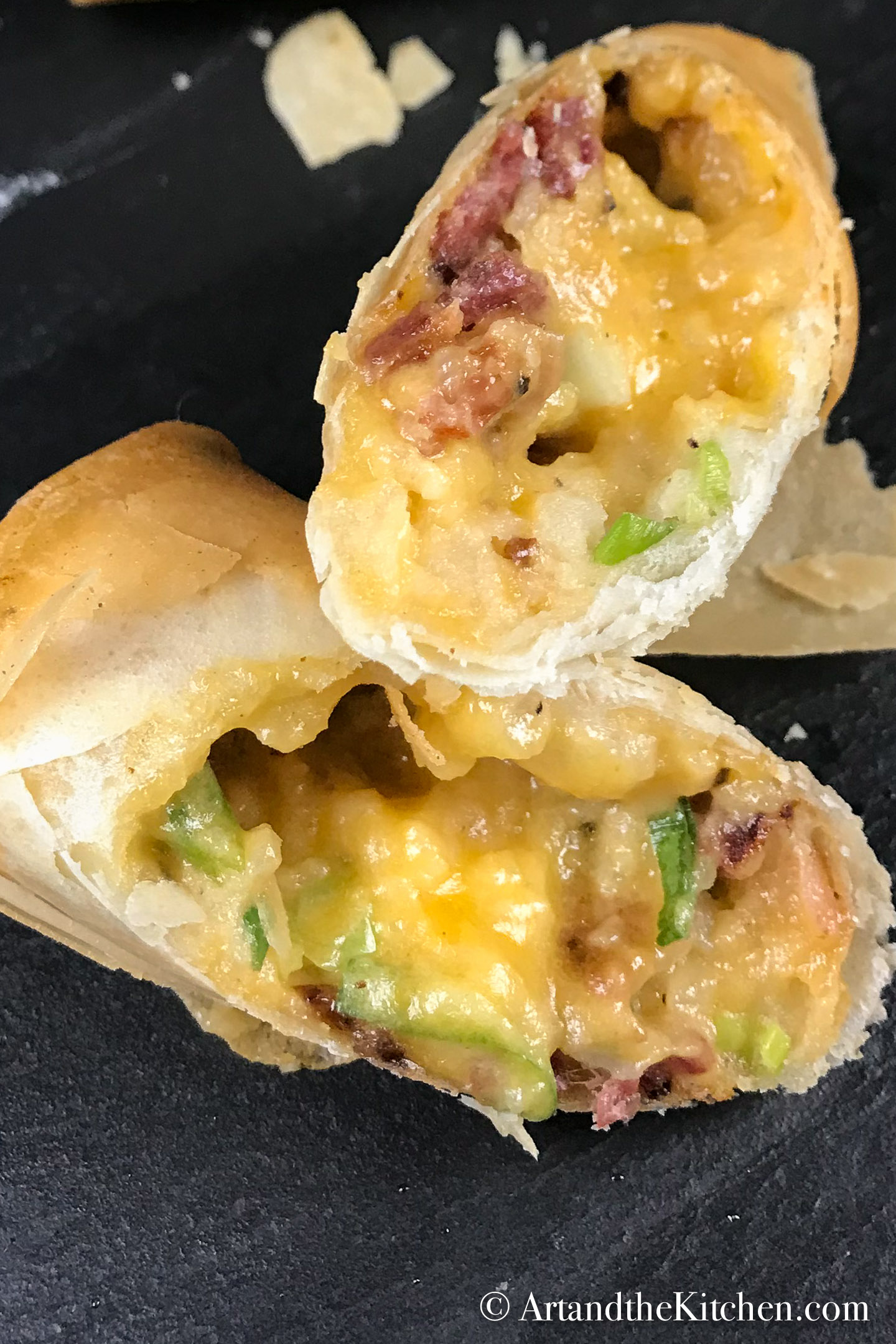 If you try this recipe be sure to come back and rate it, please share it on Pinterest and Facebook. Thank you.