This recipe for Capellini D'Angelo Roma is an exceptional creamy tomato pasta sauce flavoured with bacon, peas mushrooms and Romano cheese.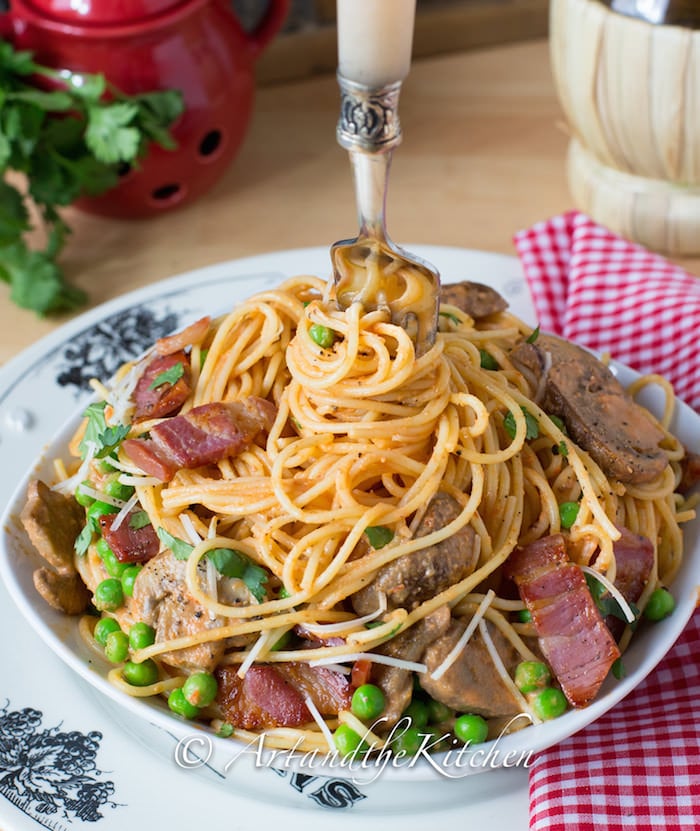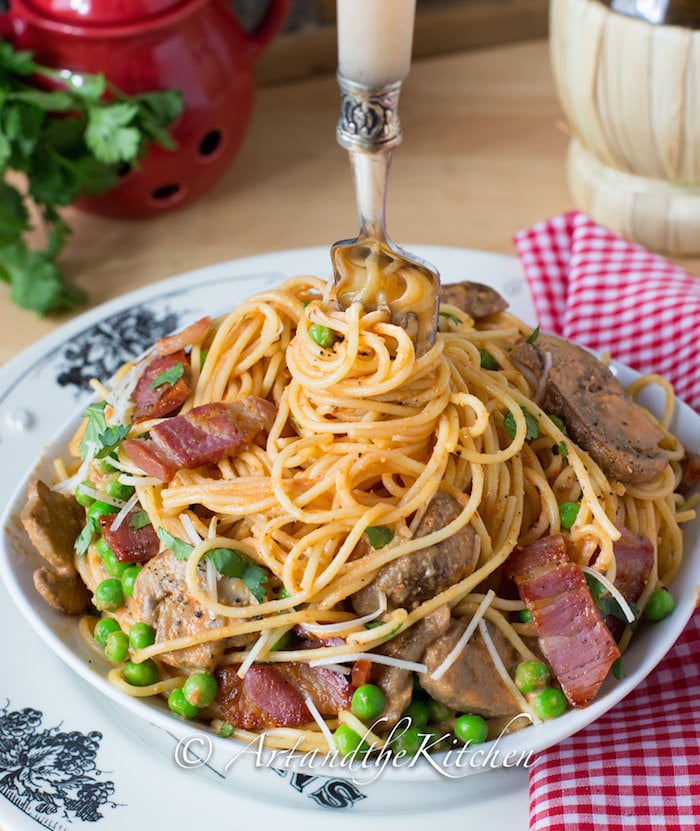 My son recently had an emergency appendectomy and recovery involved moving back home for a couple of weeks to have dear old Mom take care of him. After he got his appetite back it was like non- stop hunger set in and I was was constantly hearing "Mom can you make me something to eat". Now the one thing about cooking that I don't enjoy is deciding what to make. I love when I get requests to make something or try a certain recipe.  Just tell me and I'll happily make it. So I sent him on a search through some of the recipes I had collected on Pinterest. The following recipe by Chef Dennis of a Culinary Journey with Chef Dennis was at the top of his list.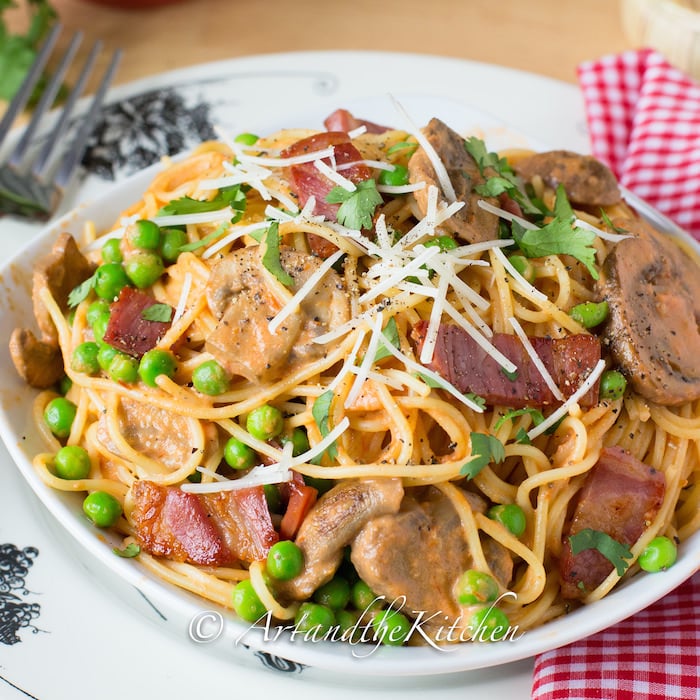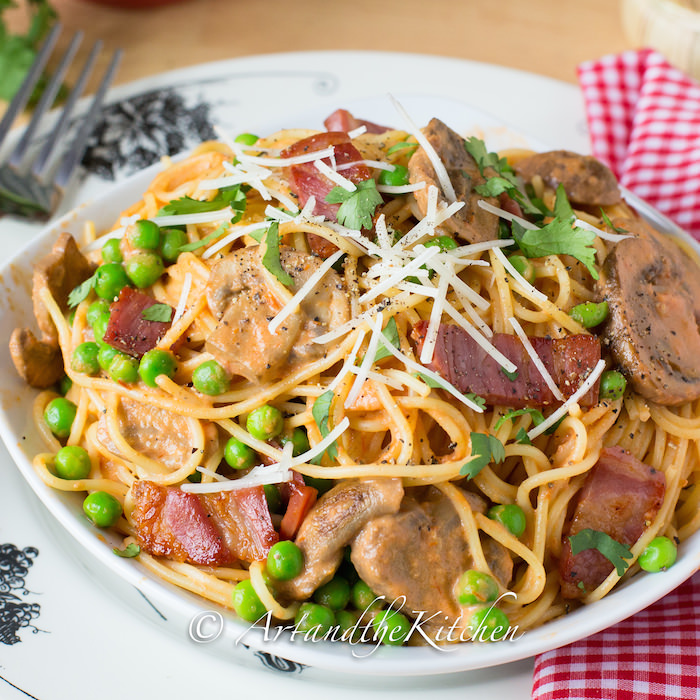 This a 30 minute meal that is so easy to prepare and I received rave reviews from my son. The only substitution I made was thick cut bacon instead of prosciutto.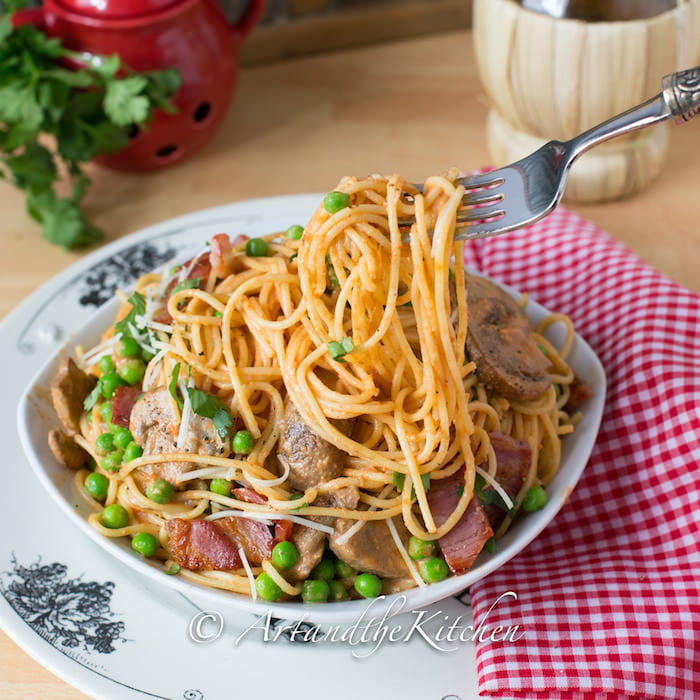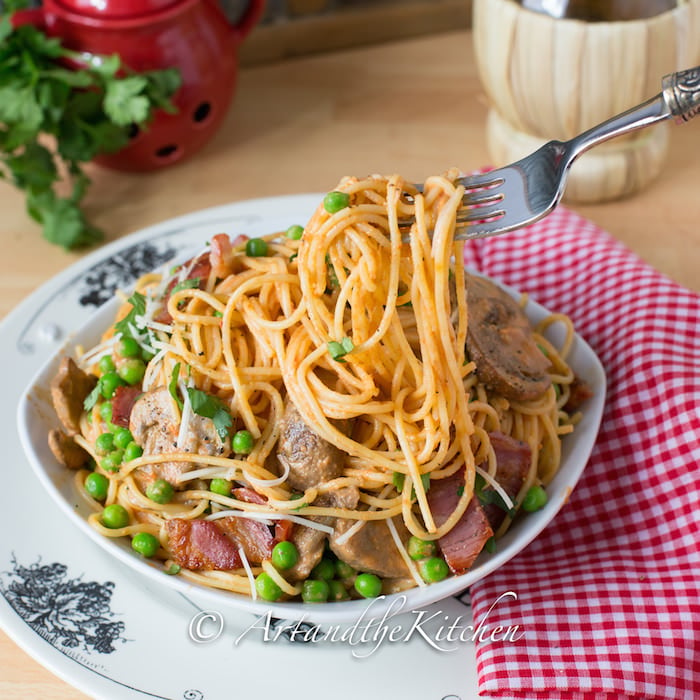 Capellini D'Angelo Roma
Ingredients
2 cups canned crushed tomatoes
2 cups heavy cream
2 cups chicken stock
1 cup grated Romano cheese
2 tablespoons olive oil
12 oz sliced mushrooms
1 cup peas (cooked)
4 oz thick cut bacon (cooked) prosciutto will also work
½ teaspoon granulated garlic
½ teaspoon granulated onion
1 lb capellini or spaghettini
fresh ground pepper
extra Romano for garnish
Instructions
Heat olive oil in large saucepan, sauté mushrooms until golden.
Add crushed tomatoes and simmer for a few minutes.
Stir in cream and chicken stock.
Add Romano cheese, granulated onion and garlic.
Season with fresh ground pepper.
Turn heat down and simmer for about 10 minutes until sauce thickens a bit.
While sauce is simmering, cook pasta.
When pasta is almost done stir peas and bacon into sauce.
Drain pasta, stir sauce into pasta.
Garnish with shredded Romano cheese and fresh ground pepper.