Making Homemade Chicken Stock is so easy and flavourful that you may never buy store-bought again.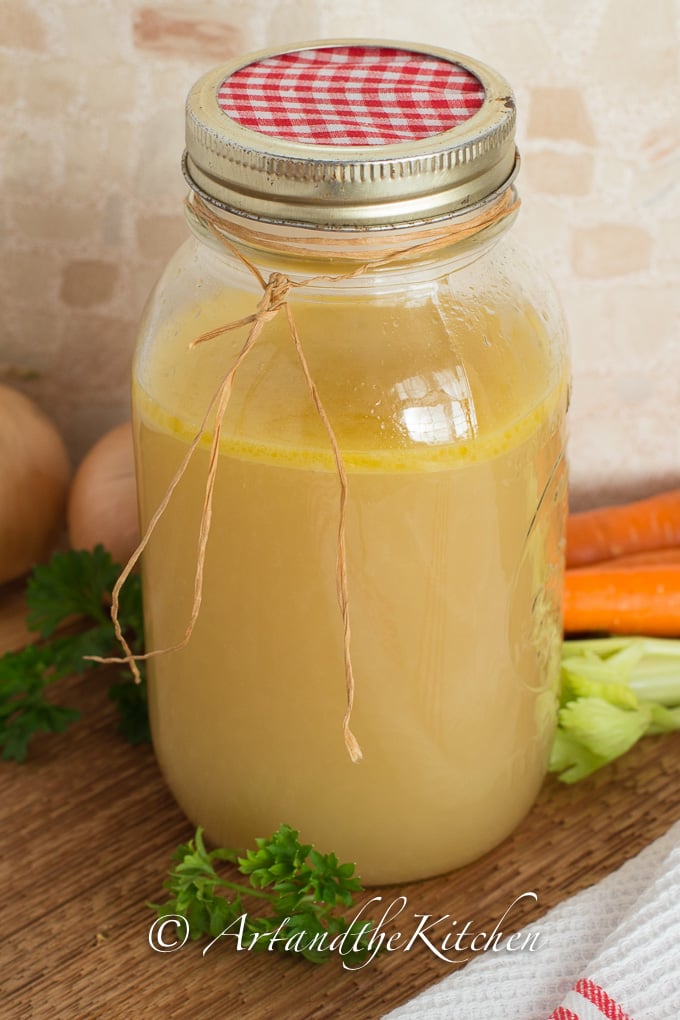 Store bought stock tends to be high in salt and this can greatly affect the outcome of a recipe. My recipe for Homemade Chicken Stock has very little salt, allowing you to season your recipes to perfection. A homemade stock will add aromatic flavour and depth to any recipe.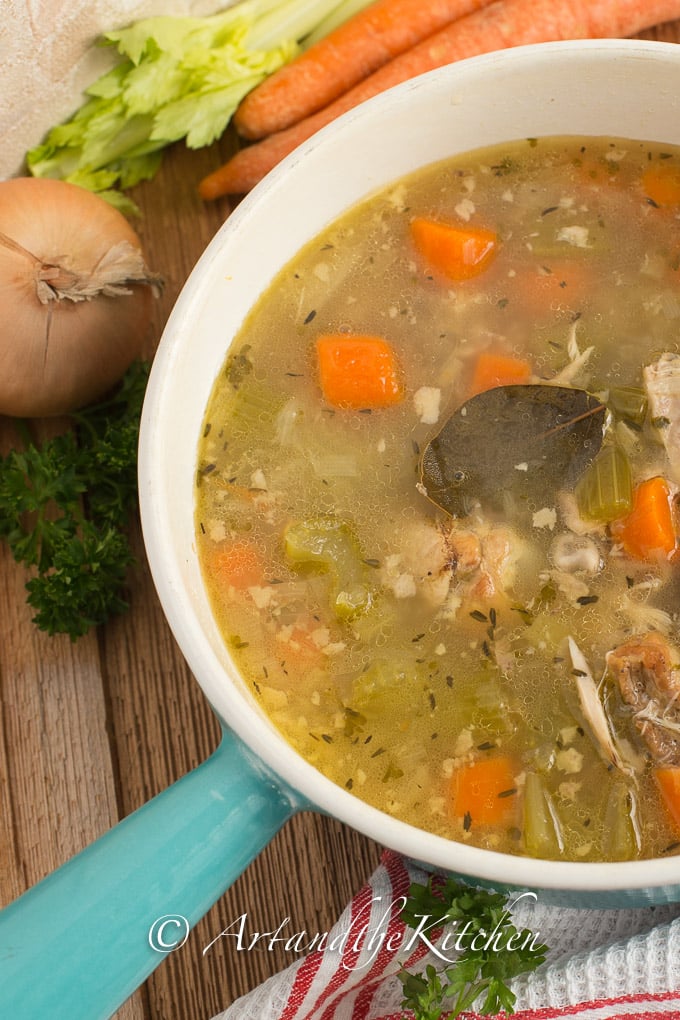 I usually buy a whole chicken, cut into pieces and use the extra pieces (back, wings, rib etc.) for stock. Buying a whole chicken is usually the same price as chicken breasts and the bonus is homemade chicken stock! Any leftover chicken can be added to prepared stock for a savoury soup or stew. A great idea is to save the bones of a few chickens or leftover bones from roast chicken in the freezer, then whip up a double or even triple batch of stock.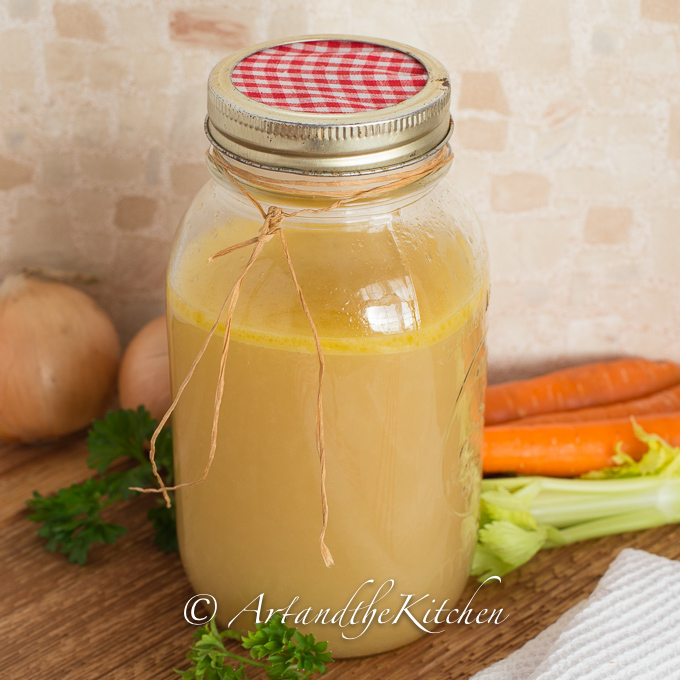 I start my Homemade Chicken Stock by browning the chicken pieces until a deep golden brown. This gives your stock a delicious depth of flavour and golden colour.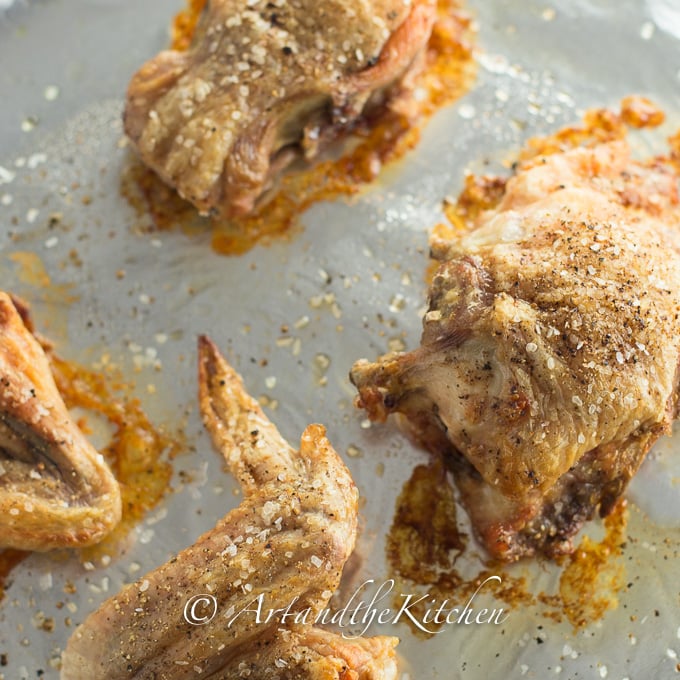 Chop fresh onion, carrots, celery, leeks and parsley. Fresh is best, so look for high quality produce.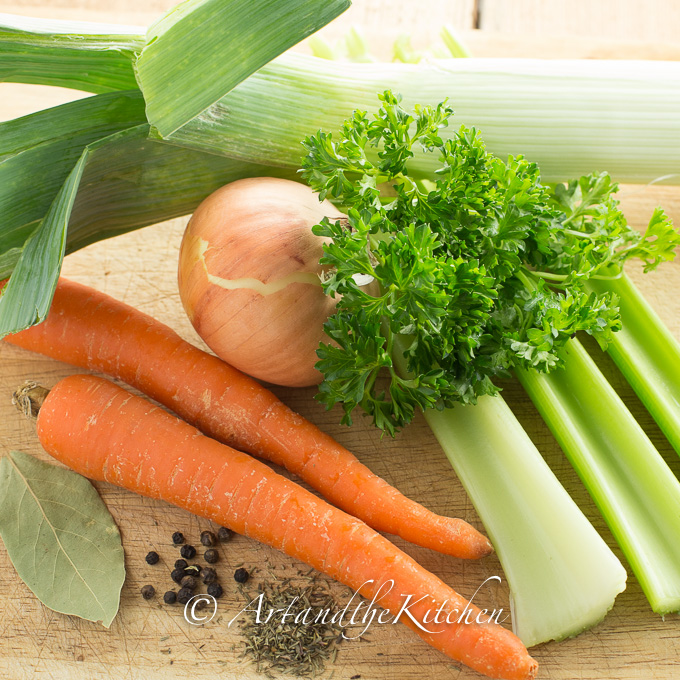 Place the chicken, veggies, parsley, peppercorn and thyme in a large deep pot. Add cold water to completely cover chicken and vegetables. Bring to a boil, then reduce to simmer for 3 to 4 hours. Never boil the stock, keep at a low simmer. Strain stock, cool and store in freezer for ready made chicken stock any time. I usually store mine in 1 cup servings.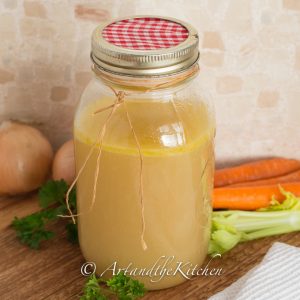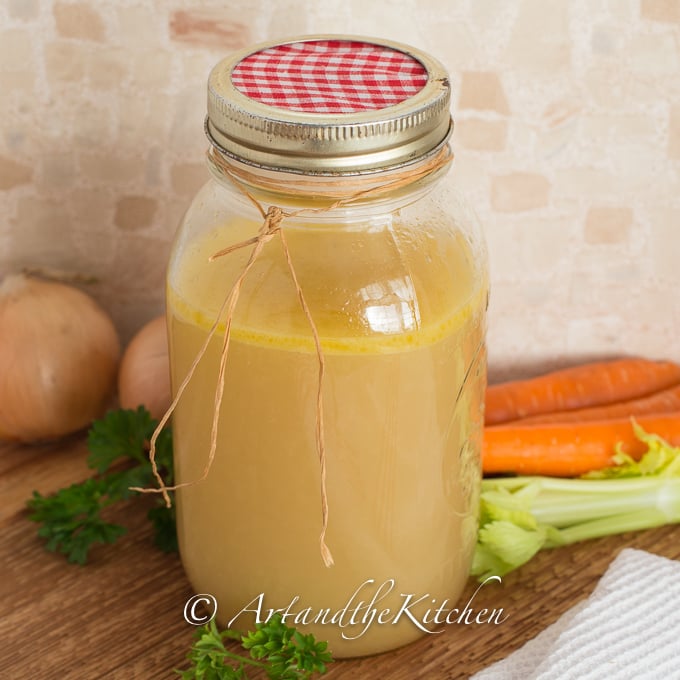 Homemade Chicken Stock
Making Homemade Chicken Stock is so easy that you may never buy store-bought again.
Print
Rate
Ingredients
1-2

lbs

chicken bones

1

medium

onion

2

large

carrots

1/2

leek

white and light green parts only

3

ribs

celery

1/4

cup

fresh parsley

1

bay leaf

2

tsp

thyme

1/4

tsp

peppercorns

1/2

tsp

kosher salt

1/4

tsp

. ground pepper

7-8

cups

cold water
Instructions
Line baking sheet with foil, spray with cooking spray.

Place chicken bones on baking sheet, fat side up.

Sprinkle with salt and pepper.

Roast 375º until golden brown.

Chop vegetables into large chunks.

Place chicken, vegetables, parsley, bay leaf, thyme, and peppercorns into large pot.

Cover completely with cold water.

Bring to boil, then immediately reduce heat to simmer for 3-4 hours.

Strain stock, cool and store in refrigerator or freezer.