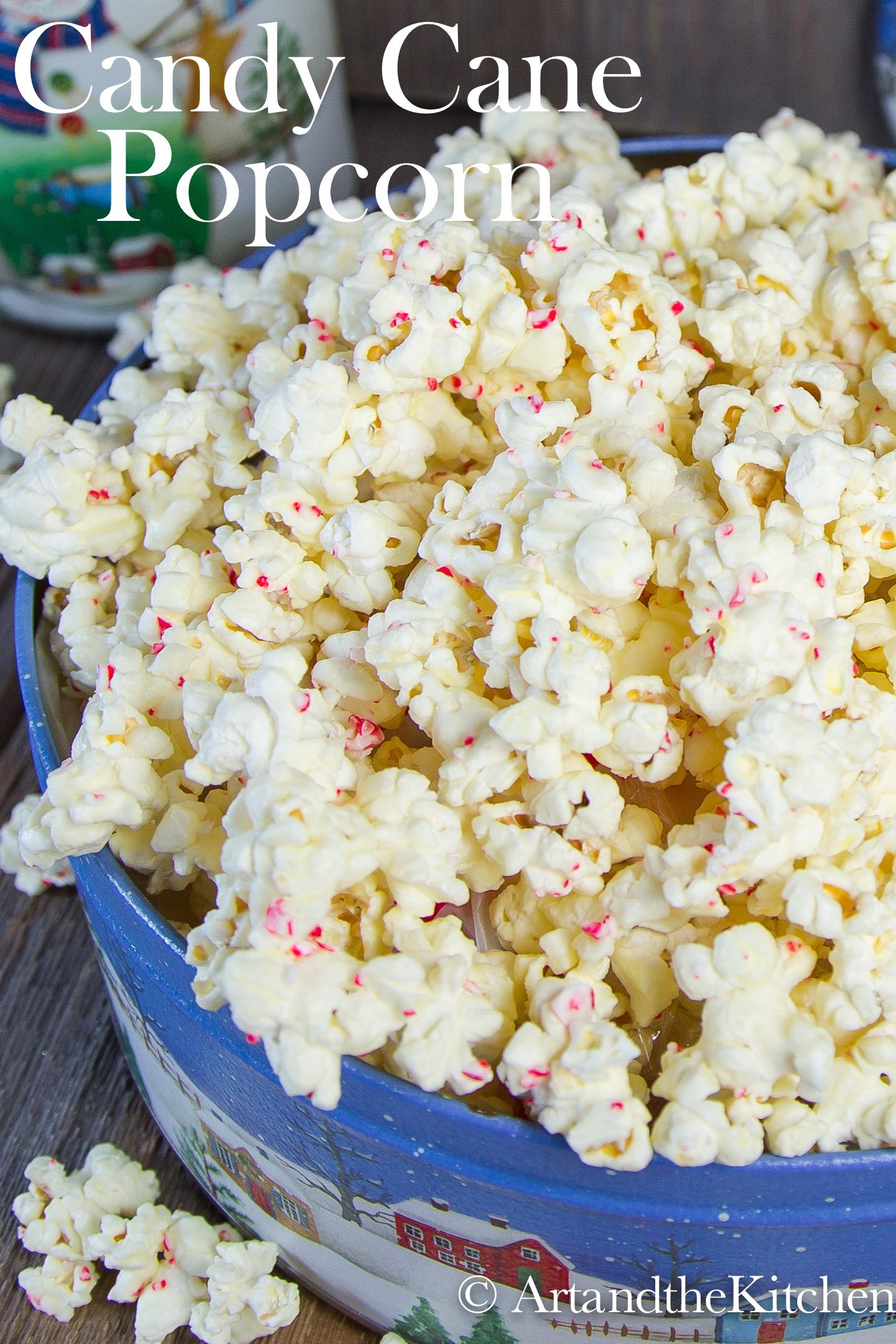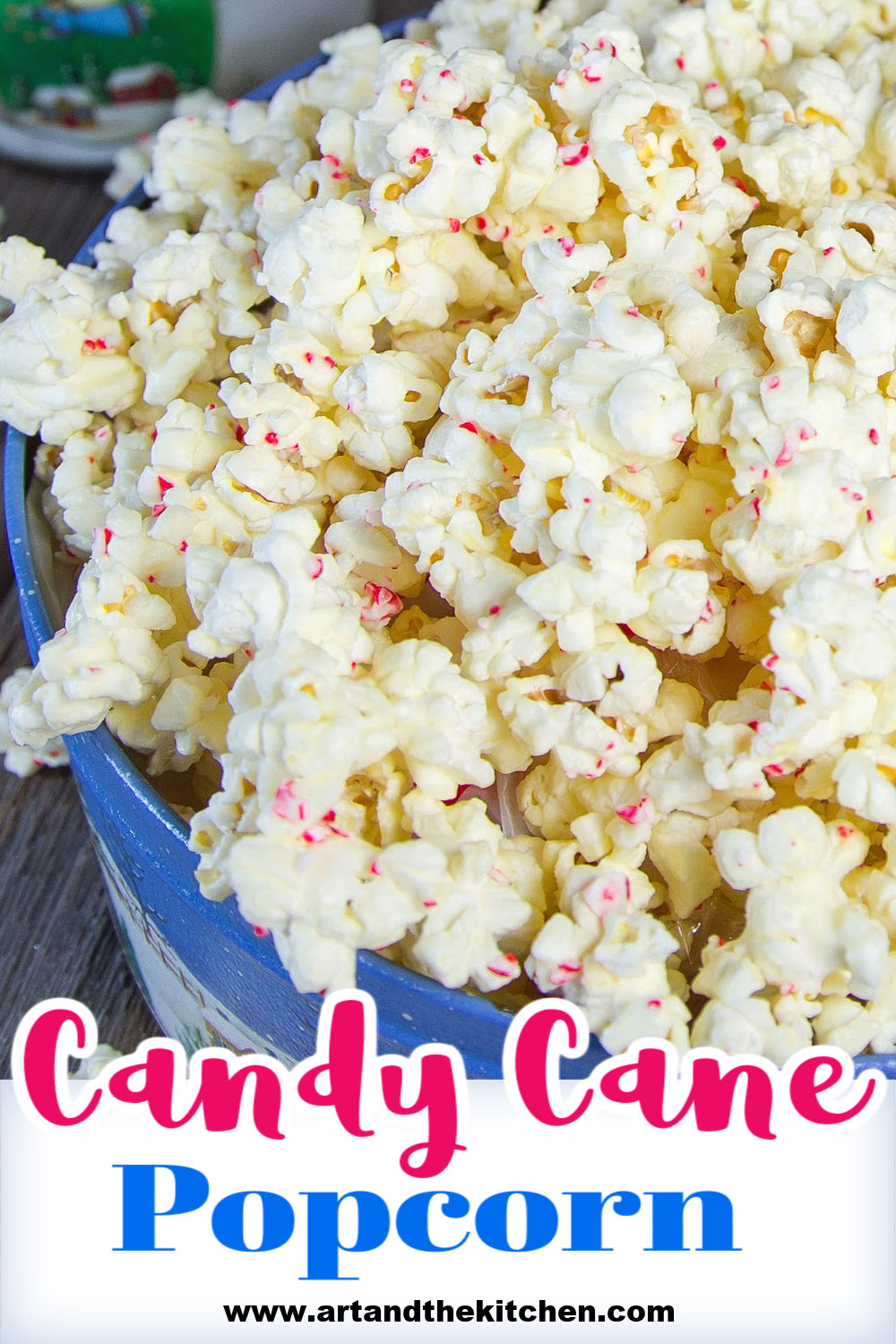 White Chocolate Candy Cane Popcorn is so quick and easy to make! Very addictive, so you may want to double the recipe. It is one of the best popcorns you will ever taste!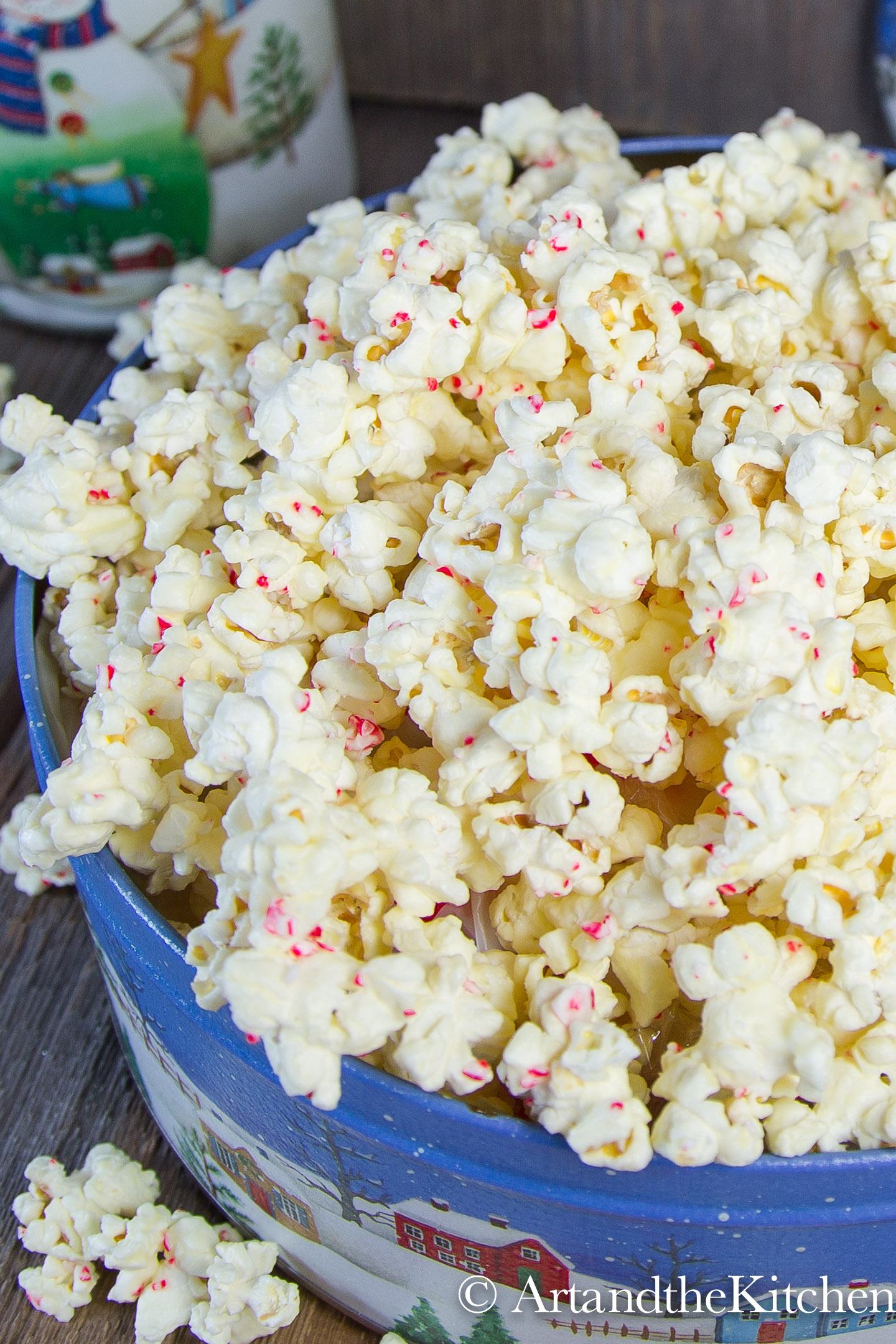 What makes this Candy Cane popcorn so good?
Only 3 ingredients to make this gourmet White Chocolate Candy Cane Popcorn!
I only use good quality chocolate for superior flavor, never those white wafer melts. The better the quality of chocolate you use the better tasting it will be.
Use fresh popcorn kernels that you pop on the stovetop or air popper. If using the microwave, make only plain popcorn without any oils added to it.
This tasty popcorn makes a great gift. I package the popcorn in beautiful decorative tins or bags and give it as a hostess, neighbor, or even office gifts.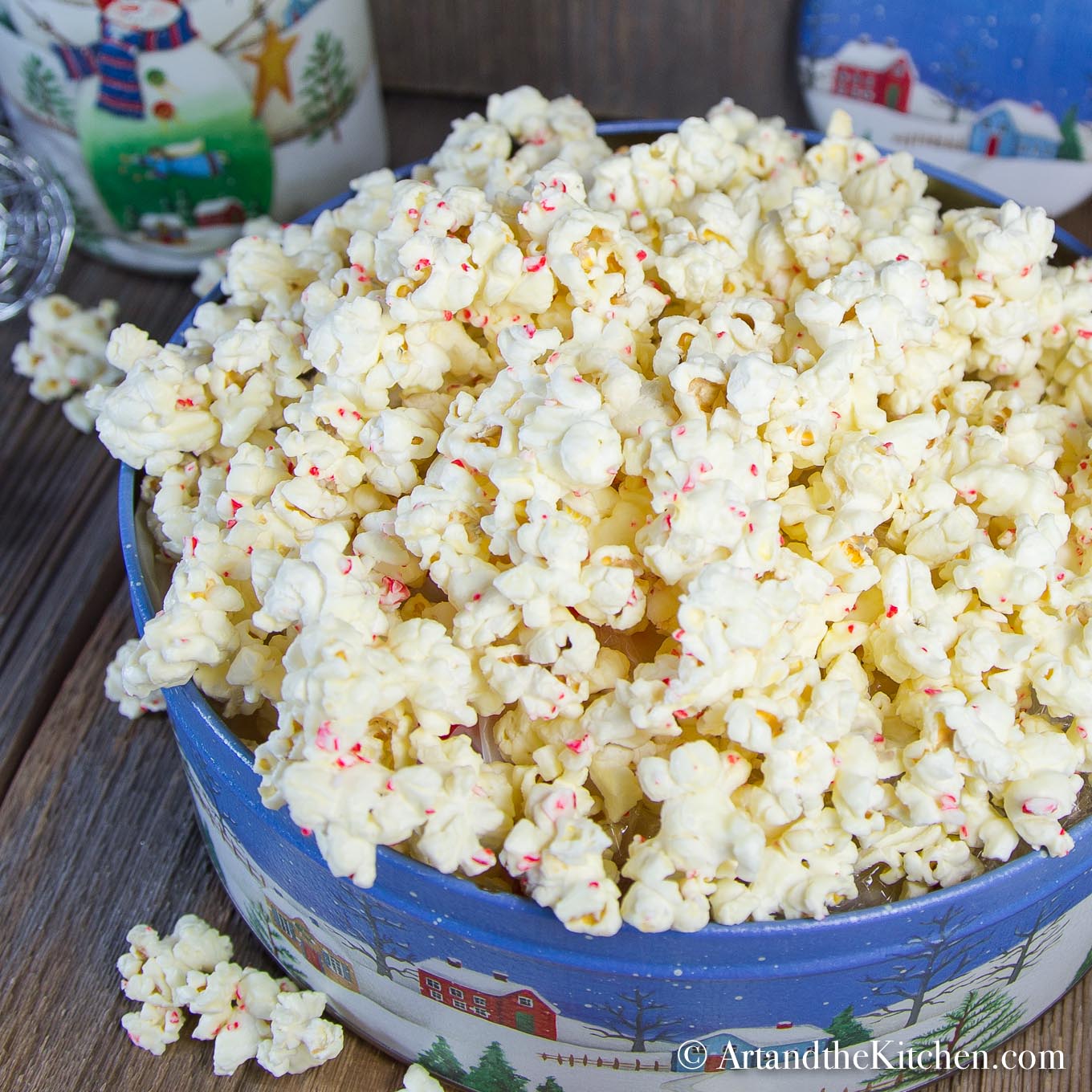 The key to making this popcorn is to use fine quality white chocolate. I have seen similar recipes using candy wafers and almond bark, but my preference is great quality white chocolate. I also pop my popcorn in an air popper. I find microwave bagged popcorn too oily and salty. For the candy cane coating, I crushed the candy in a blender, pulsing, being careful to get crushed cane and not dust. You don't want large bits either that when you have a handful of popcorn it breaks a tooth! Crushed candy canes add amazing, festive flavor to treats. I also use it in my Candy Cane Sugar cookies and Candy Cane Fudge.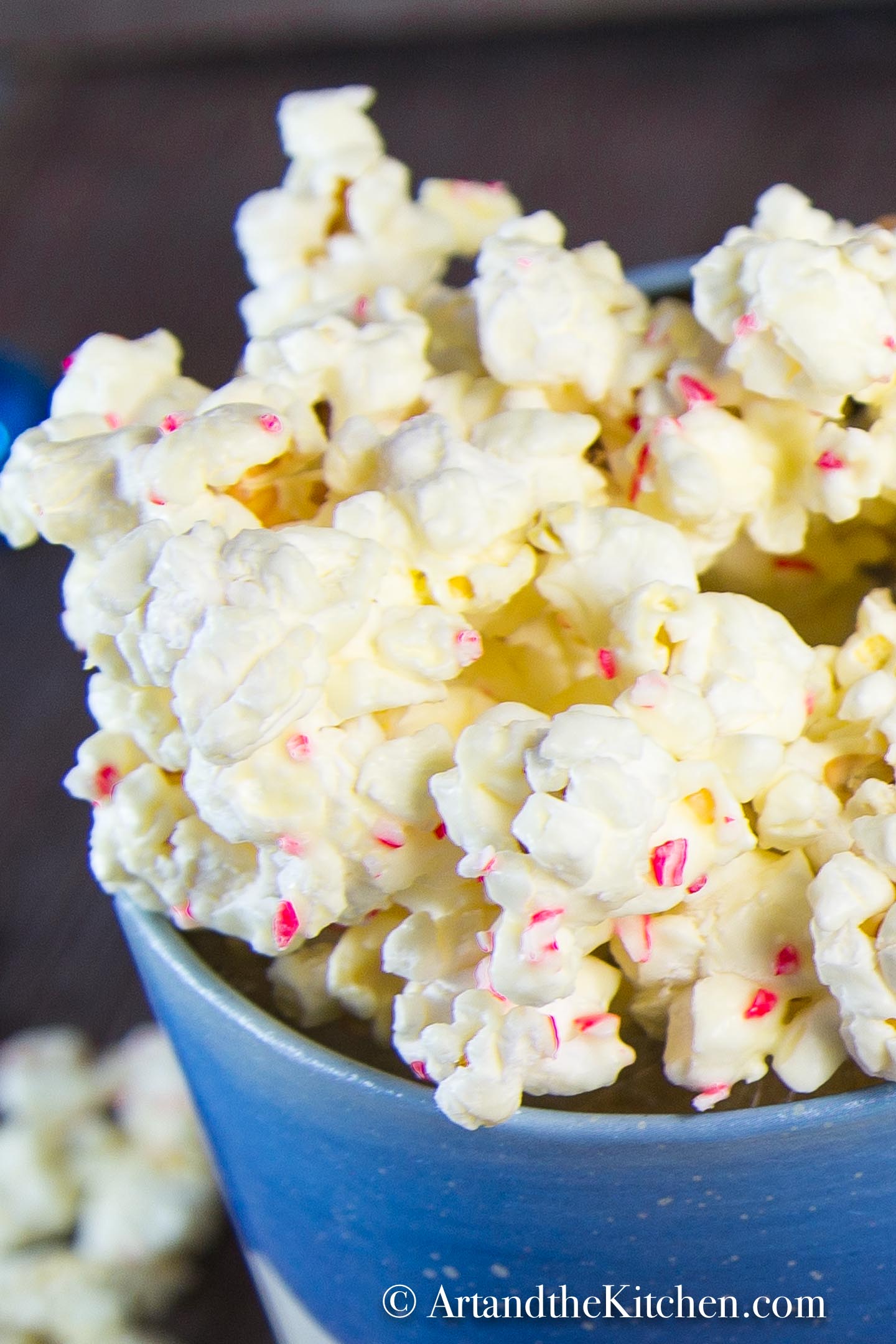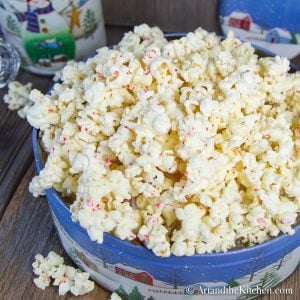 White Chocolate Candy Cane Popcorn
An easy to make treat using white chocolate, candy canes and popcorn.
Ingredients
8

cups

popcorn popped

4

oz

fine quality white chocolate

½

cup

crushed candy canes

adjust to your liking
Instructions
Using an electric grinder, grind candy canes until you get small bits. I make sure there aren't any big chunks, as that is way too hard on your teeth.

Pop the popcorn in air popper or stovetop.

Melt chocolate over double boiler just until melted.

Place popcorn in extra large bowl. You need lots of room to stir. If doubling the recipe you may want to work in batches.

Drizzle chocolate over popcorn while continually stirring. Be sure to coat the popcorn evenly.

Next, sprinkle with crushed candy canes, stirring continually to coat popcorn evenly.

Spread popcorn out on cookie sheet lined with waxed paper or parchment paper.

Allow chocolate to set before packaging
Nutrition
Calories:
373
kcal
Carbohydrates:
72
g
Protein:
9
g
Fat:
6
g
Saturated Fat:
2
g
Cholesterol:
1
mg
Sodium:
12
mg
Potassium:
245
mg
Fiber:
10
g
Sugar:
10
g
Calcium:
18
mg
Iron:
3
mg
Making treats with candy canes is so festive. Here are some more tasty candy cane recipes.
SaveSave
SaveSave