Fuel to Go Homemade Protein Bars are great tasting and healthy.  Made with hemp, chia, sunflower and pumpkin seeds and a whole lot more!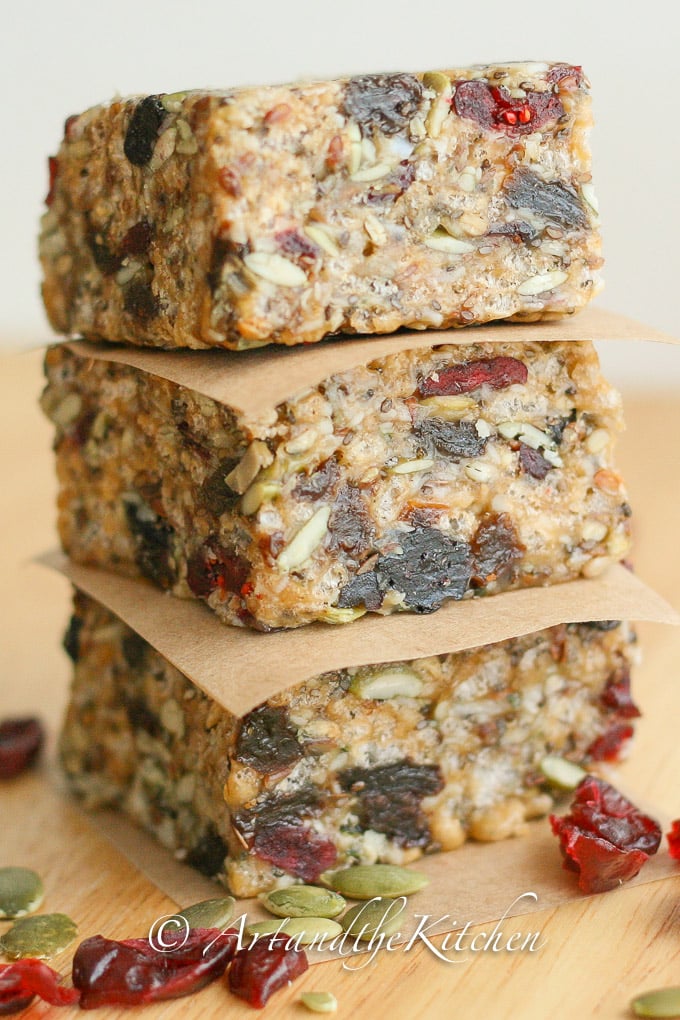 Homemade protein bars are easy to make and contain ingredients you can pronounce! These Fuel to Go Homemade Protein Bars are loaded with healthy seeds, chia, hemp, pumpkin and sunflower.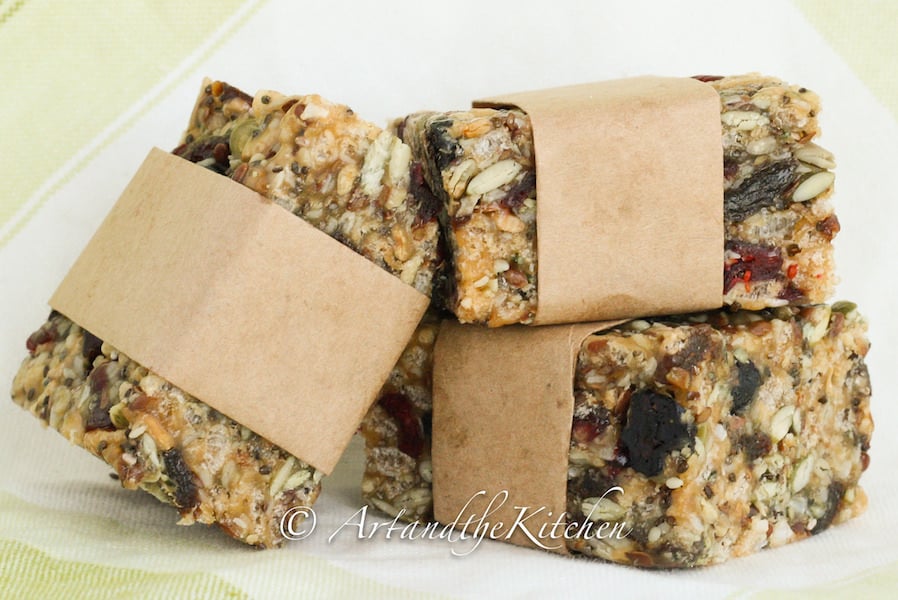 School has started or will be starting for many children, and with that comes back routine, scheduling, and of course preparing lunch and healthy snacks for them. I have been making this recipe for over 15 years for my son, and it is time to revisit an older post I've done for this recipe. It has become incredibly popular over the years with all his teammates in track and field. Packed with nutrition, this makes the ultimate snack for those high energy kids.
The chia and hemp seed add that extra boost of essential amino acids, omega-3 fats, fibre and a whole lot more! I make enough to last the week, cut into squares and wrap individually for easy to go healthy snacks. Your kids will love the exceptional taste of these homemade protein bars! Use any kind of dried fruit you have on hand such as blueberries, cranberries, apricots, sour cherries, raisins,  and figs.

Fuel to Go Homemade Protein Bars
Recipe type:
Homemade Snack
Ingredients
1 cup Rice Krispies
½ cup dried blueberries
½ cup dried cranberries
½ cup raisins
½ cup unsweetened coconut
¼ cup hemp seeds
¼ cup chia seeds
¼ cup sunflower seeds
¼ cup pumpkin seeds
½ cup peanut butter
¼ cup honey
¼ cup brown sugar, packed
¼ cup corn syrup
4 teaspoons butter
Instructions
In large bowl combine together, Rice Krispies, dried fruit, seeds and coconut.
In saucepan stir together peanut butter, butter, honey, brown sugar and corn syrup.
Heat over low heat until ingredients melted, stirring continually.
DO NOT boil or it will become hard.
Add peanut butter mix to dry ingredients and stir until well combined.
Press firmly into 8x8 lightly buttered pan.
Refrigerate until set.