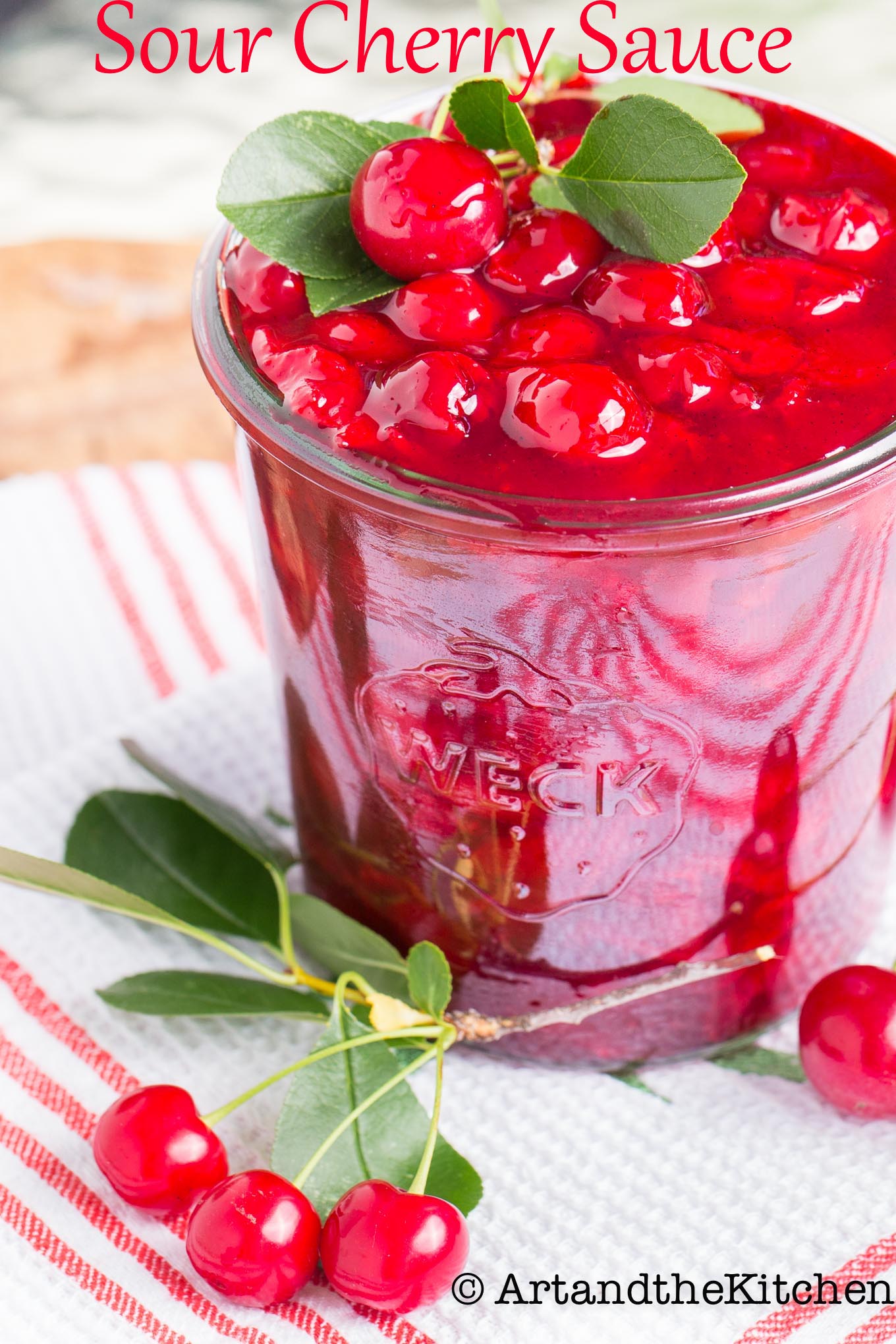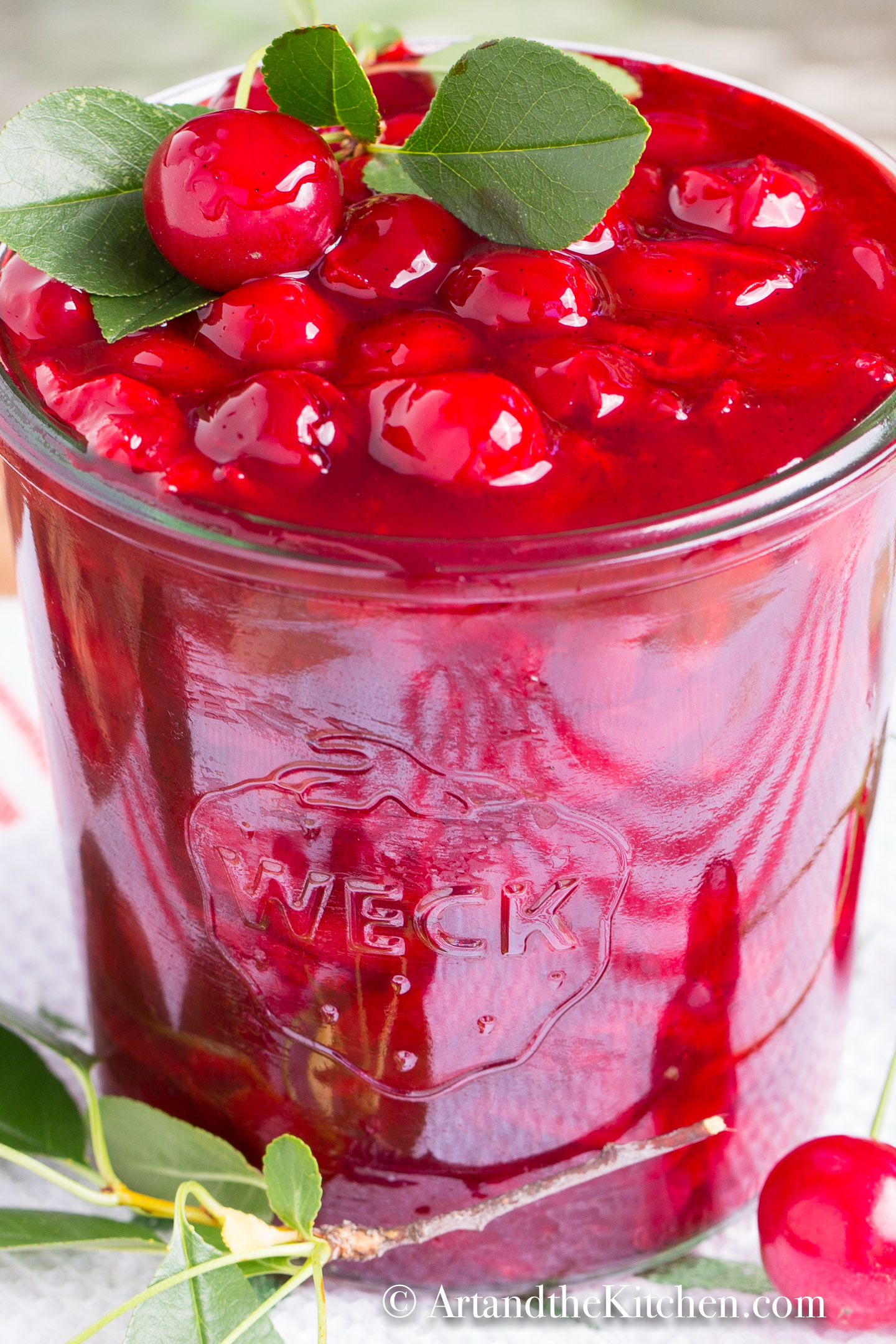 Easy Sour Cherry Sauce is a simple recipe that is ready in minutes. A delicious homemade cherry sauce that uses fresh sour cherries, also known as tart cherries.
This sauce recipe is a perfect combination of sweet and tart. It is one of my favorite toppings on my Tall and Creamy New York Cheesecake and homemade Fluffy Pancakes.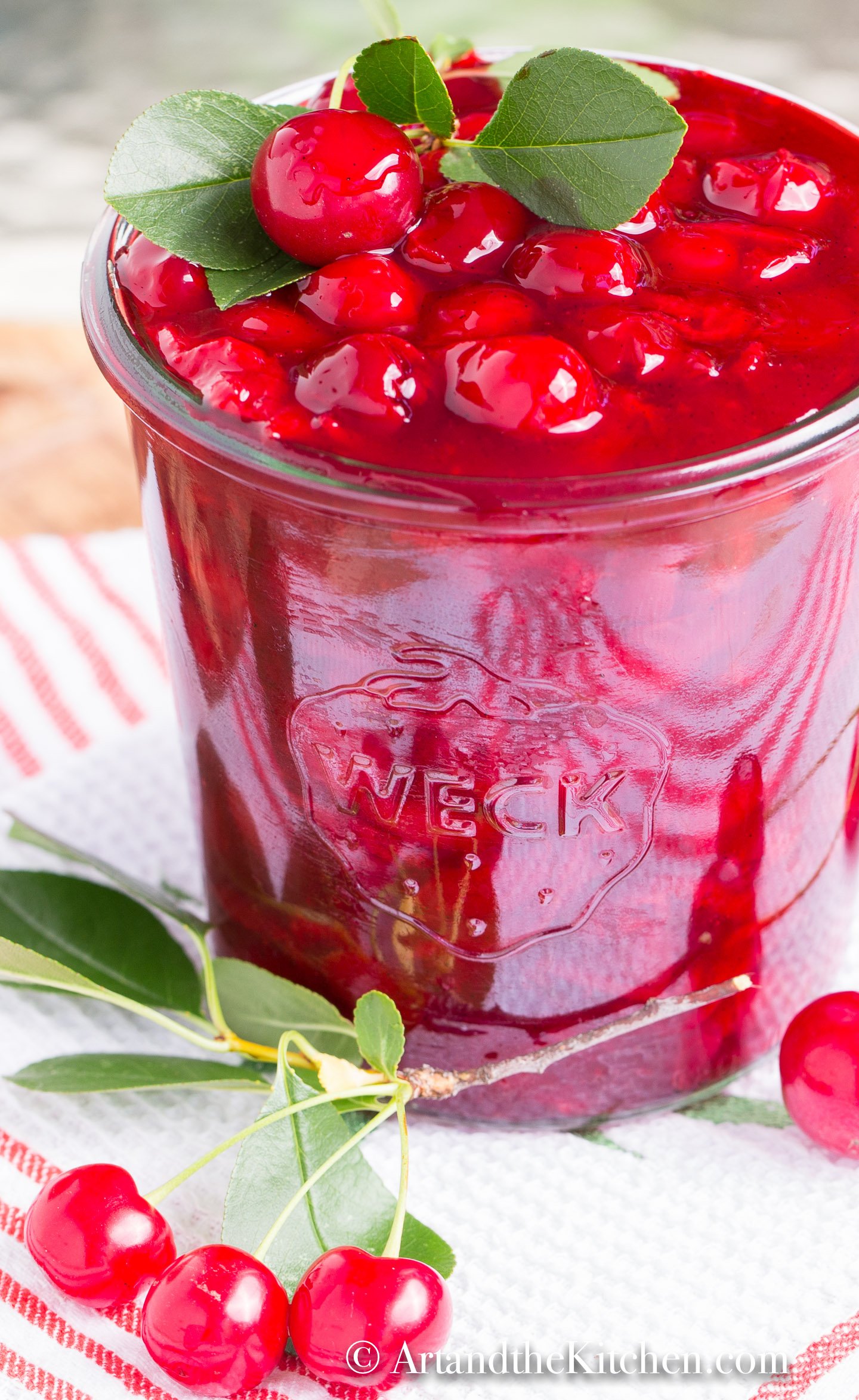 What are sour cherries?
Sour cherries are a tasty fruit that most find a tad too tart to eat fresh but are wonderful in pies, jams, sauces, cocktails and even savoury dishes like pork chops and roast turkey!
There are many varieties of sour cherry trees and they grow well in cooler climates. I have several Evans cherry trees growing in my yard. It is a smaller shrub-like tree that produces beautiful spring blossoms and a bountiful crop of cherries.
Can you use frozen cherries?
Yes! I usually make a few batches with freshly picked cherries, then freeze the rest for later use. Freezing sour cherries is a simple process of pitting and then placing into freezer bags. When using frozen cherries in the recipe less water is needed.
How to store fresh sour cherry sauce.
Store in a glass jar or plastic container for up to 4 days or freeze for 3-4 month.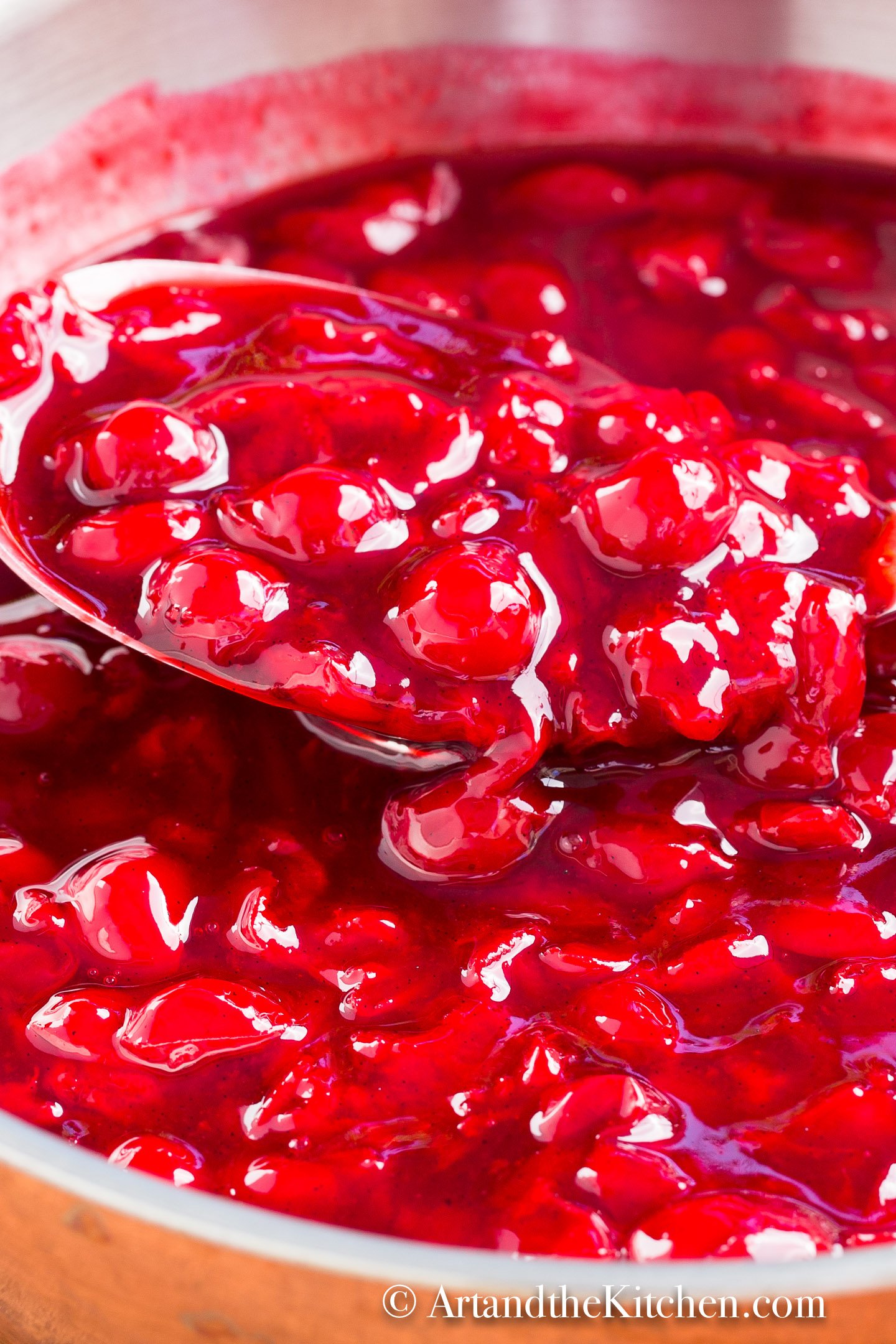 Tips for making the best sauce.
The most time-consuming part of making this sauce is pitting the cherries, but once that is done, this tasty sauce come together in minutes.
Use a cherry pitter, straw or pointed knife to remove the pits. You may also want to wear rubber or disposable gloves to prevent cherries from staining your hands.
I like my sauce a bit more tart, but do some taste-testing as it is simmering, adding more sugar if desired.
If you prefer the sauce thicker or thinner, simply add more or less cornstarch.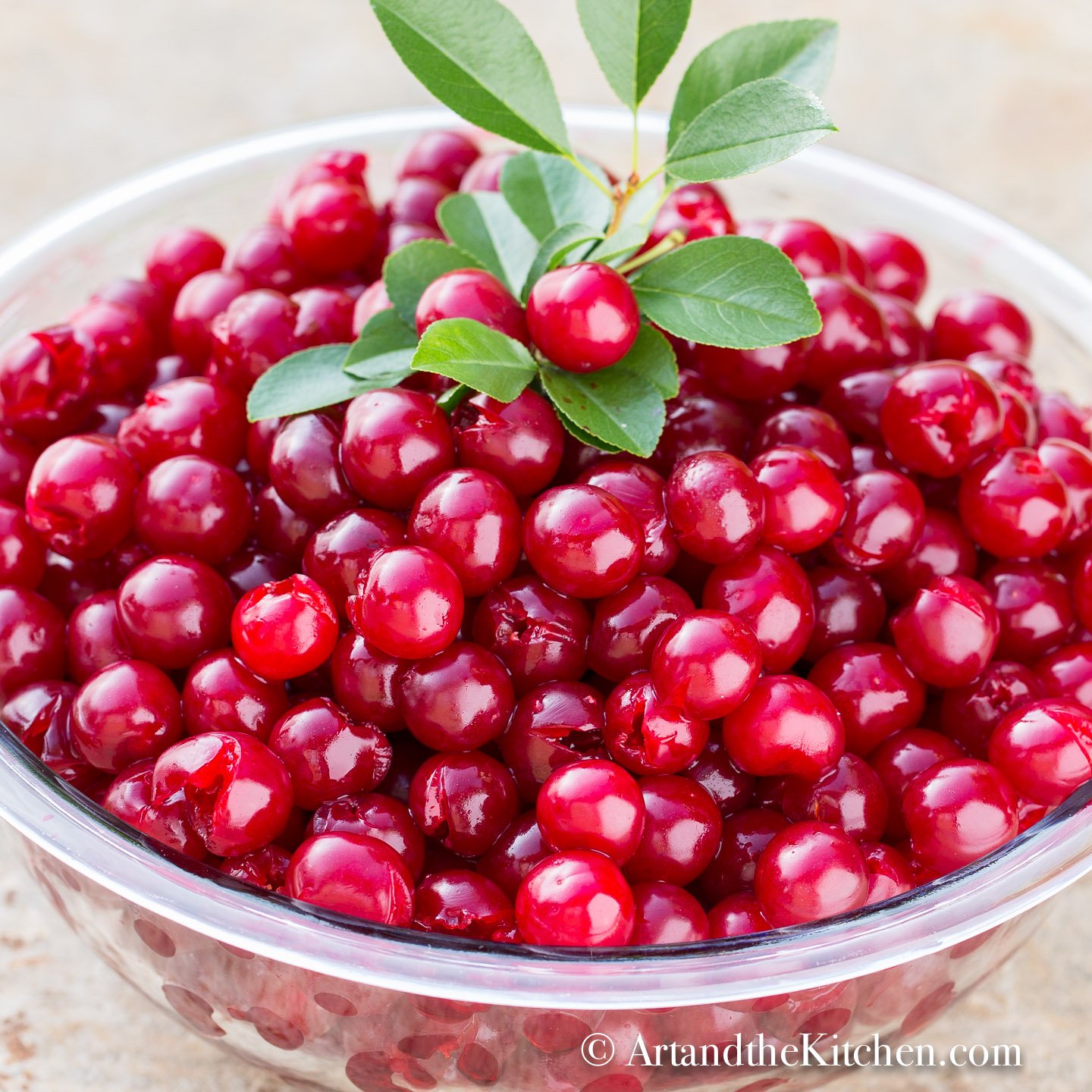 What to serve with this fruit sauce.
Cheesecake
Pancakes and waffles
Pound cake or chocolate cake
Ice Cream
Yogurt
Roast pork
Roast turkey - a great option to served instead of cranberry sauce.
More sour cherry recipes to try.
Jack Daniel's Sour Cherry Cobbler
Sour Cherry Antioxidate Flavored Water
Nothing beats homemade sauces, so be sure to try my 5 Minute Strawberry Sauce or Apple Sauce recipes.
The only time consuming part of making this sauce is pitting the cherries, but once that is done this tasty sauce comes together in minutes. I like my sauce a bit more tart but do some taste testing as it is simmering and add more sugar if desired. If you like your sauce thicker or thinner simply add more or less cornstarch.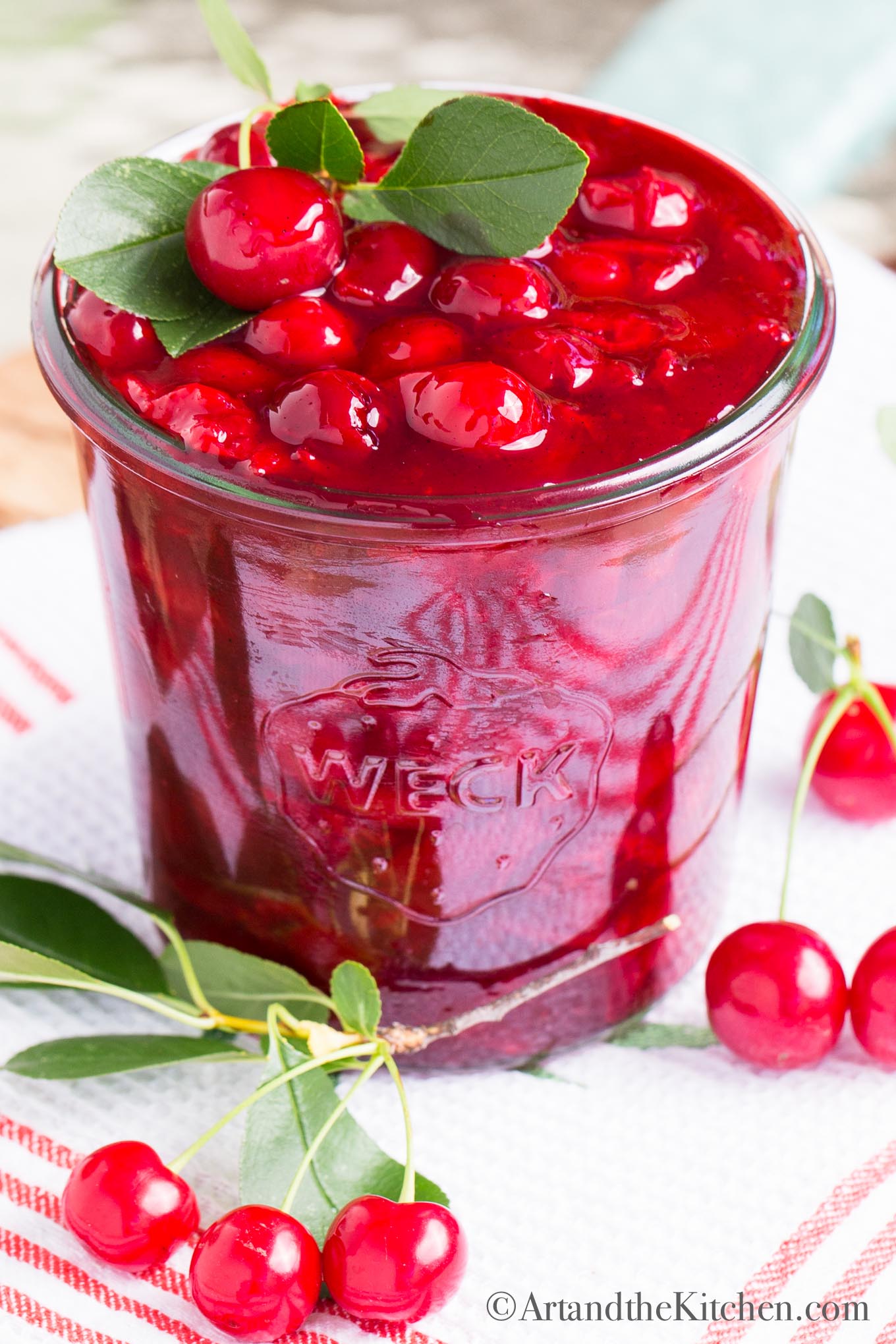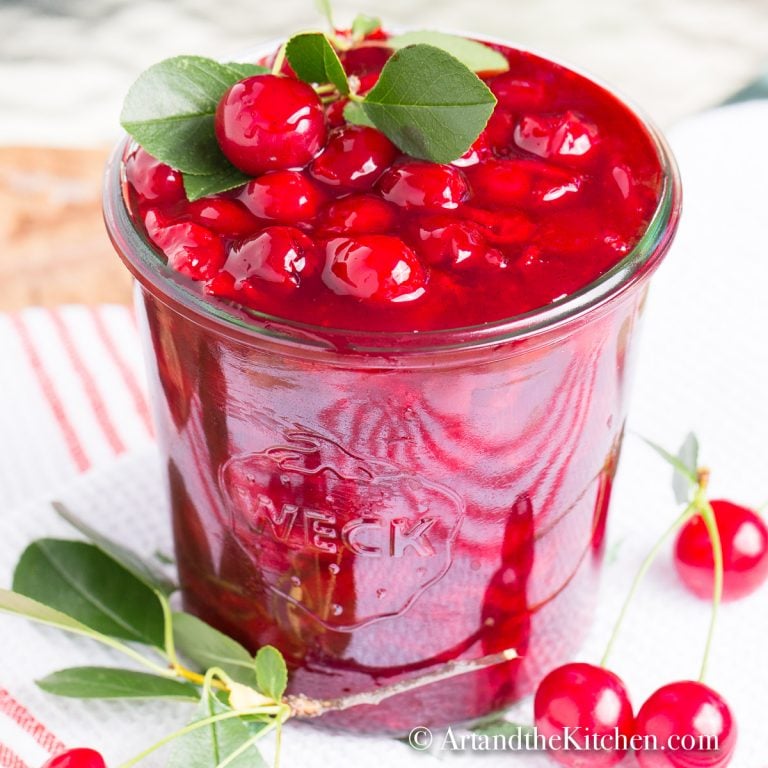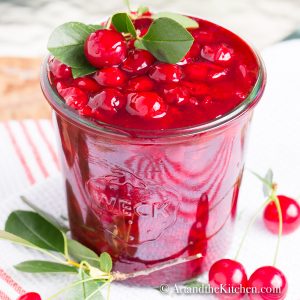 Easy Sour Cherry Sauce
Quick and easy recipe for delicious Sour Cherry Sauce
Ingredients
6

cups

sour cherries

pitted and stems removed

1

cup

sugar

2

tablespoon

lemon juice

fresh

1

teaspoon

pure vanilla extract

pinch

salt

2

tablespoon

cornstarch

2-3

tablespoon

water

to make a slurry
Instructions
Add pitted cherries to large saucepan.

Stir in sugar, vanilla, lemon juice and pinch of salt.

Bring to boil, reduce to medium heat and simmer for 7-8 minutes until cherries release all their juices.

Taste and add more sugar if you like sauce a bit sweeter.

In small bowl combine together cornstarch and water.

While constantly stirring add cornstarch slurry to cherries and cook for additional 3-4 minutes until sauce starts to thicken.

Remove from heat and cool. Sauce keeps well in the refrigerator for several days and also freezes very well.
Nutrition
Serving:
4
cups
Calories:
343
kcal
Carbohydrates:
87
g
Protein:
2
g
Fat:
1
g
Saturated Fat:
0.1
g
Polyunsaturated Fat:
0.1
g
Monounsaturated Fat:
0.1
g
Sodium:
1
mg
Potassium:
470
mg
Fiber:
4
g
Sugar:
77
g
Vitamin A:
133
IU
Vitamin C:
17
mg
Calcium:
28
mg
Iron:
1
mg
This post was originally published July 15, 2018. I occasionally update with fresh tips, content and photos. Current update August 4, 2022.