Made from scratch Strawberry Rhubarb Pie combine the tart flavour of rhubarb with sweet strawberries in a flaky homemade pastry.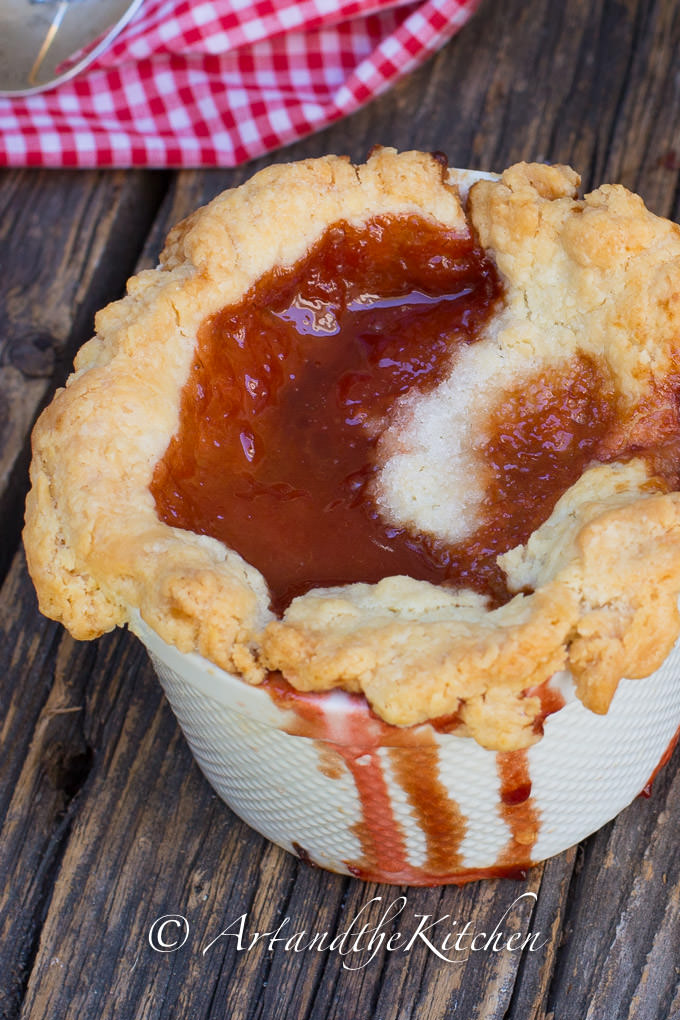 I love the tart flavour of rhubarb! My Grandma used to grow enormous rhubarb plants and for an afternoon snack she would chop some fresh rhubarb, give us a small bowl of sugar for dipping; this was better than any kind of candy you could buy. Rhubarb is great for making exceptional jam, purees, muffins or pies. Rhubarb-strawberry is a great flavour combination and these individual pies are delicious.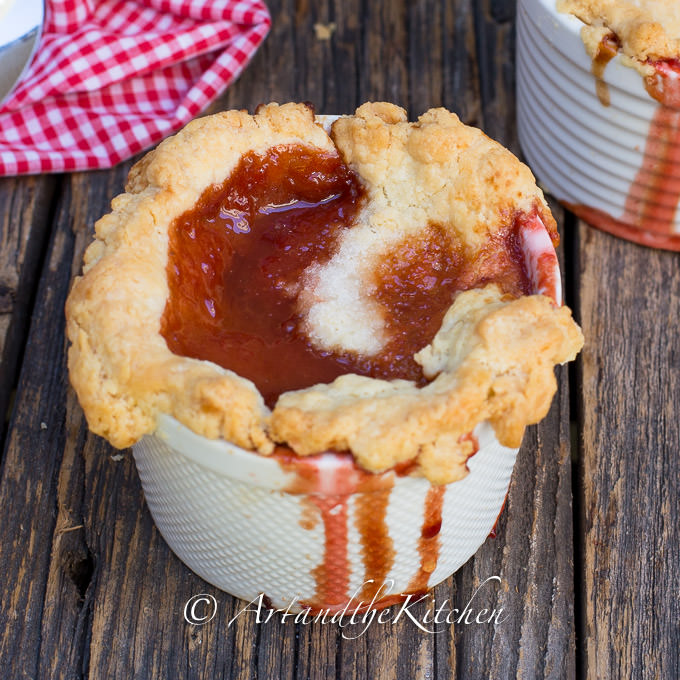 As both rhubarb and strawberries have a high water content I pre-cooked the fruit for about 10 minutes in large pot to reduce it. By doing this you can fill all 4 ramekins and aren't left with 1/2 of ramekin of fruit after baking in the oven. The fruit will also need some type of thickening agent, I prefer to use Minute Tapioca over flour or cornstarch for this. I made these individual pies with no-crust bottoms  in tall ramekin baking dishes. I prepared  my own pie crust for this recipe. It is a bit denser pie crust recipe that works nicely when making the individual pies in ramekins. I also rolled the dough a bit thicker than normal. If you are not up to making pie crust any ready-made pie crust will do.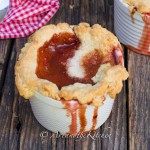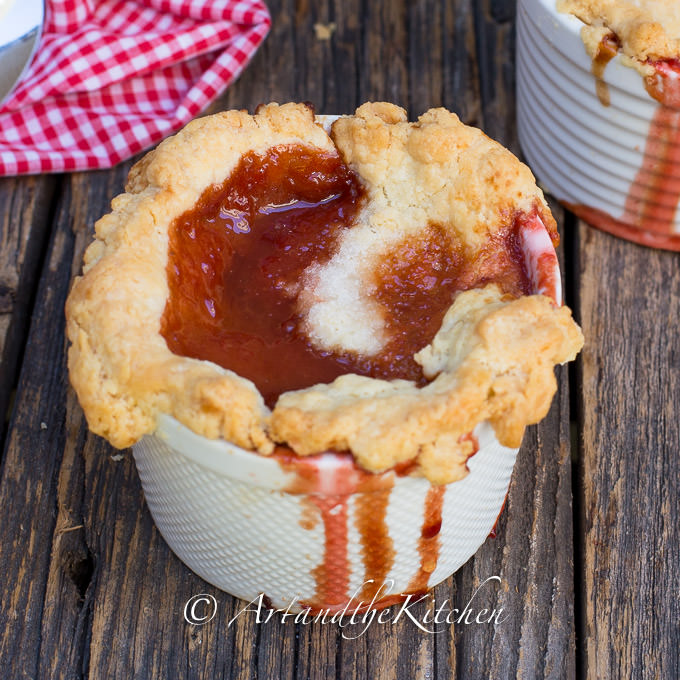 Strawberry Rhubarb Pie
Made from scratch Strawberry Rhubarb Pie combine the tart flavour of rhubarb with sweet strawberries in a flaky homemade pastry.
Print
Ingredients
Strawberry Rhubarb Ingredients

4

cups

rhubarb chopped into bite size pieces

4

cups

fresh strawberries

I left mine whole, but cut in half if large

3/4

cups

sugar

2

tbsp

minute tapioca

Pie Crust Dough Ingredients

1 3/4

cups

all purpose flour

pinch of salt

5 1/2

ounces

butter

cubed and chilled

1

egg yolk

3-4

tbsp

cold water
Instructions
To Make Pie Crust

Sift flour and salt together.

Cut butter into flour with pastry blender mixing until forms pea size balls.

In small cup mix together egg yolk and 3 tbsp. cold water.

Add egg mix to flour mixture and with pastry blender combine until dough starts to come together, adding a bit more water if needed.

Form into disk, cover with plastic wrap and refrigerate for 30 minutes.

To Make Strawberry Rhubarb Filling

In large pot over medium high heat cook rhubarb and strawberries for about 10 minutes until fruit has reduced down a bit.

Remove from heat, add sugar and tapioca, combine well.

Divide fruit into equal portions in ramekins.

Roll pie dough to 1/4 inch thickness.

Using cutter a bit larger than ramekin circumference, cut 4 circles.

Top fruit with pie crust, folding in edges.

With fork poke a few holes into pie crust.

Sprinkle top with 1 teaspoon of sugar.

Bake at 350 degrees for 30 minutes or until crust is nicely browned.

Serve as is or with a scoop of vanilla ice cream.