Easy to follow instructions for making traditional roast turkey, stuffing and gravy.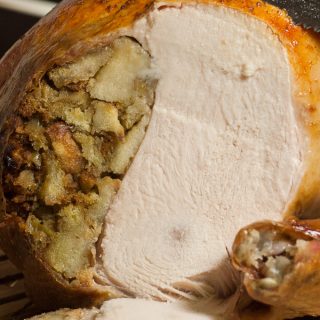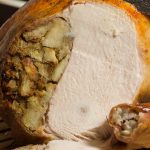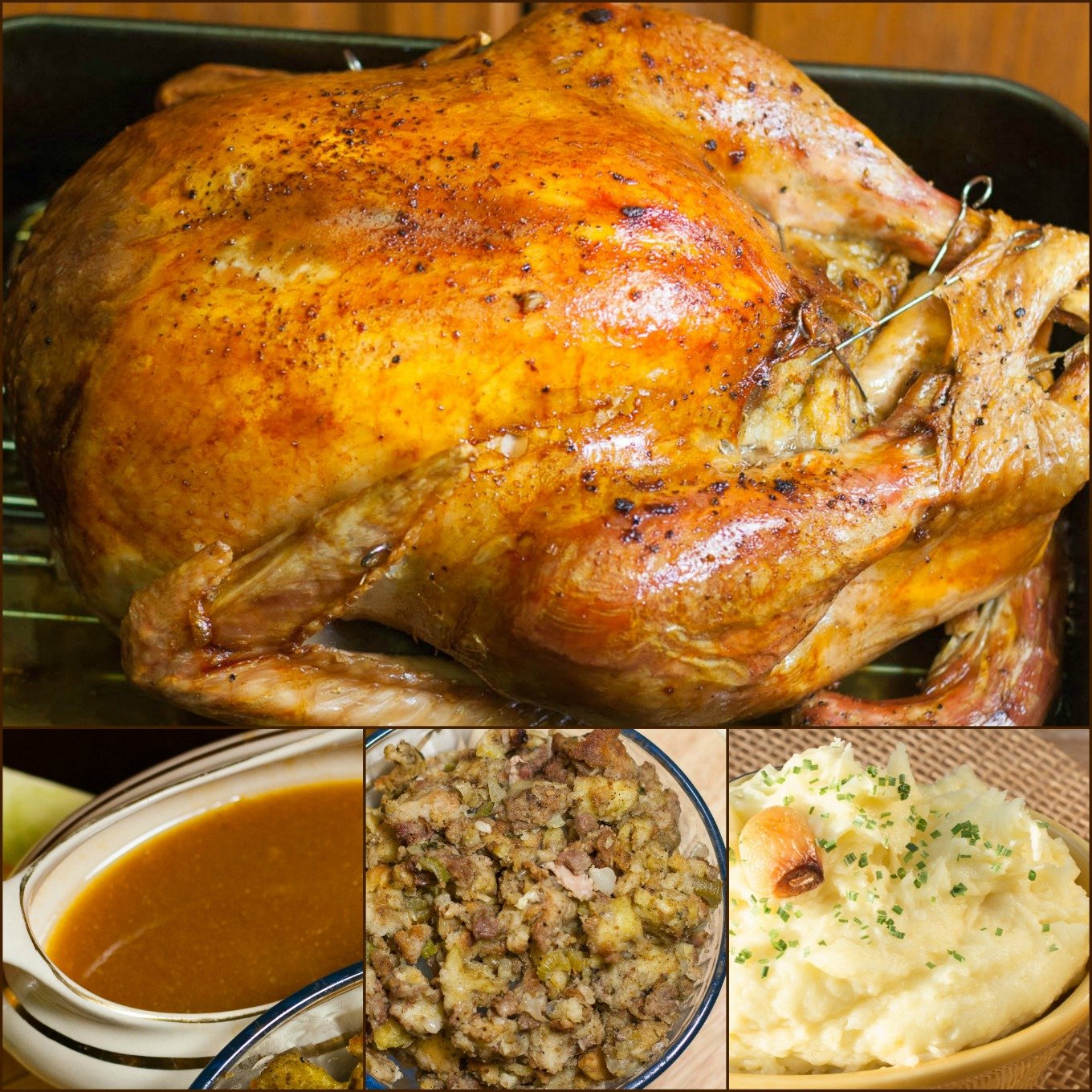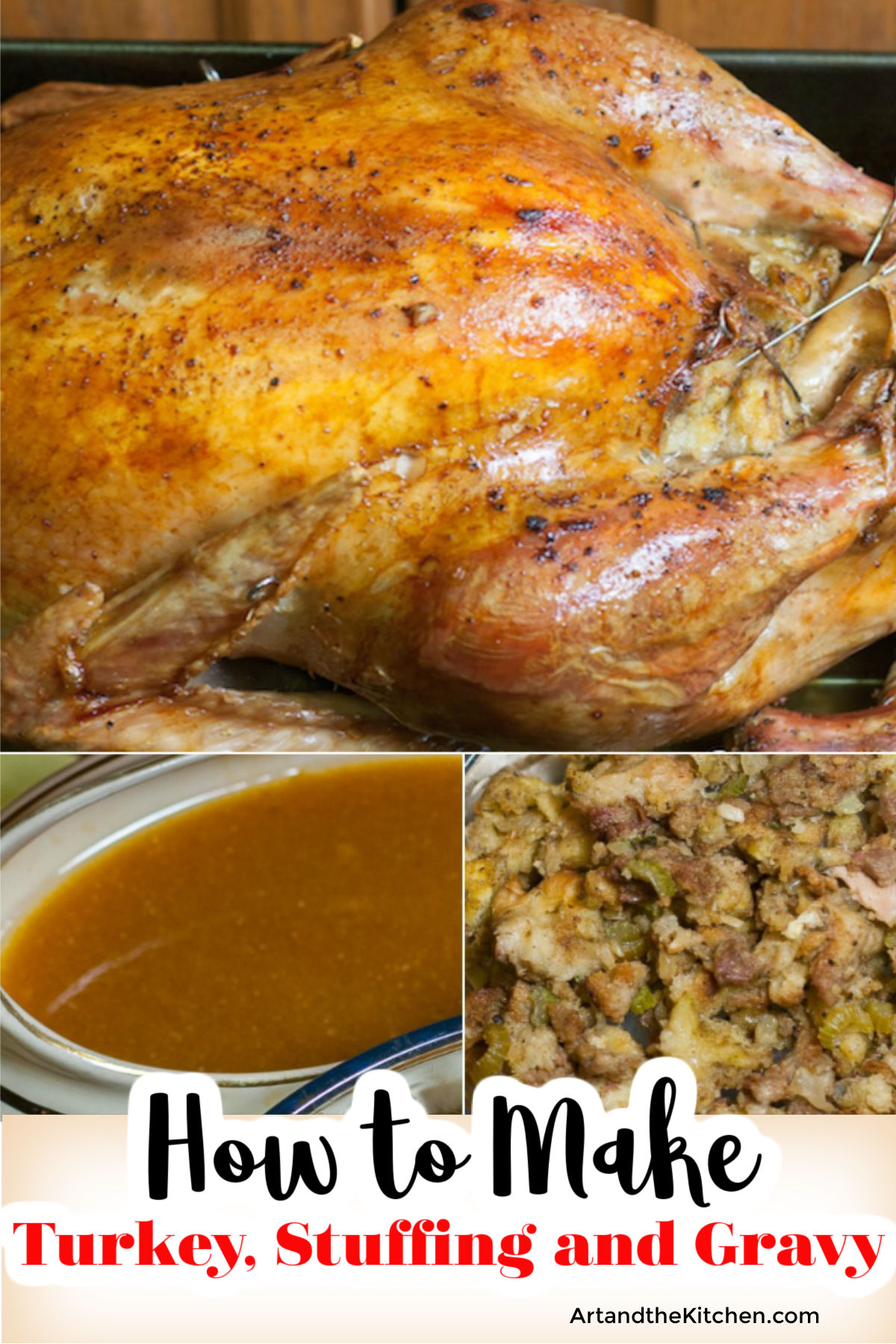 Easy to follow instructions for making the perfect Roast Turkey, Stuffing and Gravy. A Traditional Turkey Dinner just like my Grandma made.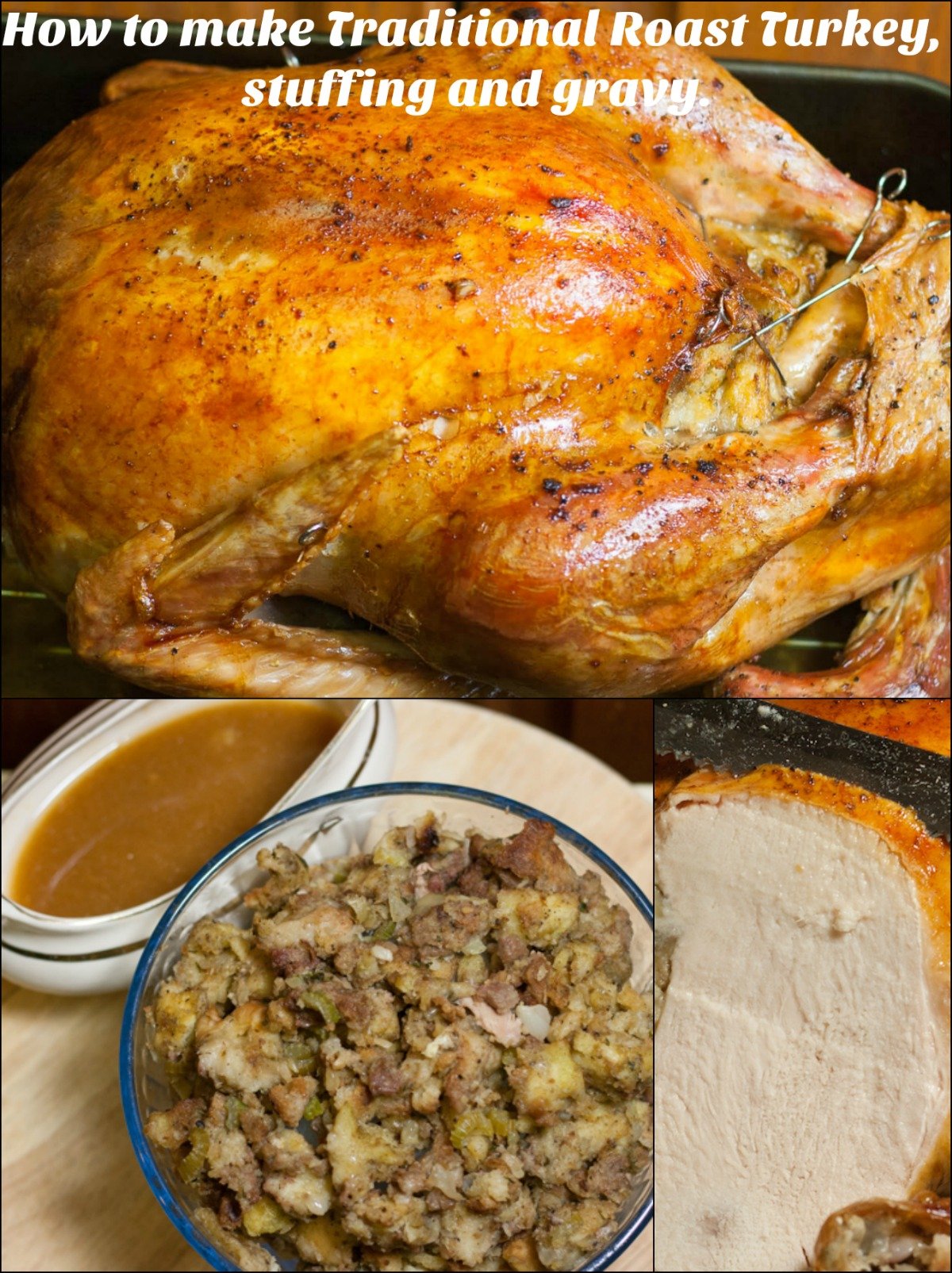 There are so many varieties of stuffing and this recipe can be easily adapted by adding your family favourites such as cranberries, dried fruits or nuts, ground giblets, sausage. My mom always ground up the giblets and added that to the stuffing, sometimes she even added hamburger. Our family's traditional stuffing and favourite is just plain stuffing as outlined in the recipe below. My secret ingredient is adding a box of Stove Top Stuffing mix – I know seems like cheating but it really does add an extra bit of flavour. (this is of course optional)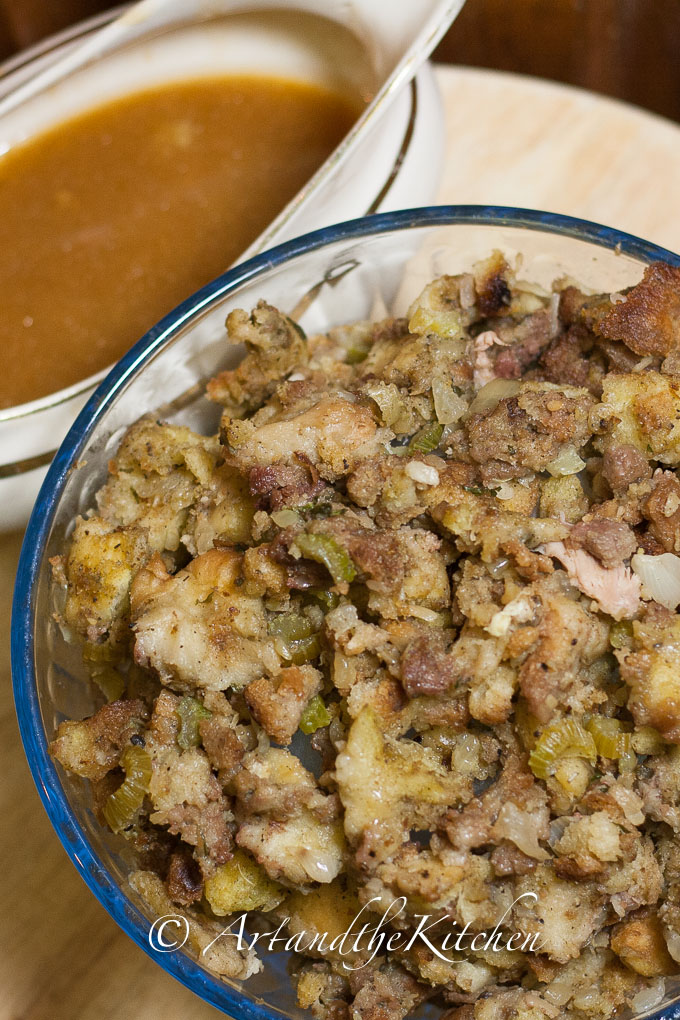 And finally the best part of a roast turkey, making gravy from the pan drippings! I serve my gravy in a very special gravy bowl, my late Grandmother's, which was always on the table for those special Holiday Meals.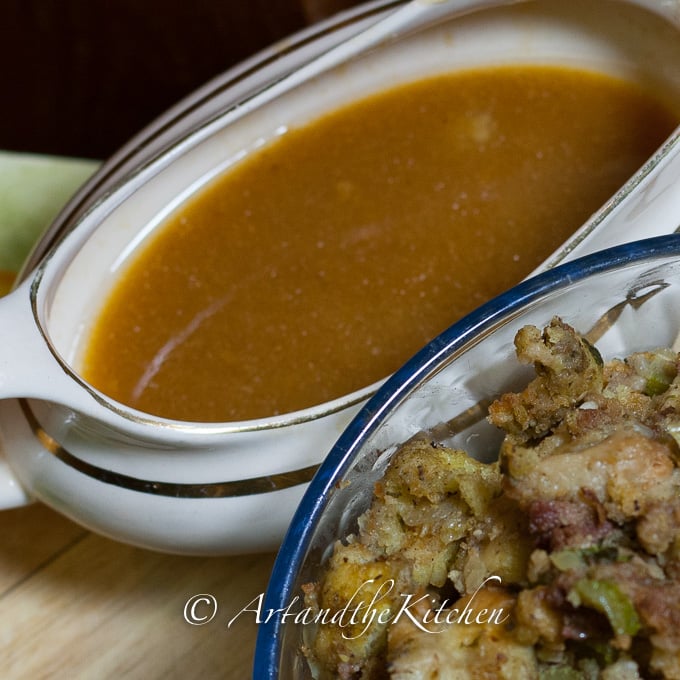 Easy to follow instructions for "How to make the perfect Roast Turkey, stuffing and gravy".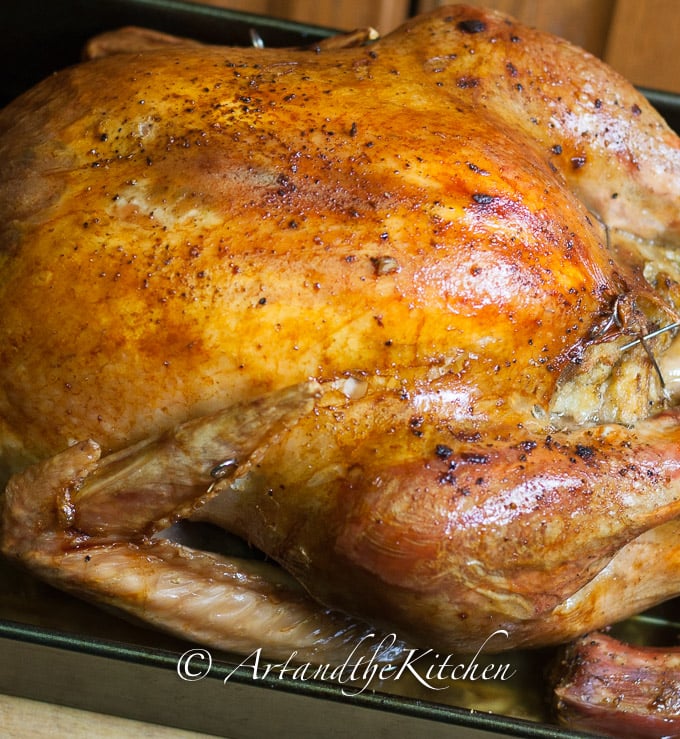 Making a turkey for company or a large group can tend to be a bit stressful, so prepare as much as possible ahead of time. Have all the ingredients ready to go, and always leave a 1/2 hour more than you thought. My must-have tool for roasting turkey is a meat thermometer. There is nothing worse than slicing into your beautifully roasted turkey only to find red juice coming out of it. The ensuing panic having to put it back in the oven, trying to keep everything else warm, while everyone is already sitting at the table ready to eat. MORE Wine required if this happens to you.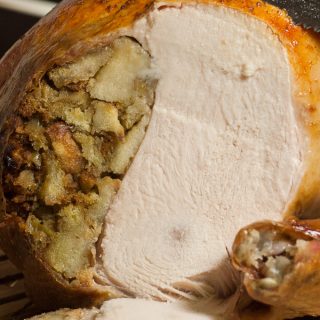 Roast Turkey, Stuffing and Gravy
Easy to follow instructions for making traditional roast turkey, stuffing and gravy.
Ingredients
10-12

lb

turkey

Stuffing Ingredients:

8-10

cups

dry bread cubes

I use french bread

1

box

Stove Top Stuffing

optional

1

cup

celery

1

large

onion

1/2

tsp

salt

1/2

tsp

fresh ground pepper

1/3

cup

butter

1/2- 1

cup

chicken broth

1

tsp

poultry seasoning

1

tsp

sage

GRAVY Ingredients:

pan drippings from roast turkey

2-3

cups

chicken broth

1/2-1

tsp

poultry seasoning

1/2- 1

tsp

sage

1/3

cup

flour

for making gravy

1/2

cup

chicken broth

salt

pepper
Instructions
Clean sink thoroughly. Remove giblets, and neck of turkey. Wash inside with cold water. Pat dry. Season turkey generously inside with salt and pepper.

Stuffing preparation:

Cube day old bread and toast on cookie sheet until lightly browned. Transfer to large bowl.

In skillet cook onion and celery in the butter until softened.

Mix onion and celery into the bread cubes.

Add 1 box of Stove Top Stuffing, combine well.

Season with poultry seasoning, sage, salt and fresh ground pepper. Keep tossing as you season to ensure all the bread gets a bit of seasoning.

Toss with enough chicken broth to moisten. Don't add too much or you will have soggy stuffing.

Stuff cavity of turkey and upper breast top. When putting stuffing into bird don't compact too tightly, just firm enough to fill.

Pull neck skin over stuffed breast cavity. Secure with skewer. Pull bottom skin together and skewer tightly. Tie or skewer legs together and secure wings to sides.

Turkey Roasting:

Preheat oven to 350 degrees.

Put turkey into large roasting pan (with rack) breast side up. I usually put the neck on bottom of pan as this adds some extra flavour to the drippings when making the gravy.

Rub butter over turkey. Season with salt and pepper.

Add a bit of chicken broth to bottom of pan. (about 1/4 inch up pan)

Cover with foil for about an hour and then remove foil, baste with dripping, and continue to roast uncovered until done. (loosely foil legs if they start to brown too much).

Baste about every 1/2 hour.

Turkey is done when meat thermometer reads 180 degrees inserted between leg and breast.

Transfer to cookie sheet. Cover with foil while you prepare gravy.

Gravy:

Transfer drippings from roasting pan to a gravy separating measuring cup, or skim off extra fat. Be sure to scrape all the extra bits off the bottom of pan (I sometimes add the neck to the pan while roasting turkey to get even more flavourful drippings). Using the same roasting pan, add 1- 2 cups of chicken broth (depending on how much drippings there are).

On stove top heat drippings and broth over medium high heat.

In a jar mix together 1/3 cup flour and 1/2 cup broth, shake very vigorously to ensure no lumps.

Gradually whisk flour mixture into drippings a bit at a time, bring to slow boil, then reduce heat to simmering. Add more flour mix to get desired consistency. Add more chicken broth if too thick.

Season with sage, poultry seasoning, salt and pepper. Only add a bit at a time, and taste before adding more to season to your preference.

Continue to simmer for 10-15 minutes.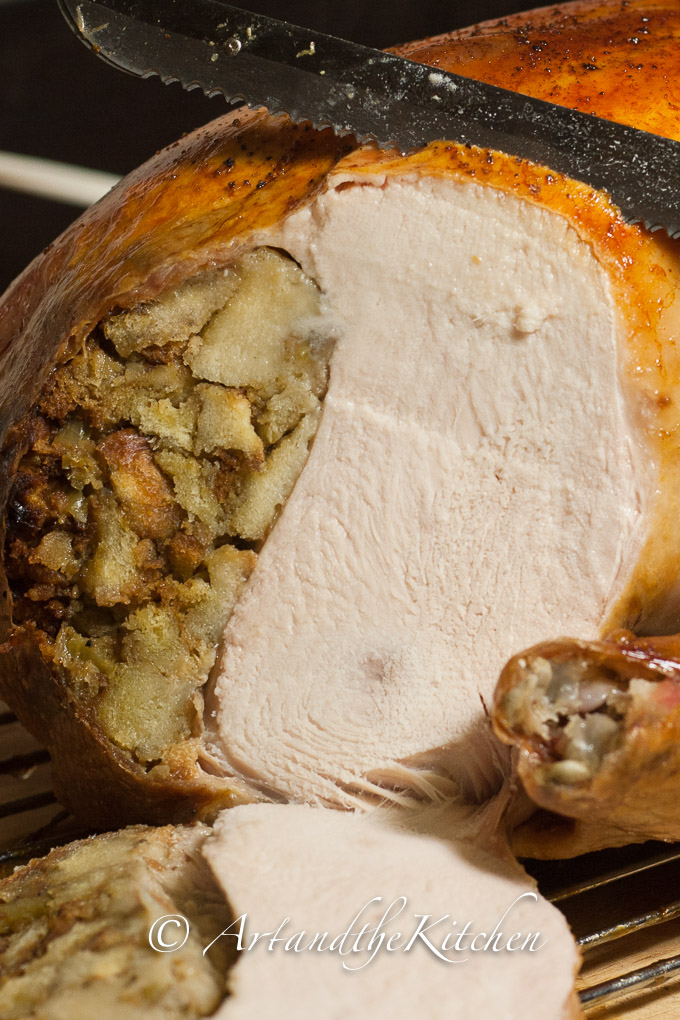 Step by step photos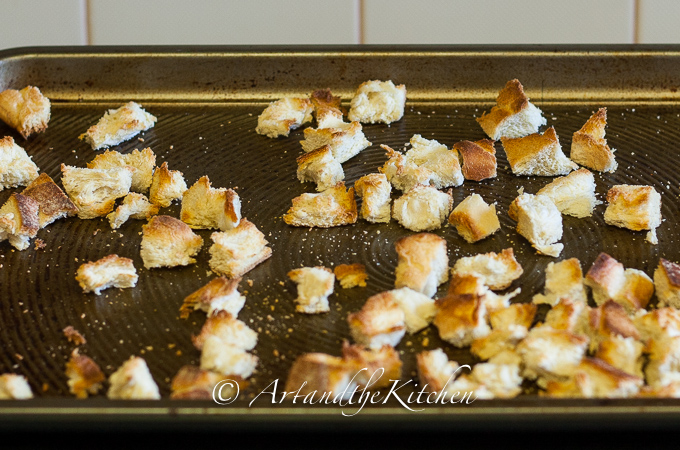 Toast bread cubes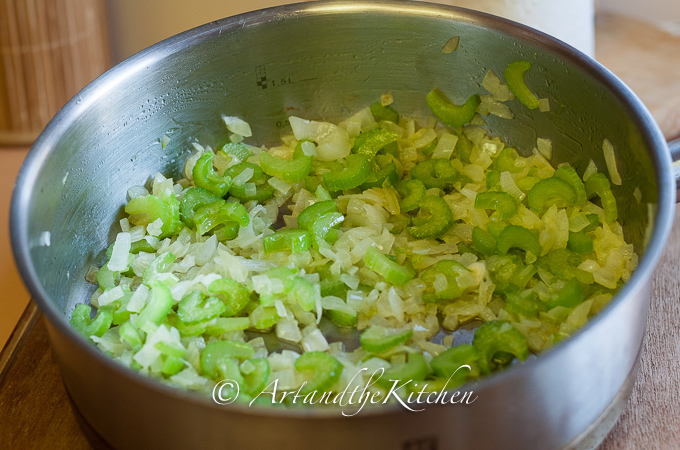 Saute onions and celery in butter until softened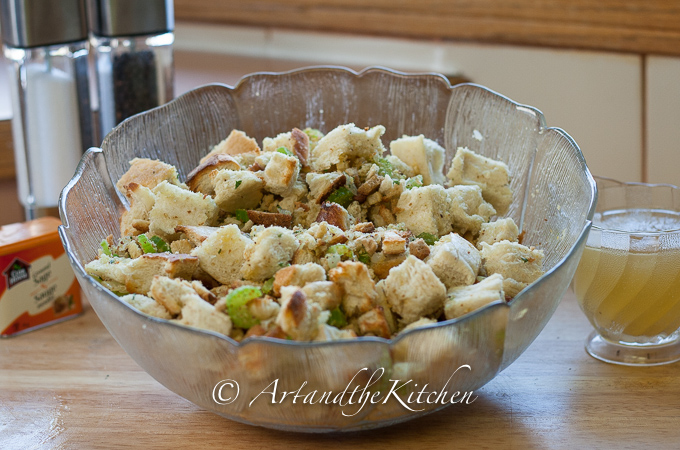 Add onions, celery, sage, poultry seasoning, salt, pepper and stuffing mix. Toss to combine.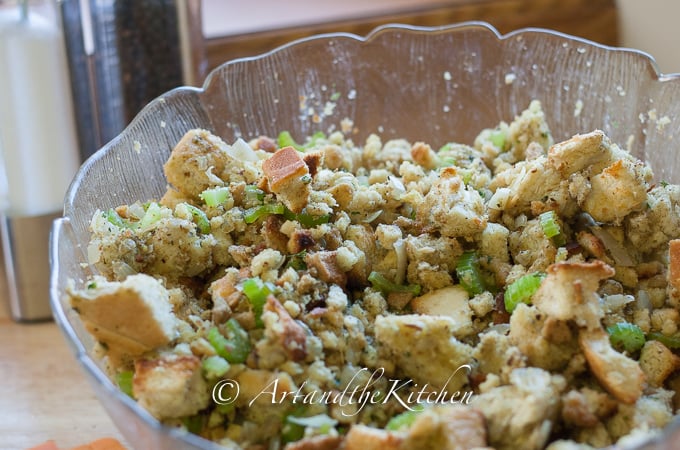 Add chicken broth a bit at a time until moistened. (not soggy)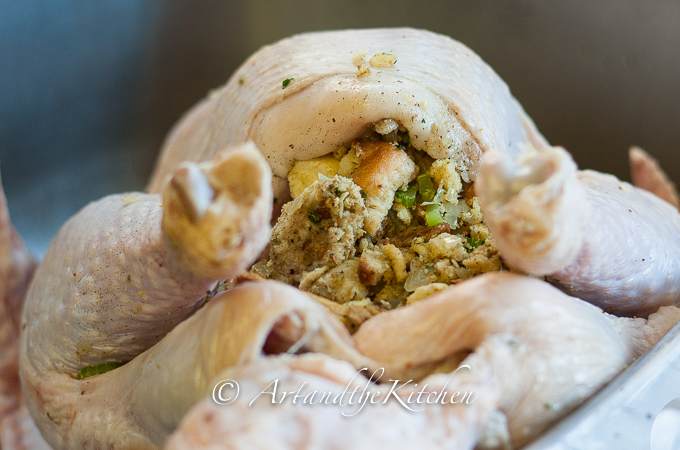 Stuff inside of turkey and top neck cavity.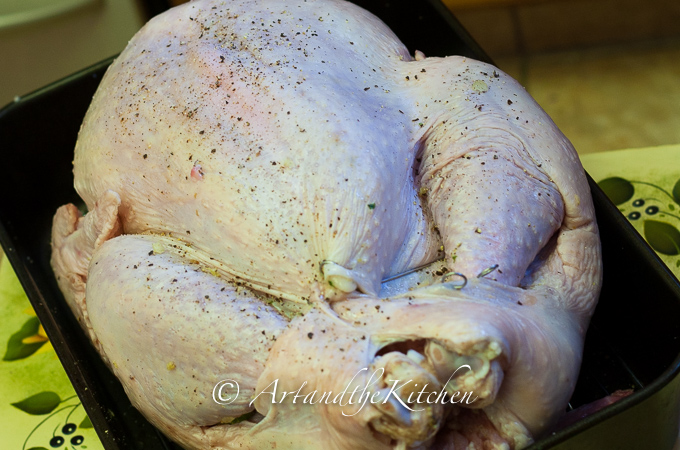 Skewer turkey together or tie with string. Roast 350º for 31/2 to 41/2 hours. Meat thermometer reads 180º when inserted between leg and breast. I use a convection oven and so my cooking time was closer to the 31/2 hours.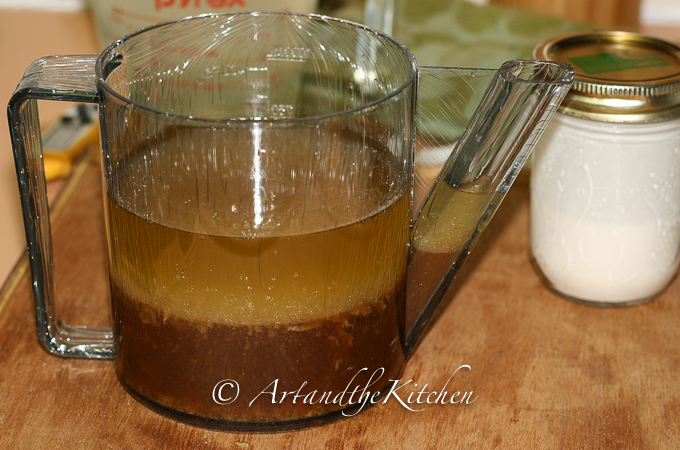 When done remove turkey from roasting pan. Skim off fat from drippings or pour into fat separator.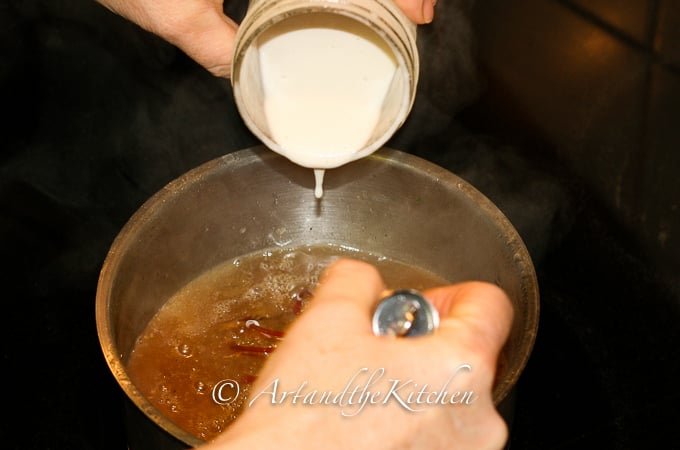 Using same roasting pan or heavy sauce pan add chicken broth to pan drippings. Heat, then gradually add flour mix to thicken, whisk constantly while adding to prevent lumps.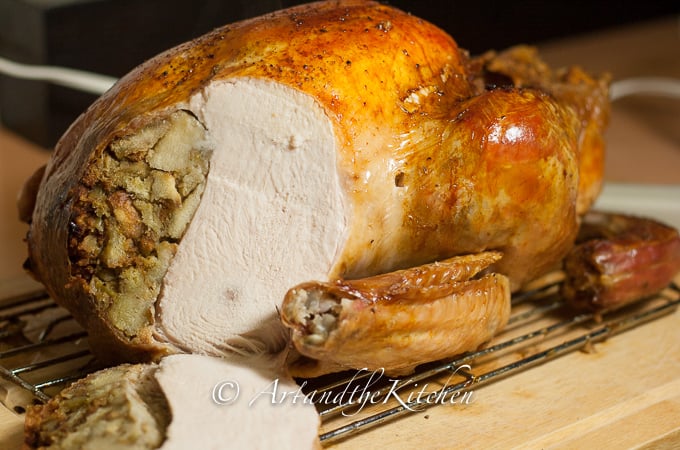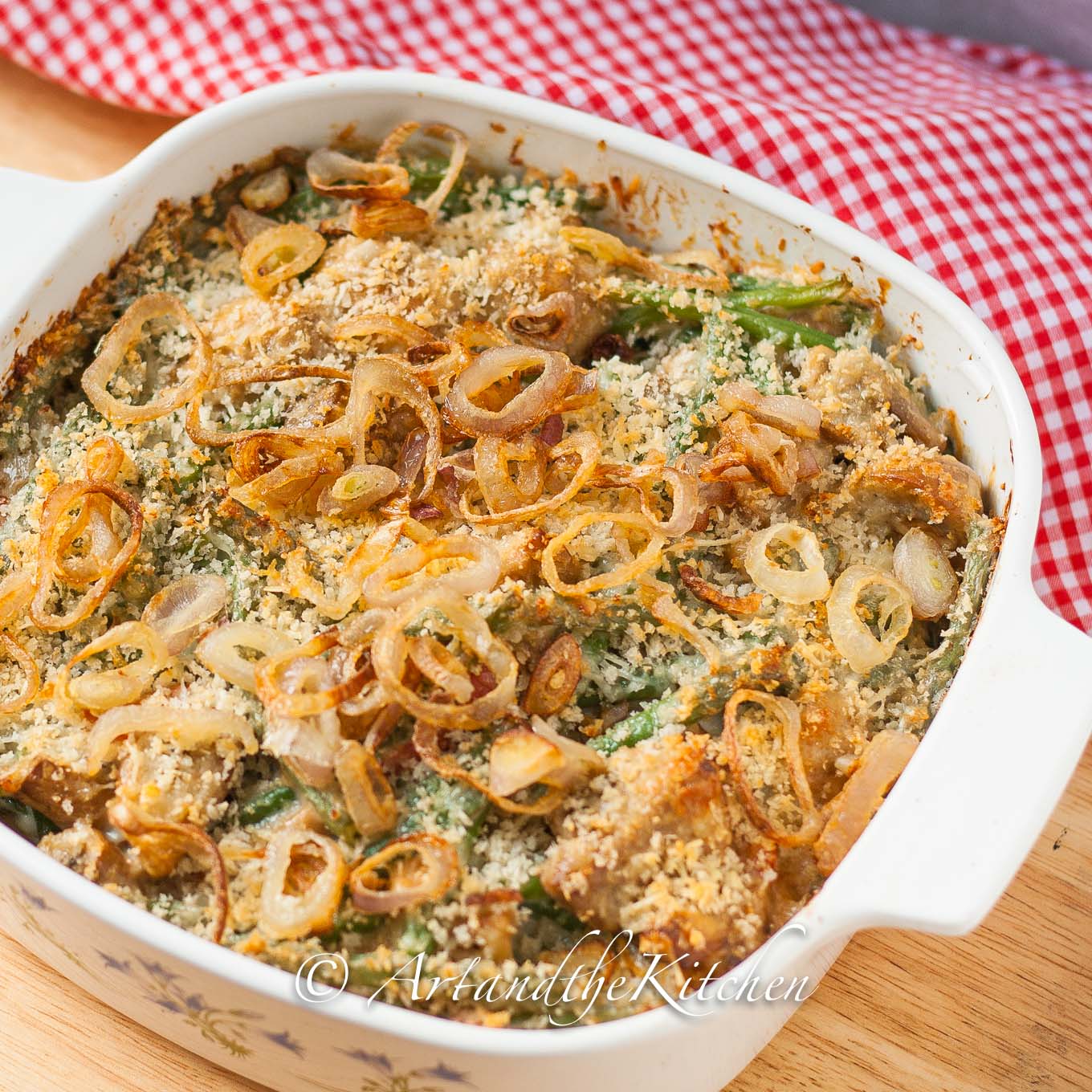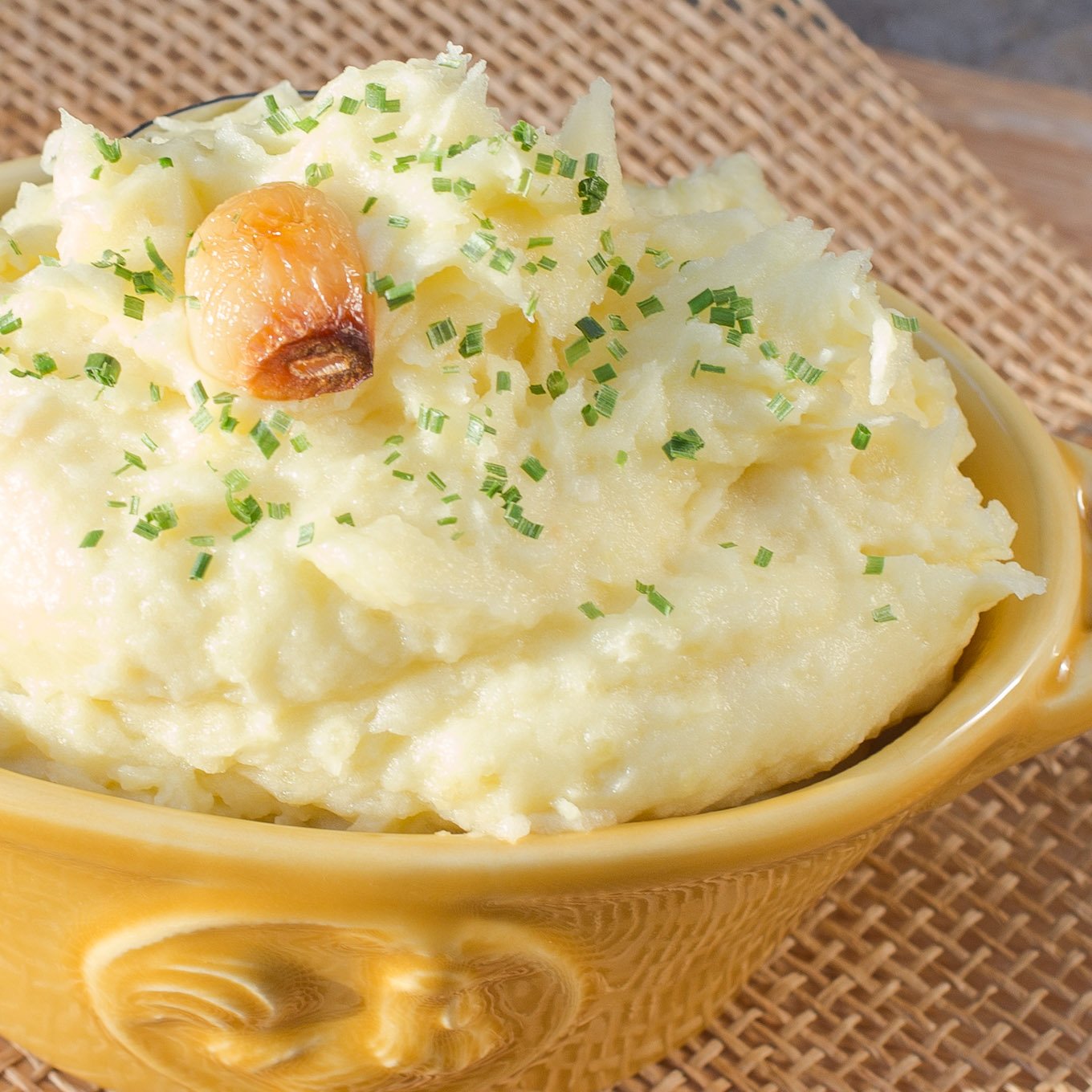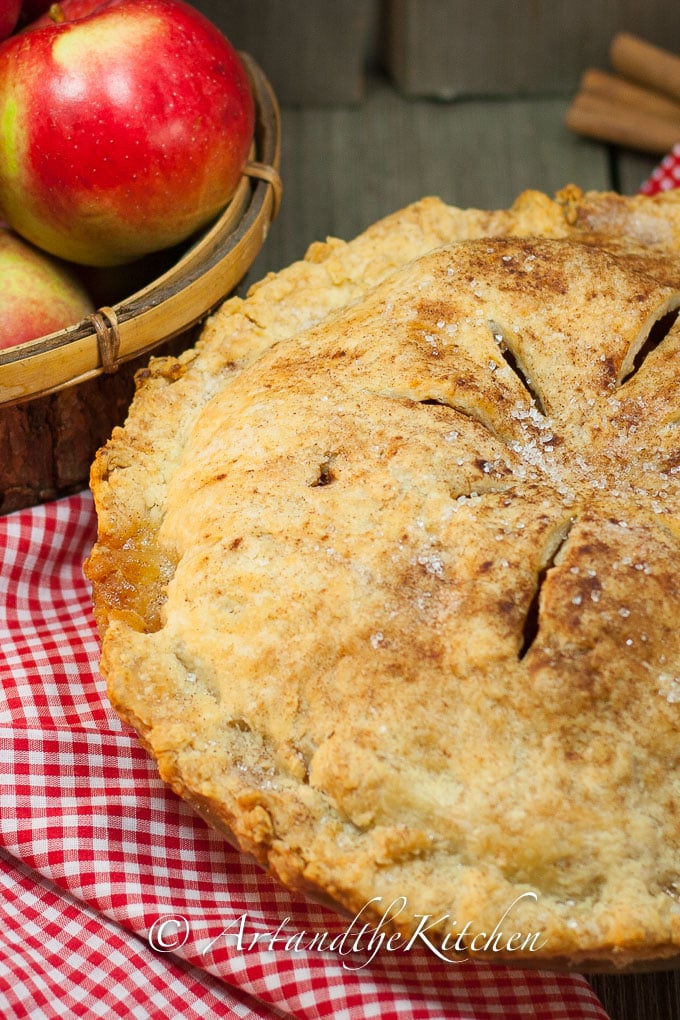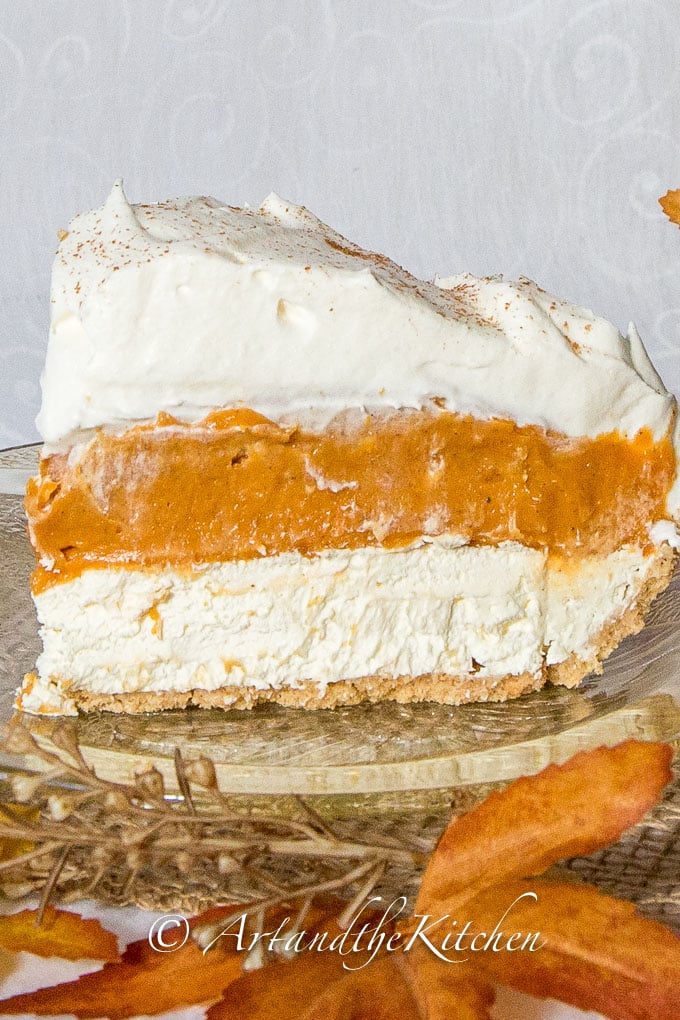 SaveSave
SaveSave